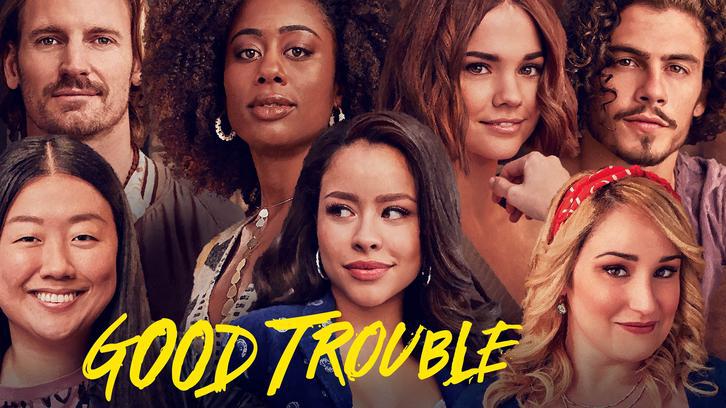 Good Trouble airs Tuesday nights 8:00PM ET on FREEFORM

Previously on Good Trouble...

Callie was caught up in the Coterie party life and missed a call from Judge Wilson. I am still side-eyeing this development because it was lame. Anyway, she ended up taking Bens word about Rebecca writing the memo which we all know might not end up well but tune in. I have said previously that I trust Rebecca, but I am rethinking my short-lived respect. Callie and Gael seemed to have come to an understanding that their relationship or situation-ship is complicated, but they are sticking to it. Marianna, on the other hand, got drunk at the party and made some questionable decisions that she might have to deal with for a little while. Her team at work are also treating her like she doesn't belong which is my sanitized way of saying they are dicks. I want her to hit back fiercely, but I digress.

We met Alice's ex Sumi who qualifies as a mean girl. Alice deserves better, and I am glad that we have seen that sad part of her life and I pray the writers don't drag it along through the season. Malika's brother came to visit, and we got a bit of a back story on their foster life and learned that they were separated and are still dealing with a lot of trauma. I want to know more about their mother specifically why Malika is not interested in being around her anymore. There were crumbs dropped here and there about Davia's life and her relationship with her mother who has made it her past time to poke at Davia's weight. What else happened last week? Ben is a douche and Rebecca might be nice or pretending to be kind. Either way, I don't like them, and this is a hill I am willing to die on. The other housemates or Coterie mates didn't bring much to the episode, but I am interested in some deep digging of Dennis.
Doesn't this show have so many characters? I feel like I cannot keep up with the number of people coming in and out. Moving on to this week's episode titled the
Allies
. Allies is a very complicated episode with multiple layers. Callie finally confronts Rebecca for attempting to misrepresent the reasons Judge Wilson picked Callie to counter clerk over Ben and her. She also faces the reality of her romance with Gael. In other words, they are a tad three too many in the "relationship." There's a special guest in this episode from Callie's past aka "The Fosters," who I totally called would be making an appearance. I am going to call this one to right here, this will be Callie's love interest in the future. Do I have any feelings about this? I don't know, but I am ready for the ride.
Mariana is still grappling with how to deal with her disrespectful workmates who belittle her abilities, but at the same time shamelessly steal her ideas. There's an intense scene between Raj and Mariana that will change the dynamics of the group going forward. I hate that I didn't see this coming, but we might be seeing a love interest for Mariana that we least expected. Having said that this situation reminds me of the younger Mariana that I don't want to see anymore.
Malika and Jamal's family finally get to be in court to hear Judge Wilson's decision on whether Jamal's murder case will go to trial. These scenes are triggering so I would advise caution when watching; however, great care was taken with the writing of this part of the episode. There are a couple of flashbacks that we see through Malika which felt a bit like foreshadowing.
SPOILER ALERT
–
Alice does not appear in this episode which is a total bummer, but she's in the next
. Gael and Brian end up at the same spot as Callie and her old friend, and it is awkward. In one of the earlier scenes, Brian and Callie interact, and we see a side of Brian that the show is not yet willing to explore.
There you have it a little bit of Allie's, I enjoyed this episode and saw many things I missed when I first watched it during Christmas.
Questions? Ask away.