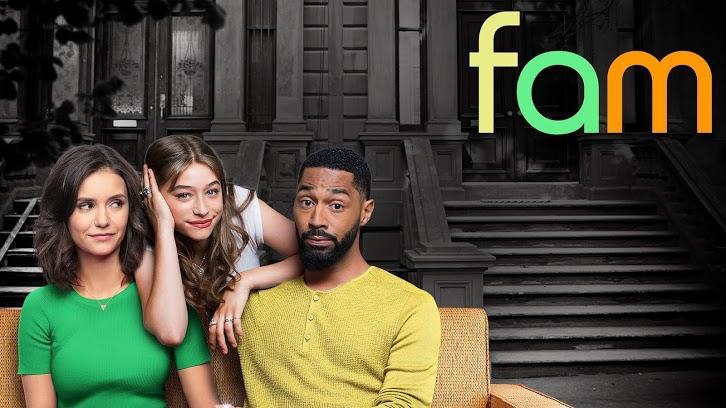 Fam
is one of the latest out of CBS's new crop of sitcoms, I'm guessing they're seeking for the next one to fill the void left behind by
The Big Bang Theory
when that comes to an end in a few months. Or even something to complement
Mom
or fill the space that
2 Broke Girls
once filled.
Thus far,
Fam
isn't as dark or sardonic in tone as either of the aforementioned sitcoms but it is pretty funny at times and the cast has enough chemistry that I'm interested to see what the show could grow into if it gets the chance.
THE SET-UP
Clem's sister, Shannon, played by Pamela Adlon's daughter, Odessa Adlon, formerly lived with she and Clem's father, Freddy (Gary Cole). There is no love lost between Clem and Freddy, as she labels him a narcissistic sociopath and has been lying to Nick about him since the beginning of their relationship, proclaiming him dead rather than bothering to explain their estrangement.
By the end of the episode, Shannon has of course, moved in with Clem and Nick. Actually, the premise to this show is not all that different from CBS's other sitcom
Happy Together
but hopefully
Fam
will fare a little better for the network.
THE CAST
The Vampire Diaries
for six years.
Dobrev has taken on quite an eclectic range of roles since leaving The CW, the actress has spoken about wanting to dabble more in comedy after her film
Lets Be Cops
and then her role of comic relief in
Xander Cage
last year and watching this pilot, you can tell she is really enjoying getting to play the funny role after so much time spent crying, dying, and bleeding on
TVD
. Can't say I blame her.
Tone Bell is well cast as her fiancé too. Nina and Tone worked together in last summer's romantic comedy
Dog Days
and I thought their chemistry was one of the strong parts of that film, nice to see it continues to hold strong on
Fam
.
While I like Odessa as Shannon, I'm not 100% sold on the relationship between her and Dobrev but I think it could definitely grow. It actually works to the actress's favor since Clem and Shannon haven't been in each other's lives for many years now and therefore the awkwardness sort of speaks to the truth of their dynamic.
And I will say they do have moments where the spark starts to shine through, particularly in their moments of sisterly banter, so I have plenty of faith that they'll grow into the relationship as the season progresses.
Happy Together
, but by comparison to Claire's parents on that show,
Fam
actually gets it right. Clem deems Nick's parents as closer than her own and the actors all work together seamlessly in their scenes.
One parental figure I wasn't as fond of? Freddy. He's just a character I've seen so many times before. Another disengaged father figure who doesn't understand women and that's supposed to be hilarious. That's CBS's bread and butter, or else Kevin James wouldn't have a career.
I'm sure that we'll see character growth from him over the course of the show, I hope we do anyways, because he'll definitely be grating if he doesn't have some change. Right now I just don't find his character funny and I'd rather him be used sparingly with the focus more on Clem, Nick, and Shannon but we'll see what the show has in store.
FINAL VERDICT
This was essentially a set up episode as most pilots are and as far as pilots go I felt this one was pretty strong. Not all the jokes were funny, many were jokes I'd heard a thousand times before, but I do feel like the weak points of the script were bolstered by a passionate cast who all seem to be having fun with the material.
Fam
doesn't stand out in one direction or another yet. It did feel a little bland in that regard. There were moments of dark humor and moments that were more of your standard lighthearted sitcom fare so it will be interesting to see which direction it eventually settles in. Personally, I think the show could serve as a balance to
Mom
if it were to go a little darker in its comedy but I also wouldn't object to something more lighthearted on the air either.
I also don't feel like I know the two core characters, Clem and Nick, well enough yet. We don't learn much about their lives beyond marriage. Shannon gets the most character building in this episode which is an important factor as she's the wild card being introduced, along with their father but I want to know more about Clem and Nick in particular. We learn that Clem works for the Met in a blink and you'll miss it throwaway line, but not much beyond that.
Should you watch it? I'd say give it a chance. Maybe wait for a couple of episodes to build up on your DVR so you can get more of a feel for it before you fully commit but I have a feeling that
Fam
has more in store and if it can iron out some of the kinks it might even be a strong contender for renewal and a breath of fresh air from the typical male-dominated CBS comedies.
MY FAVORITE LINES
Rose
: Who wants to be surprised, Walt? That's how people die.
Clem
: It's a Christian Dior.
Shannon
: Who cares what religion it is?
Shannon
: You look like a ghostbuster.
Clem
: I work for the Metropolitan Museum of Arts.
Shannon
: Busting ghosts?
Nick
: No, Evan, you're confusing love with dry humping, happens to the best of us.
A new episode of Fam premieres Jan. 17th on CBS.