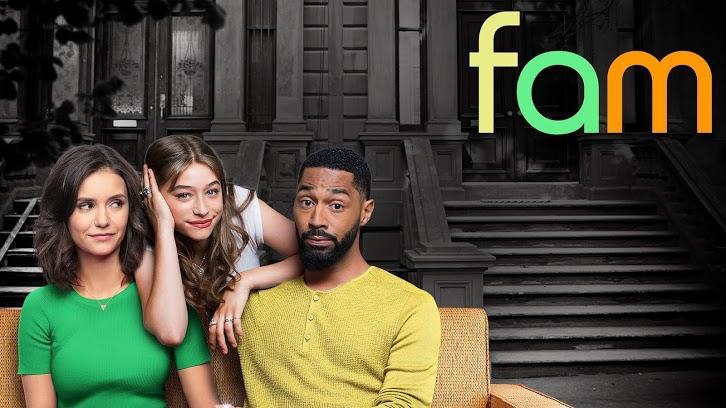 "FAM stars Nina Dobrev and Tone Bell in a comedy about a woman whose vision of a perfect life with her adoring fiancé and his wonderful family is radically altered when her 16-year-old, out-of-control half-sister unexpectedly comes to live with her."

Full disclosure: I hate laugh tracks and I would rather Nina Dobrev have a better show to display her acting skills, because The Vampire Diaries, with all the critiques than can be made, left that one thing absolutely clear, this woman can act. That being said, Fam is very enjoyable, there are quite a few laughs and the potential for a lot of heartwarming moments as well since Clem's upbringing and teen years left a lot to be desired, but she pulled herself up and now she wants to help her sister do the same.
Other than Nina Dobrev the rest of the cast is also great Tone Bell (The Flash, Disjointed) is her fiancé, Nick, Odessa Adlon (Nashville) is her sister, Shannon, the awesome Gary Cole (The Good Wife, Chicago Fire) is their dead-beat cop father, Freddie, and Brian Stokes Mitchel (The Path) and Sheryl Lee Ralph (Claws) play Nick's parents.

Every pilot usually has a few nitpicks that will smooth over with time, and especially with comedies, more often than not some of the actors seem to feel out of place and a bit awkward at the beginning, so I expect them to settle down into their characters better later on. There's nothing really groundbreaking here, it's a sitcom with some funny characters, some not so much, some great actors and some great one liners, some a bit cliché, some not so much; but if you want to sit and laugh for half an hour and have some warm family moments, you might want to give this one a shot.
FAM premieres, Thursday, Jan. 10 (9:30-10:00 PM ET/PT) on CBS Will you be checking this out? Let me know in the comments.