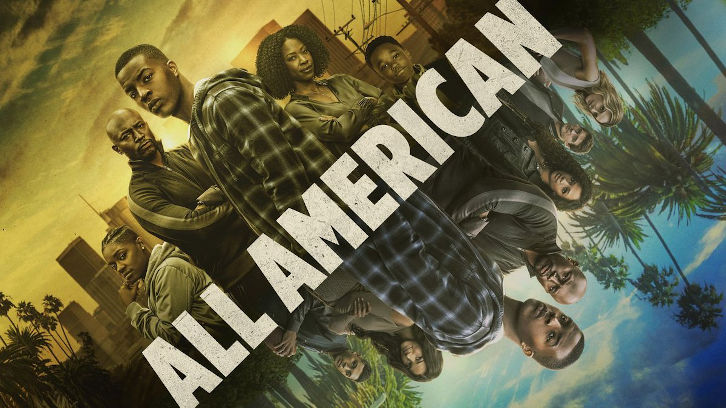 After a week hiatus I'm back to review All American. This week's episode focused on Spencer and his desire to make Crenshaw a safer place, and I personally thought this was Daniel Ezra's best performance so far.

At the beginning of the episode we learn Coop is just spending time with Tyrone so she can take him out. She doesn't want anyone else to get hurt like Shawn did. Spencer thinks this is a really bad idea, and he's worried about Coop. Back at the Baker's, Laura can tell something is bother him so he comes up with an idea to help his community.

Spencer wants to plan a rally to take the parks back from gangs. But first he has to go back to Crenshaw to get help from his ex-girlfriend, Kia. She helps Spencer plan, and they decide that they'll get everyone to the park to clean, and then have them sign the petition to stop the gangs. I have to say that Spencer's ex-girlfriend seems nice, and I loved Dillon's comments when she and Leila were both together.
Spencer and Kia are successful in gathering people to help clean the park, but when he starts asking people to sign the petition, he gets some resistance. Kia's uncle convinces everyone that he's here to protect the town, and he's looking out for their community. Tyrone and his gang show up and a fight breaks out. Coop tries to stop Tyrone, and then Spencer intervenes.

"We watching bodies drop like flies like it's normal. This is not normal. It ain't just another day in the neighborhood all right? Kids dying over nothing is not the answer. Killing each other is not the answer. Revenge is not the answer."

Spencer's speech was very powerful, and Daniel Ezra's performance was outstanding. I could feel Spencer's passion to protect his community and make it better. Unfortunately, after his speech is over the gang members pull guns on each other. Luckily, Tyrone walks away and no one is hurt. When Spencer gets home his mom tells him how proud she is of him, and she thinks he's destined for great thinks. I agree.
Kia's uncle shows up at Spencer's later and thinks they can work together to make a change in the community. He tells Spencer that Tyrone is dangerous, and Coop is playing with fire. If Tyrone goes down he's going to take everyone down with him.
I'm so scared for Coop. What she's doing is dangerous, and Spencer also seems scared for her and wants to protect her. Coop doesn't want Spencer to worry about her, and she wants him to take his shot at his future. I know I've said this before, but their friendship is one of my favorite things about this show. It's so rare these days that we get to have a male/female friendship on television.
Spencer also helps Coop mend her relationship with Patience. Once she tells Patience the truth, the two get back together. And based on what we saw on screen, I think these two are more than okay. I just hope Coop makes it out of this alive.
Obviously Spencer and Coop had the big story lines this week, but there were smaller stories as well. Jordan had to learn a hard lesson about his Grandpa Willy only wanting to spend time with him for money. I was really disappointed by this. I wanted to believe that Willy actually cared about Jordan, but it just made me sick when Willy asked Jordan for the money and told him not to tell his dad about it.
The good thing about Jordan's situation was it allowed him to have an honest talk with his dad. Jordan wants to know why his dad doesn't push him harder. Billy tells him that his dad pushed him, and it was more important to him to have a relationship with his son. I know that Jordan and Billy have had their issues, but I hope this allows them to have a closer father/son relationship. It's also clear that Jordan wants to have a future in football beyond high school so I hope he works for that.
I'm also glad that Leila and Olivia's friendship seems to be getting back on track. Female friendships are also rare these days so I hope these two can stay drama free for a while. It's not a secret that Leila isn't one of my favorite characters, but she's much more tolerable when she's spending time with Olivia, and I was proud of Leila for standing up to Gabby. Gabby really annoyed me with how judgmental she was so I was glad Leila put her in her place.
I loved the way this episode ended with Spencer playing football with Dillon and his friends in the park. It made Spencer's hard work worth it, and he is on the right path to helping Crenshaw.
What did you all think about "m.A.A.d. city"? Were you as impressed with Spencer as I was? What do you think will happen with Coop? Were you disappointed with Willy taking money from Jordan? Discuss below in the comments.