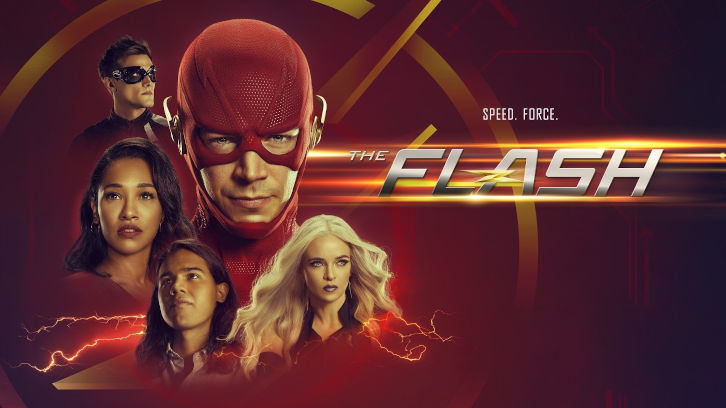 "No, Nora, No!" was all I could think while watching the ending scene of "What's Past is Prologue". But of course, The Flash wouldn't be The Flash without our lovable speedsters doing really stupid things, would it? Of course it wouldn't. And it wouldn't be The Flash without Barry getting his heart stepped on and crushed into a zillion little pieces for good measure, right? Because we know that's what will happen when he initially finds that Eobard Thawne is Nora's prison pen pal/surrogate speedster father. Well, let's enjoy a bit of the coolness it was to walk (run) down memory lane with the flashes before being dragged into the gut wrenching abyss of that awful reveal we have to face.

Savitar

The reveal for this villain was a let down. Most of it had to do with pacing and just a confusing explanation of his origin, but having Barry and Nora go back to that time to re-watch the scenes play out was interesting as a viewer. It was like seeing it as Nora was seeing it; she got to see her mom being the hero yet again, but this time killing a version of her father. Imagine how that makes Nora feel about Iris? How strong her mom had to be to do that. It should make for some really interesting conversation between the two of them and for their entire family because Barry and Iris never really had time to talk about it either before he went into the Speedforce.

Savitar's existence is something Barry still isn't comfortable with. When Nora tried to bring it up, he immediately changed the subject and did the same when Thawne made the dig about Savitar as well. A version of him that was hell bent on killing Iris is something he will have a hard time making peace with so the journey back to that time was probably really painful for him.

Zoom

When Hunter cocked his head to the side and said "And who is this, another speedster?" I about died with laughter. He took off after Barry and Nora to steal her speed of course. A good old villain with nothing more than a hunger for more power. Simple, but it works and he was an entertaining and very menacing enemy unlike what we have now, but none of that here-just pure praise and nostalgia for Zoom.

Reverse Flash

Nora's suggestion that they ask Eobard Thawne to help fix the broken tech was a slight clue that she knew more about her dad's enemy than she probably should. The sheer look of frozen terror on her face as she stood in his presence could have been several things: this man is my dad's greatest rival, is he going to try to kill us, but I think it was more along the lines of does this version of Thawne sense what I've done?

Thawne was his usual rage-filled, jealous self. Eager to hurt Barry in the worst of ways- "At least you still have one left." Barry was strong though and his maturity and confidence were evident in the way he stood up to Thawne-protecting Nora from him was probably a large part of what gave him strength as well.

Barry's reluctance to ask Eobard for help is surely understandable. Which is why Nora's revelation will be so heartbreaking and hard to fathom. Yes, Barry did go the Thawne for help and Barry was mentored by Thawne, so by virtue of those two facts past is prologue. The great difference is Barry didn't have a choice; Eobard tricked him. It doesn't seem like there's much tricking involved in Nora's decision.

Iris isn't telling her what she wants to know about being a speedster or things about the past so she seeks guidance about speed and about her father from someone else who knows him well. Makes sense. And maybe Eobard's relationship with Nora is a redeeming one for him- maybe through her he realizes all that he has stolen from Barry. Maybe- but for now who cares? Because what we are gonna get now is a shattered Barry and Iris, who find out that their daughter has forged a relationship with the one person who has hijacked their happiness across space and time.

Other Things I was Thinking

*Nora probably believes that to save her dad, she needs the Reverse Flash. He's her dad's opposite in speed and intellect so if she learns everything she can from him about the Speedforce, she can save Barry. This isn't gonna take the sting out of her secret though.
Lowkey Reverse Flash wants Barry back- who is he without him?

*I'm gonna give Killer Frost her props but WHY don't the meta dampners work on her anymore? She had a whole set of cuffs made just for that purpose.

*Nora and Barry racing at the end! My heart!!! He is gonna die when she tells him the truth.

*Sherloque, I'm gonna need you to get with Iris to sniff out Nora's story. Maybe Iris breaking it to Barry first is best.

*We need Joe back for these emotional times.

Did you enjoy "What's Past is Prologue"? Which villain did you like seeing again most? Sound off in the comments! As always, thanks for reading!

The Flash airs on Tuesday nights on the CW.