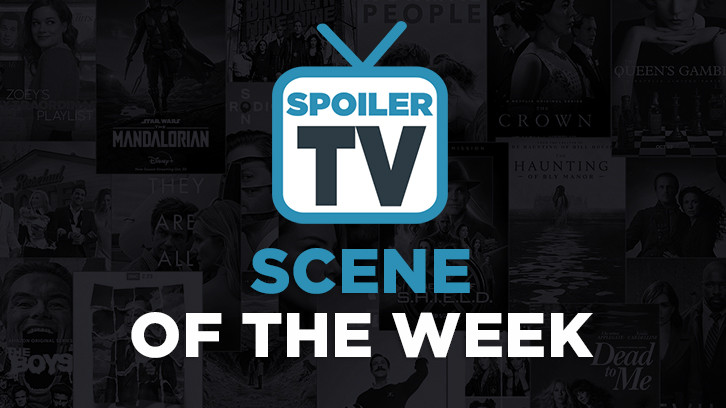 A weekly feature in which we're trying to find the most compelling, best acted, written, directed and just generally great, memorable scenes that we've seen in past seven days on TV.

COUNTERPART, "Outside In", December 16, 2018, Actors: J. K. Simmons, Olivia Williams, The Scene: Howard tells Emily Prime that his Emily was keeping him from being promoted
Milo: This was an effective scene between the two characters that got the most out of JK Simmons and Olivia Williams and was heartbreaking for Howard to find out, especially when Howard said that there was no possible justification for her actions. Emily Prime however defends her counterpart's actions, explaining that she did the same thing to her Howard, and that she was doing it to protect him.
Kollin: Exactly what Milo said. Very effective and an emotionally resonant scene that further reveals the complexities of the relationship between Emily and Howard in both worlds. Simmons and Williams gave such nuanced performances in this scene.

DIRTY JOHN, "Shrapnel", December 16, 2018, Actors: Jean Smart, Joe Tippett, The Scene: Arlane gives her testimony at Bobby's trial
Mads: Jean Smart deserves awards recognition for this riveting episode of television. These last two episodes of Dirty John have been stellar and this scene was so emotionally devastating I was completely taken with the writing. We see Arlane talk about why she has decided to forgive Bobby for doing the unthinkable and murdering her daughter. It puts things into perspective as to why Debra is willing to forgive John. Why wouldn't she? That's the environment she was raised in.

FULLER HOUSE, "Opening Night", December 14, 2018, Actors: Jodie Sweetin, Andrea Barber, Adam Hagenbuch and more, The Scenes: Kimmy gives birth to a baby girl & Jimmy proposes to Stephanie
Shirleena: When Jimmy and Stephanie's baby girl was born. That's when the Gibber and Tanner families became one family. Such a sweet moment. Too bad the whole family wasn't there.
Klutzy girl: Jimmy proposes to Stephanie after the birth of their daughter. It was such a sweet, adorable moment, and I love these two together. I'm so glad they're parents now.

GOD FRIENDED ME, "17 Years", December 16, 2018, Actors: Brandon Micheal Hall and more, The Scene: Miles confronts the man who killed his mother
Luana: This episode was intense, watching Miles and his family grapple with the pain of losing a loved one, and the struggle to choose how to deal with it and move forward, whether you're able to help someone who caused you so much anguish. Not only that, but they were able to also show the pain of the guy on the other side, someone who made a stupid mistake as a kid, a mistake many luckier people have made without consequence, that branded him for the rest of his life. I love it when shows can delve deep into the grays and make it hard to choose a side. Absolutely amazing work from the entire cast and crew.

MURPHY BROWN, "Happy New Year", December 20, 2018, Actors: Faith Ford and more, The Scene: Corky meets with Vice President alone
Claire: Season finale: Corky finally gets Vice President Mike Pence alone; in the men's bathroom at Phil's on New Year's Eve. Pence hides his misogyny behind his religion and won't let himself be alone with any woman except for his wife. Corky, trying to get answers from him for her story, wanting to defend the female employees in his office who aren't getting fair and equal treatment. Of course, the Secret Service must carry her out of the bathroom, still yelling her questions. The wonderful Faith Ford as Corky Sherwood. Love this reboot and hoping it'll get a second season.

NCIS LOS ANGELES, "Joyride", December 16, 2018, Actors: Eric Christian Olsen, Daniela Ruah and more, The Scene: The holiday party
Justyna: I haven't seen the show in a while but I was happy to watch this holiday episode. The part that I enjoyed the most has to be the party at the end and especially Deeks' speech. The one thing we hope for during the holidays is to spend this time with the people we love. It was a heartwarming moment when the characters also acknowledged the ones no longer with them. It was a lovely, emotional speech, even more meaningful when seeing everyone's reactions and Deeks' voice close to breaking at one point. Well balanced and written, wonderfully portrayed by the actors involved. Even the decorations at the bar ended up being great, quite a party to remember.

OUTLANDER, "Down the Rabbit Hole", December 16, 2018, Actors: Sophie Skelton, John Bell, The Scene: Brianna reaches Lallybroch
Saloni: Jamie and Claire's daughter is finally at the famous Fraser home. I'm sad she didn't get to properly spend time there or meet her aunt Jenny but at least she got a chance to see Jamie's home, meet Ian, and find a passage to the Americas to meet her parents. This scene was a long time coming so it was fun to watch it unfold.

RUNAWAYS, "Gimmie Shelter", December 21, 2018, Actors: Virginia Gardner, Lyrica Okano and more, The Scene: Graciela's memorial
Luana: This scene was so sweet, the kids have been through so much pain and they're so lost, but the memorial seemed to ground them and get them all on the same page. It was also great to see everyone around them join in and pay their respects to someone they never knew by just seeing how much this death meant to them, also complete strangers.

SCHITT'S CREEK, "Merry Christmas, Johnny Rose", December 18, 2018, Actors: Eugene Levy, Catherine O'Hara and more, The Scene: Johnny's realization
Saloni: Johnny realizes that Alexis hasn't taken care of the guest list & David has no Christmas decorations. The entire holiday episode was so great but this scene was exceptionally funny. The cast has such a great comedic chemistry as witnessed in this scene, and the performers (Eugene Levy, Annie Murphy, Dan Levy, Catherine O'Hara) really nailed this scene with their mannerisms/expressions.

TELL ME A STORY, "Chapter 8: Truth", December 20, 2018, Actors: Danielle Campbell, Sam Jaeger, The Scene: Kayla and Tim make amends
Mads: It was nice to see Kayla and Tim actually talk to each other instead of arguing or yelling. Kayla finally understands that it was her mother having the affair and not her father but it's really sweet that Tim wanted to try and preserve her memory of Abby. Still, I'm glad they've bonded again and hopefully their relationship will be in a better place now. I assume they're going to need to lean on each other more than ever now that Katrina has been revealed as a villain and Nick/Josh is on the prowl.

TIMELESS, "The Miracle of Christmas", December 20, 2018, Actors: Abigail Spencer, Matt Lanter, Malcolm Barrett and more, The Scenes: Lucy and Wyatt talk about her sister & Rufus shows up to save the crew & Final montage
Kollin: Lucy and Wyatt share a tender moment about Lucy's sister. There were so many great scenes from this finale, but one that really resonated was when Wyatt asked Lucy why she didn't take the opportunity to bring her sister back. Her response, everybody loses someone, but yet we find a way to live on - that is our history, was a very true and profound line that was delivered with such raw authenticity by Abigail Spencer.
Claire: I've missed this show and want to nominate every scene but the one that made me jump up and scream YES was when Rufus walked through the door to save the crew. Rufus is alive! A close tie was seeing Flynn 'take care of' Jessica.
Luana: Watching some of the moments this show gave us was an amazing way to wrap it up, with "Time After Time" playing in the background was extremely moving, we got to see the affection these characters shared and how they changed each other's lives. A perfect way to end this show and to give the fans who saved it some well deserved closure.