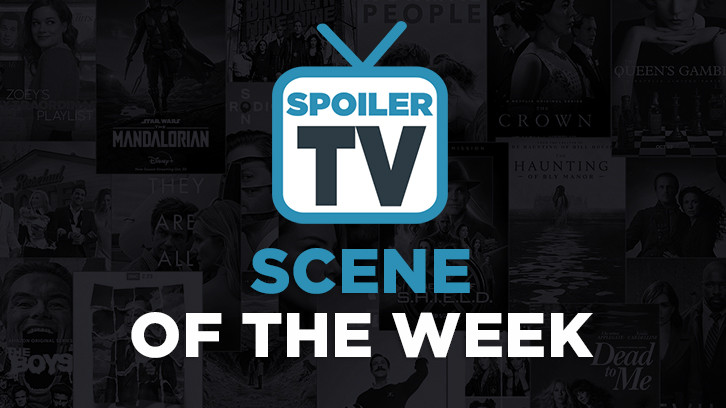 A weekly feature in which we're trying to find the most compelling, best acted, written, directed and just generally great, memorable scenes that we've seen in past seven days on TV.

A MILLION LITTLE THINGS, "Fight or Flight", November 28, 2018, Actors: James Roday, Allison Miller and more, The Scenes: Gary finds out his friends know the truth about Maggie & Maggie breaks down in front of the gang
Justyna: Since the beginning of their story it's been impossible for me not to feel for Gary and Maggie. Maggie's decision not to start the treatment is heartbreaking to watch, especially for Gary who has grown to care about her during the short time they've spent together and he also has first-hand experience when it comes to cancer and chemo. Despite all that he's been a rock when it comes to all his friends, showing up every time they needed him, even trying "not to care" and support Maggie's choice for as long as he could. I've been waiting for a moment when he finally breaks and as expected the scene turned out to be a powerful and wonderfully acted part of the hour. You might think that after everything they've been through together his friends wouldn't automatically assume that Gary's to blame for the break-up. Sadly that's not the case here. Though it's not the thing that ended up hurting him the most. When Gary realizes that everyone knows the truth about Maggie and they decided to support her decision, he can't take it anymore. He finally admits how he really feels about the situation. He makes a comparison to Jon's death and tells his friends how they all wondered if they could have changed anything if they knew. And when it comes to Maggie, they do know and are just letting her die. It's not the same thing, but it still feels like that to Gary. Realization that he's the one person left fighting for Maggie to survive is simply more than he can accept. "Shame on all of you!" James Roday has been fantastic in his portrayal of the character from the start but this scene leaves quite an impression on its own. Allison Miller is also wonderful with all the reactions and feelings that Maggie is struggling with during the hour. To be honest, this moment is pretty hard to watch but it's a breaking point which probably needed to happen sooner rather than later. I'm very interested to see what's next.
Beth: Gary loses it on his friends. Gary's desperation to convince Maggie to get chemo came to a head when he realized that he was the only one fighting for her to live. Maggie's decision is her own and the group wanted to support and respect that, but Gary is unable to accept that they are just going to stand by and support her choice to die. The performance by Roday was raw and captivating and my heart broke for him, for Maggie and a situation for which there is no bad guy.
DarkUFO: Maggie breaks down in front of the gang at the food/wine tasting.
Marko: Gary snaps after finding out the gang knows the truth about Maggie. James Roday delivered a heartbreaking performance. The combination of love & despair brought the room to a boiling point.

CRAZY EX-GIRLFRIEND, "I Will Help You", November 30, 2018, Actors: Scott Michael Foster and more
The Scene: Nathaniel starts seeing the appeal of doing good for once (picked by Luana)

FRONTIER, "The Sins of the Father", November 23, 2018, Actors: Jason Momoa, Alun Armstrong, The Scene: Declan kills Benton
Mads: After a three-season arc, Declan is finally able to exact revenge against the treacherous Lord Benton for the murder of his family. I'll admit, the scene did feel a tiny bit anticlimatic because I wanted Benton to suffer more for being so awful, but I can't deny how well-acted the scene was between both men and the feeling of long-awaited catharsis Declan had from murdering him and being reunited with Grace (even though it was all too brief a moment).

MACGYVER, "Specimen 234 + PAPR + Outbreak", November 30, 2018, Actors: Lance Gross, Tristin Mays, The Scene: Billy takes Riley to see her grandma
Dahne: The character of Riley may be the most well-developed of the whole show. She went from a loner who held a grudge against Jack, to embracing him as her father figure, to meeting her real father and forgiving him. Now Billy gives her another piece of the puzzle by introducing her to the grandma she never knew she had. This one scene took what felt like a B plot that was going nowhere into the best scene of the episode. I hope we get to see more of them getting to know each other.

MURPHY BROWN, "Beat the Press", November 29, 2018, Actors: Candice Bergen, Joe Regalbuto
The Scene: The talk about being a journalist in America
Giulia: Murphy and Frank talk about how dangerous it is to be a journalist in America right now. I loved this scene because it felt honest and real. Journalists are really facing threats nowadays just for reporting the news.

NEW AMSTERDAM, "As Long As It Takes", November 27, 2018, Actors: Ryan Eggold, Andrea Syglowski, The Scene: Sarah tells Max about the life his sister's heart gave her
Justyna: This was such a moving and emotional scene. One of the best on this great show so far. Max and Sarah are strangers but they feel connected through Luna's heart so it's easy for Sarah to open up to him and tell him a story of her life. A normal life full of ups and downs, with loved ones, her work, her experiences, everything she got to have thanks to her transplant all those years ago. She feels like Max's sister gave her this amazing chance to live so she's ready to accept it's her time to die, grateful for every moment she never expected to have. Max's reactions to the story are beautifully portrayed by Ryan Eggold, it's clear how much her words mean to him, how important she feels in his eyes and his response is a perfect way to end the scene. Sarah is thankful for her second chance but for Max it's Sarah who gave his sister more time, almost like a piece of Luna continued to live through her heart and now it's time to truly say goodbye. They both understand that Luna's heart can't be saved but Max stays by Sarah's side and fights to save her. It's beautifully sad and both actors are wonderful in all their interactions during the episode. This show turned out to be such a great surprise. I already can't wait to see the next episode.
Dahne: This was the most touching scene of the week for me. From the moment Helen told Max that the woman who received his sister's heart was at the hospital, Max was in a downward spiral - desperate to save her and his last tangible piece of his sister. He refused to give up until the woman herself makes it okay for him to say goodbye again, by sharing all the amazing things she got to do because of his sister's heart. It was just the testament to his sister that Max needed to let go and a testament to the importance of organ donation as well.
Luana: Sarah tells Max about the beautiful life his sister's heart gave her. After all the effort he put in to save the woman with Luna's heart, it was gut-wrenching to see them both come to terms with the fact that saving the heart just wasn't possible. The way she talked about her great life and all the happiness Luna's heart gave her, it was absolutely beautiful. Both actors did an amazing job but I'm already in love with the character of Max Goodwin, all I can say is he better stick around, and the same goes for this show that was just such a pleasant surprise. Also picked by DJRiter

SUPERGIRL, "Rather the Fallen Angel", November 25, 2018, Actors: Melissa Benoist, David Harewood
The Scene: J'onn's emotional apology to Kara
DJRiter: David Harewood as J'onn J'onzz has always been a big part of Supergirl's A-team of actors, and once again proved that with this highly charged scene. J'onn's tearful apology to Kara about Manchester's betrayal and his anguish thinking he'd failed her was emotional and heartbreaking. Harewood was simply brilliant elevating his acting to a new level and Melissa Benoist was perfect in the scene with him.

TELL ME A STORY, "Chapter 5: Madness", November 29, 2018, Actors: Danielle Campbell, Sam Jaeger, The Scene: Kayla and her dad have a fight
Luana: In this scene all the pent-up anger and frustration came rushing out, from the moment Tim realized he barely knows his daughter, to Kayla finally admitting she blames him for her mom's death, and especially the moment her grandmother hugs her and she just asks her not to love her because everyone who does ends up dead. Kayla is quite the dramatic teenager but this shows just how messed up she is and how much pain she's holding on to. Even if it feels like the fairytale aspect faded a bit after the first episode, this has definitely some interesting stories worth watching and I can't wait to see more.

THE CONNERS, "One Flew Over the Conners' Nest", November 27, 2018, Actors: Sara Gilbert, Lecy Goranson, The Scene: Darlene reassures worried Becky
Klutzy girl: When Becky comes to Darlene with worries about how she can be a good mother when she's an alcoholic, the latter assures her that if she falls off the wagon, she'd take care of the baby. It was a rare sweet moment between the sisters and shows how much they really love each other.

THE FLASH, "O Come, All Ye Thankful", November 27, 2018, Actors: Candice Patton, Jessica Parker Kennedy, The Scene: Nora apologizes to Iris
Naomi: Nora apologizes to Iris for how she had been treating her before getting to really know her in the present. They begin to discuss all of the times Barry has put his life on the line as the hero of Central City; Nora sees that being a hero comes at a steep price and that Iris has been paying that price for a long time. It was great to see Nora finally take the time to understand how her mother feels about Barry's decisions. Iris giving voice to her fears about losing Barry are things that Nora needed to hear. It should help her understand her mother's choices in the future more clearly.

THE GIFTED, "the dreaM", November 27, 2018, Actors: Sean Teale, Emma Dumont, The Scenes: Lorna brings Dawn to Marcos to say goodbye & Lorna turns the medallion into a helmet for herself
Justyna: The relationships between parents and their children were truly at the center of this week's episode. None of these stories hit harder than Lorna, Marcos and Dawn's. Lorna understands the danger her daughter is in after the recent events and for the first time in her life she realizes why her father has always kept his distance from her. She makes the same choice for Dawn but before they leave she knows that Marcos deserves to say goodbye to his little girl. From the moment she shows up at his place it's clear how emotional this meeting is for these two. Marcos is angry, he blames Lorna's actions for making the situation worse, he also remembers the promise the two made to each other, not to become their fathers. But ultimately Eclipse does understand why it's the right choice to make for Dawn and only wishes that she has someone to love and care for her by her side. He says his goodbye with heartbreaking realization he doesn't even know his baby girl so he uses their last moment together to sing and dance with her in his arms. When the time comes, he gives Dawn back to Polaris and for a second their combined powers form an effect similar to aurora borealis, old reminder of their love and the people they used to be. The scene ends with Lorna leaving the apartment and both of them breaking down on the opposite side of the door. Such a memorable and heartbreaking moment. Beautiful work by Sean Teale and Emma Dumont, as well as the rest of the crew. Kudos!
Mads: Lorna dons a headpiece similar to her father's iconic one. The moment Lorna fashioned the red disc left to her by her dad, Magneto, the only heirloom she's ever received from him, into a headband reminiscent of his iconic one - I got chills. It's a powerful scene. The entirety of the episode is about Lorna learning the truth of her father's motives and finally beginning to understand his decisions. It culminates in her embracing him as her own blood but also by starting a new chapter all of her own, and the headband represents that.

THE GOLDBERGS, "The Living Room: A 100% True Story", November 28, 2018, Actors: Troy Gentile, Jeff Garlin, The Scene: Barry expresses his feelings to Murray
Beth: Barry tells Murray he doesn't want something to happen to him. Barry is by far the most extra Goldberg child 90% of the time, but in this moment he was a son staring down big life changes and realizing that his father is not immortal. Barry was honest and real with Murray and told him that he wanted him to be there to see him accomplish his goals and meet his future grandchildren. It was one of my favorite Barry moments of the show because it gave a glimpse of the man he can be and how Murray has had a big influence in what his son is becoming.
Samantha: Barry expresses his true feelings to Murray. Also picked by Klutzy girl

THE RESIDENT, "The Dance", November 26, 2018, Actors: Matt Czuchry, Glenn Morshower, The Scene: Conrad and Marshall talk about the past
Beth: Conrad has had a giant wall up with his father based on fuzzy memories as a child and the perception he had of his dad. Marshall sincerely took responsibility for his part in issues in his marriage to Conrad's mother but assured Conrad the memory that haunts Conrad is not accurate and that he would never hurt his mother. Conrad was then able to have a real moment with the man with whom he has such a complex relationship with and tell him that he loves him.
Mads: Conrad and Marshall have a breakthrough in their relationship. Both actors are incredible in this scene and when Conrad choked out an "I love you" at the end, I definitely teared up. I love the way their relationship has grown this season. Hoping Marshall makes it through to the second half!

THE WALKING DEAD, "Evolution", November 25, 2018, Actors: Norman Reedus, Danai Gurira and more
The Scene: The Whisperers surround and attack the team looking for Eugene (picked by DarkUFO)

THIS IS US, "The Beginning Is the End Is the Beginning", November 27, 2018, Actors: Eris Baker, Sterling K. Brown, Susan Kelechi Watson, The Scene: Tess comes out to Randall and Beth
Klutzy girl: Eris Baker delivered an amazing performance as Tess told her parents her truth. And I'm so glad - and not surprised - Randall and Beth reassured their daughter they loved her no matter what.