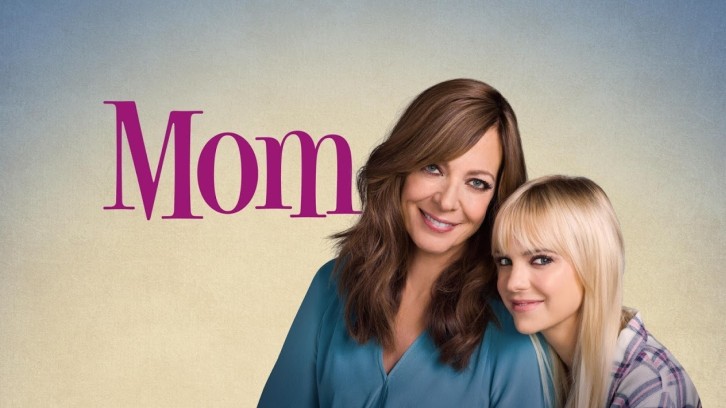 "In the words of the great 80s poet Adam Ant... "Don't drink. Don't smoke. What do you do?" Well now, Christy smokes. That's what she does.

After a rough shift at the restaurant, Christy heads out for some fresh air and finds Chef Rudy smoking. He offers her a cigarette, but she tells him she gave up smoking after getting sober. After a bit of back and forth, Chef Rudy wins and gets Christy a-huffing-and-a-puffing-away.

At a meeting later, Tammy excitedly tells the girls she met a guy at Home Depot and he texted her. Both Jill and Christy give her advice, although as Marjorie points out, Christy hasn't dated "recently," so Tammy goes with Jill's advice and soon enough has a date lined up. As Christy heads out from AA while the rest of the gang gets a good laugh out of her non-existent love life, she runs into a girl from the meeting smoking, and after a minute, asks to bum a cigarette. (And then she runs and hides behind a bush so Bonnie and the rest of the girls won't see her!)

Christy goes into a service station to pay for her gas and ends up coming out with a pack of Lights. When Chef Rudy sees her smoking later, he tells her she's now a "real smoker" and gifts her with a lighter he got off a busboy.


At Marjorie's, the rest of the gang gets ready to send Tammy off on her date. Jill gussies her up and off she goes, more excited than a baby with a bottle full of Mountain Dew! A few hours later, she gets home. The date went great! Jill urges her to wait until he texts her again, but Bonnie says a short "I had a great time." text won't hurt. Tammy takes Bonnie advice, but adds a little bit extra on to it - texting "I think you're the one!" Well, I guess she won't be getting a second date...

The next day, Christy is smoking in her car and running late to lunch. Determined to keep her new habit a secret, she goes the full nine yards in sanitizing herself and her car - mouthwash, air-freshener, Purell, and dryer-sheets! But even the master clean-up isn't enough to foul Bonnie, who quickly catches on and pulls the lighter and cigarettes right out of Christy's purse. Bonnie then precedes to "mom-glare" the hell out of Christy.

Tammy, meanwhile, is obsessing over whether her date will text her back. Bonnie tells her to stop obsessing and take things slow, but that doesn't seem to do much good. Looking for advice on how to bend Tammy to her will, Bonnie later goes over to see the Master herself - Marjorie. Marjorie tells Bonnie that if Tammy needs her advice, she will ask for it. Marjorie admits that when Bonnie first started dating Adam, she didn't think it was a good idea because she didn't like Adam at first and didn't think Bonnie was ready to be dating, but obviously she was wrong. Bonnie asks her why she didn't tell her all that stuff back then, and Marjorie again reiterates that Bonnie didn't ask for her opinion, the same way Tammy hasn't asked for Bonnie's.

Outside AA later, Marjorie walks up on Christy smoking. Christy's poor attempt to hide it by sticking the lit cigarette in her back pocket doesn't exactly work and Christy tells Marjorie to go ahead and lay on the lecture. Marjorie doesn't give her one but instead explains that she went through the same phase of trying to still have vices while being sober. Marjorie tells Christy that her vice was flirting with a married guy in her AA group, but she eventually got over it. (Him wearing a denim vest to a meeting may have had something to do with it!)

Later, Bonnie calls Tammy to apologize for being so pushy and finds out she's currently sitting outside her date's house stalking him! Tammy asks her if she's being crazy and Bonnie finally gets her chance to shell out some advice. She finds Tammy and is finally able to convince her that maybe her potential relationship is over. Tammy says she's gonna be single for the rest of her life, but Bonnie tells her that she'll do better next time and eventually find someone, just like she did. And sure enough, the Uber driver Tammy used for a ride to go stalk her ex chooses that moment to ask her out!

At Christy's work, Chef Rudy finds her standing outside in the wind and rain struggling to get her cigarette to light. When she asks if he's going to smoke with her, he says he's quit. Maybe Christy's smoking stunt will be short-lived too!

Random Thoughts:
-Bonnie once lived in a date's attic for three weeks without him knowing? Why doesn't that surprise me?


-Marjorie doing Jazzercise in full 80s workout gear was the best part of the episode!

-I just about died laughing watching Bonnie try to interact with Marjorie's cats. Reminded me of my dad slowly inching away from any cat who gets near him...I guess some of us are just dog people.

-Best lines go to Jill when she's giving Tammy advice about texting her date - "Tell him you're at a gala. No, wait, you met him at Home Depot. Tell him you're at a County Fair." and Marjorie, when she catches Christy trying to hide her cigarette - "By the way, your ass appears to be on fire."

Do you think Christy will keep smoking? Is Tammy going to have more luck dating? Let me know below!