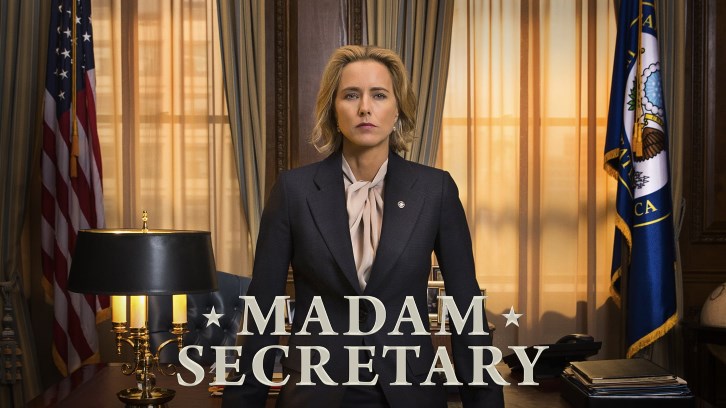 Madam Secretary
"Winter Garden" was written by Joy Gregory Lies and was directed by Eric Stoltz. I usually quite enjoy Sotltz's direction, but I found some of the editing and camera work a bit distracting in this episode. The writing, however, is as usual terrific. I loved how this episode was bookended by the scenes at the school in Northern Kosovo, and I liked how the themes of uniting people under a common cause – against a common enemy ran throughout all the story threads.
In the main storyline, Elizabeth (Tea Leoni) is trying to get Serbia and Kosovo to agree to terms so that both can be included in NATO. However, as always there are ripple effects from other factions. Maria (Vanessa Aspillaga) tells Jay (Sebastian Arcelus) that Spain is pulling their sponsorship of Kosovo because there's been too much attention on the unrest in Catalonia.
Elizabeth confides in Henry (Tim Daly) that she really wants this deal to send a message to Russia that they can "kiss the Balkans goodbye." Elizabeth and Jay both meet with Maria to underscore that as a member of NATO, it's Spain's duty to help keep the world stable. Maria points out that if violence erupts in Spain because of the support for Kosovo, they will be calling on those NATO allies for help. And of course, the meeting is interrupted by Daisy (Patina Miller) with news of a mass grave of Albanians being discovered at a construction site. Spain's involvement seems moot as both Kosovo and Serbia move to pull out of the agreement.
Russell (Zeljko Ivanek) is naturally having a fit that the deal is blowing up – and so publicly as he keeps his eye on the election. He admonishes Elizabeth for reaching too far too fast. Elizabeth wants Russell to get help from the Senate Foreign Relations Committee – and tells Russell to remind them about the recent attack on the White House. I like that Elizabeth may want to be President, but she's not letting that distract her from doing her job.
Jay reports that there is no actual evidence of the grave – it's just a false rumor that has been started on social media. The Serbian delegate accuses the Kosovo of planting it. Elizabeth is frustrated that she has to get them to calm down about something that didn't even happen! While Jay and Elizabeth continue to try to get the delegates back to their agreement, more violence is erupting due to false reports on social media. Elizabeth is now worried that they will have to stop another war – it's not must the NATO deal going south.
In their morning briefing, Elizabeth makes a good point – that is really ripped from the headlines. Matt (Geoffrey Arend) says what everyone has been dancing around – Russia is the one starting the rumors. Elizabeth points out that they aren't the only nation using hate speech and fake news – they need real proof about where the social media posts are coming from. Sadly, in today's world, so much hate speech and fake news is coming from one Twitter account in particular – and it's contagious.
Jay suggests that they go to Chronic DM for help, and Jay goes to see Scott Goodman (Charles Socarides). Elizabeth thinks that they can get him on board if they make him look like a hero against fake news. Goodman is concerned that they are asking him to censor the Internet – the DMCA stipulates that he's not responsible for what people post – and he's right! Jay gets him on board and he gives up the ISPs which all lead to a troll farm in Crimea. I thought this entire conversation was also very timely in light of the puritanical crackdowns occurring on social media – and in particular Tumblr's new NSFW rules which amount to censorship.
However, turning back to the show, I loved Ephraim's (Clifton Davis) attack on the troll farm. In particular, I liked that they told everyone to step away from the servers before they blew them up remotely!
Elizabeth then contacted the Russian Foreign Minister – Konstantin (Yasen Peyankov) and confronted him about the troll farm and his state-mandated propaganda machine. Konstantin denies that you can draw a direct causal link between the rumors and the violence. However, even Konstantin proves to have a heart when Elizabeth shows him the picture of a 12 year old boy who was killed due to the rumors. He agrees to at least look at her material.
Once again, Elizabeth turns to Henry as her sounding board. I really love the scenes between these two as they debate these thorny problems. Elizabeth is still seething over Konstantin's remarks, but concedes that the rumors were fueled by the hatred that already exists between Kosovo and Serbia. She wonders if there was ever a sectorial conflict that was resolved peacefully. Henry suggest that England and France eventually got over their hatred of each other. He also points out that the Incas almost destroyed themselves – and were only stopped by Spain.
Elizabeth tries again with the delegates from Kosovo and Serbia. She points out that they can continue with their conflict until one or both sides are wiped out or they can unite against their common enemy – the ones who started the rumors – Russia.
Blake (Erich Bergen) meanwhile is adjusting to his new position. A particularly difficult adjustment for him is Nina (Tracee Chimo Pallero) who is taking over his old job. I didn't blame him here at all – she is seriously annoying! Although, it was cute that she met him at the elevator with coffee and a treat. But who would let their desk look like that when it's so public!?!?! Blake also gets his first assignment from Elizabeth – who I am confident realized that Blake needed something to take his mind off of Nina and how she was organizing the tea!
It looks like the assignment is going to be a breeze as Blake's meeting with DeCosta (Jeff Blumenkrantz) at the Global Health Diplomacy over the Anti-malarial Initiative goes really well. However, the OES and Tom Kline (Jeffrey Schecter) have filed an objection. It looks like they could be at an impasse when Blake uses the 'unite against a common enemy strategy' by telling both of them that the DOD is going to get involved. Suddenly, they easily work out the problem over the nets. Unfortunately for Blake, all his hard work is for nothing when a private company steps up to take over the Initiative. Jay tells him to get used to it!
Finally, in a really bizarre scene, Gordon (Mike Pniewski) shows up at Elizabeth and Henry's house in the middle of the night. He's clearly not quite in his right mind – and even takes some of their Christmas ornaments – and his wife Deedee (Mary McCann) shows up to apologetically collect him. Henry and Elizabeth laugh it off as one for the memoir, but they are both clearly concerned.
The next day, Gordon stops by Henry's office to explain that Dr Reese (Dan Zizkie) had prescribed a sleeping pill, and he'd taken too much when the first pill didn't work. Gordon apologizes and explains it was an isolated incident – and he gives back the ornaments. He completely understands, however, when Henry tells him that he'll have to submit a report.
Henry is next accosted by Reese in the hallway. Reese echoes Gordon's words, but he adds a veiled threat when he tells Henry that he gave Elizabeth medication for Alison. They could be in trouble for that after all – though he never says as much, Henry takes it as a threat. Ultimately, of course, it doesn't prevent Henry from reporting the incident.
Russell calls Henry and Gordon to his office and the two wait awkwardly while Russell sees Reese. After Reese leaves, Russell tells them he's having the Doctor resign. Gordon tries to defend him, but Henry refuses to revise his statement. Russell has Henry stay after Gordon leaves. He tells Henry that Reese had to go because he was playing fast and loose with prescriptions and paperwork. Henry is concerned, however, because he doesn't want to become known as the whistleblower. Russell tells him, however, that Henry is a team player – and there is definitely only one team at the White House. It's important for everyone to know that Henry is on the right one. It's a bit more subtle, but it's still uniting against the common enemy – anyone not on the right team.
Finally, a quick word about the two scenes in Northern Kosovo. I liked that the first scene illustrated that the children didn't harbor the same ingrained prejudices as the adults. They simply wanted to be friends and watch a moving together. Having the teachers unite the two classes at the end was a bit heavy-handed – as the show can be – but it was still a nice illustration of how change has to happen. Of course, having them work together to make something grow is also an obvious metaphor.
What did you think of the episode? Let me know your thoughts in the comments below! I'm particularly interested in what people thought about Nina!