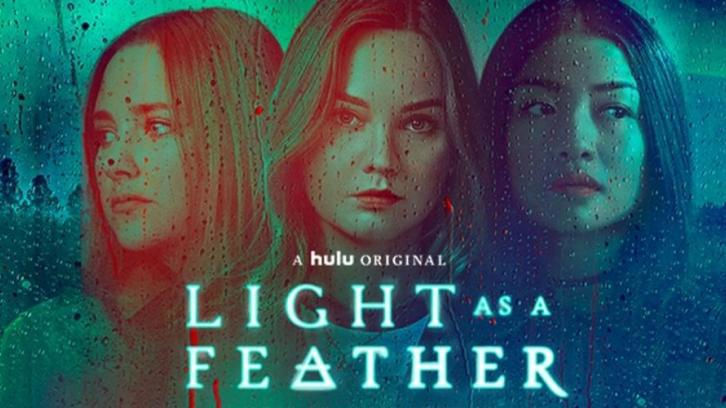 New to Hulu in mid-October was the quick-fire thriller titled 'Light as a Feather'. One of my favorite actresses, Liana Liberato, headlines the 10 episode series, but the all-important thoughts of our writing staff and community were rather mixed to say the least. Kindly giving us his thoughts on the series, and how its music came to be, is composer Pieter Schlosser. Here's my interview with him:


Do each of the main characters in Light as a Feather have their own themes? If so, which one do you like best?

The score for the show didn't really lend itself to writing a lot of thematic material. Not that I didn't try! I did write one recurring theme in the show for Violet, which is also the main title. Having said that, I wanted to focus more on textures and ambience instead and I created specific sounds for the chrysalis whenever it makes an appearance or it relates to the scene. I also used lots of voices that I processed and mangled in fun ways. Sometimes it's distinctly a voice, other times it has been molded beyond recognition but there's an element in the sound which remains that, hopefully subconsciously, is still familiar to the ear.

Do you have an episode from this season that stands out to you most, musically?

It's hard to answer that question for several reasons: They happen so quickly and they evolve as we move forward so it's hard to pick a single episode. Each of them builds on the previous one not just in the evolution of the story but in the way the music is used to tell it. I wrote a cue in episode 2 where Violet is in her room and 4 black butterflies start to flutter around near her bay window. One of them lands on her hand and she suddenly crushes it. This moment foreshadows the first death in the show. I was surprised at how natural and easy it felt to write that melody.

Main titles sequences have been known to sum up the vibe of the show in just those few seconds. Do you feel the main title for Light as a Feather does this?

It's really tough to write a 15 second main theme, let me tell you! So much to say in a very small space!

When I was first asked to write a main theme, I had finished episodes 1 and 2 and was busy scoring episode 3. I remembered how much the producers really liked the music in the butterfly scene in episode 2 that I mentioned previously. I took that theme, sped it up, changed the arrangement a bit and, much to my delight, it sailed on through to approval and became the main theme!

We read that you do everything you can not to lead the witness and let them know what is about to happen. Can you elaborate on this a little more?

Audiences are very smart which makes it a challenge to surprise them. Certainly not just on my end but from the writing, acting and editing perspective. There are scenes where the audience will definitely know what's going to happen which is where you just lean into it and attempt to scare them as much as possible. Other times, it's fun to not have any music at all for a bit which, in my mind, makes the audience even more uneasy because they are expecting you to tell them what to feel with the music. You can try this some time during a conversation. Take a really long and deliberate pause when it's your turn to speak and see what happens. I can almost guarantee they will start to fidget. It's so much fun!




The show is categorized as a horror/thriller/drama. Is this harder to score than lets say a comedy?

They both have their challenges, no doubt about that! Having said that, this genre is slightly more straightforward and less dependent on timing than with comedy. Comedy, to me, is the hardest genre to work on. All aspects of it have to line up just right for it to work and timing is so crucial! The same applies when you're scoring comedy. I feel like I can get away with so much more on a horror/thriller/drama than I ever could on a comedy.

By the end of the season 1 of Light as a Feather do you think your score changed at all from the first episode? If so, how?

I'm not sure! There will definitely be a through line, of course. It will depend a lot on what happens in season 2 if the powers that be decide to renew the show. I really hope so because it could go in so many directions! They could go to the past where this all started and, depending on how far back they go, I might need to adjust the score accordingly. For the record, I'm only speculating. As much as I wish I did, I do not possess any secret information on the fate of the show.

Are there any current TV scores that we, as viewers, should be paying attention to?

'The Handmaid's Tale' has a really terrific score. I can't deny that I was quite inspired by it when writing music for 'Light As A Feather'. It's quite unique and unlike anything else currently on TV. I'm also currently watching 'Poldark' on PBS which is scored by Ann Dudley. I used to be a huge fan of the band 'The Art Of Noise' when she was a member and was quite surprised to learn she was the composer on the show. So much to learn from her gorgeous writing!




Since you started out, what do you think are the biggest changes that the film and television industry has experienced from your point of view as a composer?

Technology has advanced so much since I started. In order to be competitive, you had to spend an incredibly large amount of money on equipment to write and produce music. Things like computers, speakers, sample libraries, etc. Nowadays, there is so much you can do with just a laptop. I have to confess; this has made me evaluate how much equipment I actually buy and forces me to think about my wants and needs. Is that piece of equipment/gadget/sound library going to make me write better music? The answer is almost always: NO! Do what you can, where you are with what you have. *steps off of soapbox*

To finish up, what are the most challenging and most rewarding parts of your job?

Over the years I've learned to change my perspective on challenges. Whatever challenge that might be. I've adopted the motto of my good friend AJ, which is to fail faster. Whatever the challenge is, get your hands dirty and try to solve it. There is never any wasted time because one step will lead to the next regardless of whether that step worked or not. Every day is an opportunity for me to be better than I was yesterday.

The relationships I continue to develop are the most rewarding aspect of this job. I don't think you'll meet people as passionate about their craft as the ones working in entertainment. Regardless of the job, it takes an inordinate amount of discipline, moxie, dedication and patience to succeed. I love being a part of a group of creators that simply want to tell a good story.


Quite an interesting interview, I thought. Big thanks to Pieter for taking the time to answer my questions. 'Light as a Feather' is streaming now on Hulu.