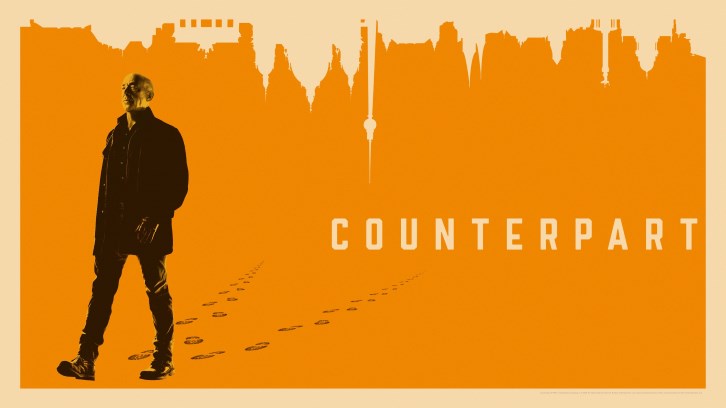 The mystery deepens in the second episode of Counterpart, which saw us travel across the border between worlds to Earth Prime, which explored the consequences that the closing of the border had on the other side. It's clear that there is a blame game going on, with people looking for solutions to the problem that continues to escalate.

Howard Silk, the one from Earth Alpha, is trapped in Earth Prime in a prison cell with no way out. Emily Prime is consistently trying to visit him after their connection deepened on Earth Prime, but to no success despite waiting until the closing of visiting hours at the prison each day. She's focused, determined and ready to go, with the alternate version of her husband now giving her something to fight for. It's being recognised by Management, who have decided to promote her to Deputy Director of Strategy, where she has to bring in Mira, if the other side can re-open the borders.

We also spent a little bit more time with Emily Prime's home life and caught up to what Anna was up to. Anna is in the dark about the whole parallel world things still, having split up with her boyfriend, and it's hard to see her think that her father has just gone back to what he was before when in actuality, the Howard who was kinder to her has no choice because he's stuck behind bars.

It was interesting to get short glimpses into how the shutting of the borders is for characters on either side. There is a lot of similarities between the Cold War and how the Berlin Wall divided East and West Berlin in the show's concept here, and it's good to see that the show doesn't ignore the consequences that such a major incident would create in terms of diplomacy, with plenty of conflict on both sides of the table.

Management promoted Emily Prime with her new mission, but it's clear that it's conditional. They expect her to play along and do what they tell her to do. Naturally, she goes straight to visit Howard with her new clearance, where Howard is able to confess in an emotional scene how disappointed he is in Emily Alpha for keeping him in the dark about everything and being actively involved in shutting down his request for a promotion every time he tried. It turns out that Emily Prime did the same to Howard Prime on their Earth so she is able to provide Howard with a reason as to why she might have done it, and that was in the interest of Howard's safety. She wanted to keep him out of the picture and out of harm's way. And who can blame her? No sooner has Howard found out about the truth, he's now locked in a prison cell with no escape.

But Howard insists that he would have not walked out on Emily if she would have told him the truth, which is something that Howard Prime did once he found out. It created a rift between the two that Howard doesn't want to repeat with his Emily. But one thing is unavoidable about Emily Alpha, and that's the fact that she seems to be more than she appears. She was spotted on Earth Prime for an unknown purpose, which gives a sense of added agency to her character. Is she keeping secrets for a good cause? Or a bad one? Nothing is what it seems on Counterpart so there's no doubt that there are still plenty of revelations left to come.

But for now, Emily and Ian reluctantly team-up to try and get Mira by any means necessary even if they aren't on the best of terms, but they still find themselves being thwarted at every turn. To make things more complicated, the man interrogating Howard works for Mira. It only seems a matter of time at this point before Emily Prime and Emily Alpha meet in person, but how that happens while the borders are still closed remains anyone's guess. The possibilities that spiralled out of Aldus recognising Emily Prime before he jumped of the rooftop are plentiful.

But Counterpart has proven adept at creating complex and intricate characters and it's going to be interesting to see how the show continues to find ways to subvert our expectations. If you thought the mystery was any closer to being answered then you're going to be disappointed, as there is a whole host of content left waiting to be explored. The fast-moving pace that this show has adopted is keeping it exciting and unpredictable, and the next episode can't come quickly enough.