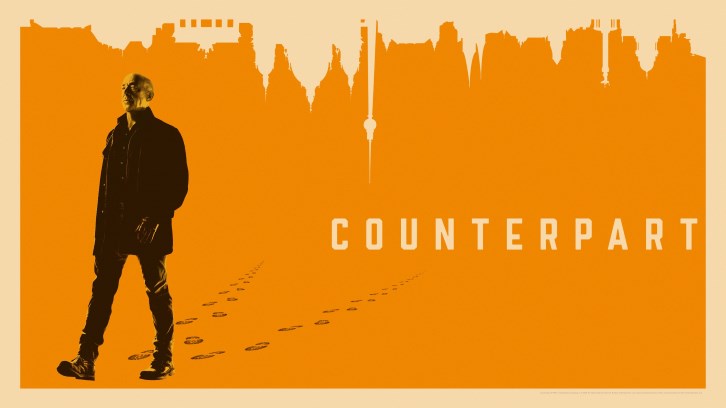 One of the biggest but most welcome surprises of 2018 was seeing just how quickly Counterpart was able to return following its incredible first season, which echoed the slow-burner espionage elements of The Americans and John le Carré but delivering its own sci-fi twist in the process. Here we are plunged back into the world of Counterpart with no stop gap, picking up where things left off with a closed border between the two worlds of Earth One and Earth Prime with tensions escalating on both sides.

The show itself adopts a faster pace this time around and although some characters roles are reduced, this is only the premiere so you can expect to see more attention given to them in future episodes as the season progresses. The show explores what happens to those from Earth Prime who find themselves trapped on Earth One, most notably, Howard Silk, who has betrayed his counterpart from Earth One and has essentially switched roles with him seemingly permanently. Now Howard must live the double life of his counterpart, which includes reintroducing his wife Emily back into the world after she has recovered from her coma.

We learnt last season that Emily was more than what she appeared, keeping her work secret from Howard for all these years, but now, there are more pressing things to deal with. Howard is keeping things under control in both his home life and his work office, but the net is closing in. The time that we spent with Emily in this episode gave an interesting light into her character and got the best out of Olivia Williams in the process as she was effectively able to reexamine herself as a person and who she was before. How long she will remain in the dark about her husband not being her husband remains to be seen though, and it'll be interesting to see what comes from the consequences of it now being Howard's turn to keep the secrets.

This was a big episode for Peter too, who is living with the lie that keeps Clare safe from being discovered. The tension developing between the two over the course of the episode was interesting to watch unfold, and Clare giving Peter what he wants to keep him safe at work after everything that she has kept hidden from him is another reminder as to just how the tables have turned. Both Clare and Peter are in an increasingly difficult positions, with Clare facing a threat from Lambert who even dares to approach her while she's living with her family from Earth One. Aldrich may have been outed as Shadow incorrectly for now, but it's only going to be a matter of time before something comes up.

Especially as Peter is under even more surveillance than ever. FBI Agent Naya Temple (Get Out's Betty Gabriel) has been brought in to uncover anyone who could be acting undercover from the other Earth, and it's a big leap for her in her career. Her interview at the start of the episode is a good reminder of the world for audiences who may have forgotten, but it helps that the premiere manages to be surprisingly accessible for those who haven't watched since the show aired. We're reminded of who the key players are on this Earth, and the stakes that they face. Naya's inclusion is a reminder as to how tough things are going to get, as she's actively recruiting employees to rat out their co-workers, resorting Peter and Howard to keep their meetings as incognito as possible.

And of course this doesn't resolve Howard from suspicion completely, as his rise from a desk job into the upper ranks is something that Naya quickly latches onto. Both Gabriel and Simmons are fantastic here as they share an intense back and forth conversation where even Howard Prime may not be safe for long. He's going to have to be extra careful, even moreso than before, and on alert all the time, especially under the reign of Naya Temple, who makes it clear that unlike Peter, she's not going to be so easily bossed around.

It was almost surprising as to how Simmons' role was reduced in this premiere. But the supporting cast are more than interesting enough to hold their own, and there are plenty of mysteries that the show manages to create in this episode. One of the most important scenes of the episode comes towards its end, where Peter's had enough of living the lie and confesses to pretty much everything on tape. It's refreshing to see him admit that he's screwed up and is aware that he's only lasted this long by chance, not because he actually deserves to be in a position of power.

With so many characters to juggle as well as a complex plot and story to thrust the audience back into, Inside Out naturally can't handle everything and a few things are left to the wayside. Sometimes this show becomes a bit too plot-heavy for its own good, and hopefully we'll see a more delicate balance between plot and character going forward. But despite this it feels like a very strong and confident return to the world that I fell in love with the first time around, acting very much like the next episode in the series rather than an overblown series premiere.