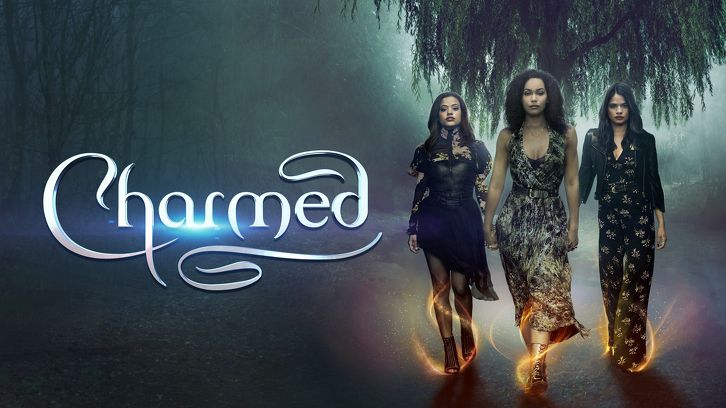 Ho-ho-ho . . . Charmed closed its shaky fall run with their strongest episode so far. Jingle Hell had it all twists and turns, heartbreak and some interesting plot developments. The episode was written by executives Jessica O`Toole and Amy Rardin and directed by Michael Lang


Let`s dig into this review with the only "bad" thing that happened, the removal of Galvin`s mark. While generally, it wasn`t a bad idea to get rid of it the execution felt a bit forced and sloppy. Like just a silly potion Hunter just had on his mind? Hmmm too rushed in my opinion. The writers are obviously on the Macy-Galvin train and I respected that but in the grand sense, this mark was made out to be a big thing and just getting rid of it that fast and easy seemed bit of sloppy. Yet it created some hilarious scenes in this episode. Madeline channeling her inner Hunter was hilarious. It was refreshing to see Madeline this relaxed. She obviously had a lot of fun playing with Hunter in her body and her laying in Galvin`s arms made me laugh so hard and I really appreciate all those eye-rolls.
While the real Macy spent most of her time in the shed, Maggie and Mel had a lot of work to do all around. Mel joined the Sacana sisterhood and it came in very handy when the showdown with Hunter erupted. I am a fan of Jada, she has no boundaries and plays her own game in which I am really intrigued. I doubt the Sacanas killed Marisol yet their slate is anything but clean. The writers are doing a good job with playing Sacana agenda. They are setting up mixed clues confusing even Mel. Sacanas definitely need the Charmed magic as well but wonder for which kind of endgame. The little bit of flirting going on between Mel and Jada plays nice in the whole game and seemingly start to play with Mel`s judgment which could prove as an interesting plot point further down the line.
Meanwhile, Maggie went through her own rollercoaster of emotions. Sarah Jeffery and Nick Hargrove broke my heart during their scenes. Their chemistry is really strong and their performance during their confrontation at the booth was just everything. It felt honest and real and the energy they put into it along with the visuals was exceptional. Parker really grew on me in this hour, the writers provided many layers to his character and his struggle felt honest. The reveal that he is meant to be the Source`s Vessel was something I didn`t expect and while I completely expect this story to unfold I am a bit wary about Nick being able to pull off the Source. I don`t really see him being able to put on that intimidating Big Bad off. But we shall see. And while I don`t expect him to survive this season, his story just got a lot more interesting to follow.
Maggie being let down by her father and boyfriend should put her on an interesting path. The writers did a lot of work on her character this episode giving insight into who she is and how she perceives the world. Her blind faith is her strongest side and biggest weakness which was very well exploited this week. I am a bit disappointed that we didn`t meet her father this week, yet the episode was way too crowded so it probably the best for now. Also this episode created a bit more tension in the relationship, so wehn Father dearest eventually appears on screen it should have a bigger impact and there will be issues to resolve.
The episode ended on two big cliffhangers, Harry got sucked into Tartarus along Hunter and Galvin finds out about the sisters. I do hope we will see a bit of Tartarus and how Harry survives down there in the upcoming episodes. Meanwhile, it also provided Parker a bit breathing room cause he can lie about what happened to his father. Extracting Harry from down there will probably also mean for the girls to have to do some individual magic mor and work both sides, the Elders and Sacana and I do look forward to see how that will play out. On the other side, Galvin knowing puts a mark on his back as well and on the sisters for that matter. Could Galvin slip the truth to someone? We will have to tune into CW on January 20th for that to find out.
Charmed continously improved over their last couple of episodes and build up a solid story and character paths for our protagonists to follow. What are your thoughts on the midseason finale? And their fall run in general? Sound off in the comment section below and share your thoughts with us. And don`t forget Charmed returns from its Winter break on January 20th 9/8 Central on CW.