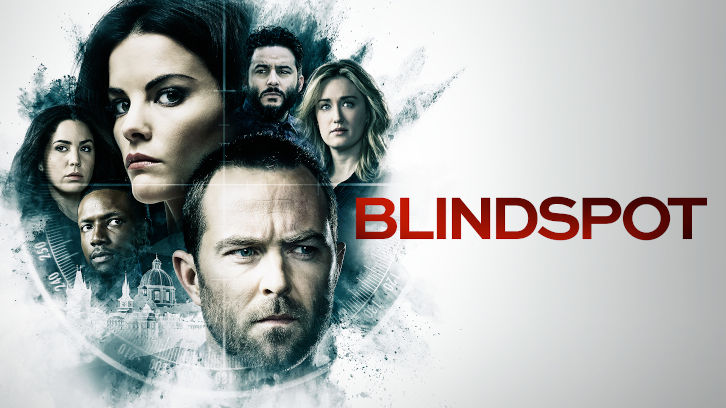 This week was Blindspot's fall finale. These episode have the intention of leaving the audience wanting more in the new year and "Screech, Thwack, Pow" did a great job at it. For Remi and Weller, and for Tasha and Reade, the fall season ended in a stalemate, where we are left wondering who will end up conquering, the good guys, or the bad guys (gals). The storylines that have been developed during the first part of the season seem to come to a resolution, how will it all impact the team?

Last week, Reade and Wietz had decided, on a hunch that JB was Tasha's designated pilot. They had decided to follow the HCI Global plane to Mexico City in the hopes of bringing her back in cuffs, but alive. In order for the CIA not to follow them, they needed to do this under the radar. As she brings them the fake passports, Patterson is surprised to see them working together, and that Reade is in fact not fired. She is not sure they can trust him, but in my opinion he's one of the good guys. It's a probabilities game, right? The short interaction with Patterson is the only interaction Reade shares with the rest of the team. He's been doing his own thing as of late, and I'm hoping everyone will be reunited soon enough.


"You're crazy, you know? I love it" – Franco Cortez
Their hunch proved right, and in a city with almost 9 million people, they simply run into Tasha at a bazar. I'm deciding to let that slide. Tasha and Madeleine flew in to Mexico City to negotiate with the Mexican Cartel. For this mission, Madeleine wants them to work as partners, she isn't her boss. It was a nice sentiment, but not what transpired during the exchange with Franco Cortez. This negotiation shown light on the relationship between Tasha and Madeleine, and proved that Tasha is of value to her. She's in the inner circle now, and worth upwards of 2 million dollars to Madeleine. I don't know why but there is something oddly satisfying about two badass women negotiating with the cartel. Don't get me wrong, they're bad people, but also kind of amazing.
No, it's not Madeleine that orchestrated a missile attack on New York City, causing panic in the city, but it was a plausible theory. Further North, Remi's plan to get Shepard out of the CIA black-site gets initiated when an alarm is sent out to the population that the city is targeted for a ballistic missile. They have thirty minutes to save as many people as they can. Thus, priority Remi gets pushed to the bottom of the FBI's to-do list, as is her plan.
"Goodbye Kurt." -Remi
Rich and Weller ponder their mortality for minute, and it was nice to see how both men react to the news. They're different in many ways, but when they think they are going to die, they both think about the people they love. Weller leaves a heartwarming message for Jane, despite knowing Jane is no longer. I'll give him that, he does not give up. He may not be so far off the track because she is still wearing her wedding ring for god sakes. That's something.
Weller is still convinced that they can reverse whatever happened to her brain that made her reboot to Remi settings. He knows that Jane is still in there, and I do believe that too. Patterson finds an experimental procedure on Roman's data cache that could possibly bring back Jane's memories, so Weller hangs on to this theory. On the other side of the couple, Remi keeps remember something that Weller told her last episode, that she hates him because he's the reminder that she failed the mission. She does believe he was right in this assumption, which makes this her chance to undo all that she's let happen.
After some time, the team realize the treat was a false alarm. Once they come to that realization, it takes only a few minutes for Rich to uncover that NORAD has been hacked and that the hack is coming from inside the FBI. That's where it all starts to come together, everything that Remi has been putting in place for the past few episodes. Despite them uncovering her plan, this still doesn't help them stop Remi from freeing Shepard.
"I don't need you to be sorry. I need you to stand up and be a soldier." –Remi
Shepard is completely broken after spending years in CIA detention. She's given up, wants to surrender, give in, something Remi is unwilling to do. She's worked too hard. From the moment Remi rescued her to sleeping in the warehouse, she has been acting very un-Shepard-like, almost cowering in the face of her daughter. Both have issues to work through, both have a lot of residual guilt about what transpired. Remi wants to fight, rebuilt what she caused Shepard to loose, Sandstorm, her ideologies. Shepard on the other hand, wants to help Remi get better, and I have to wonder if in the end, she'll help the FBI find a cure for Jane. I'm excited to see what comes of this.
Remi's mental status is getting worse and worse. She is having migraines, and the line between hallucinations and reality is becoming more and more blurred. She thinks her dead brother is with her, physically. The team finds a way to take that as an advantage, and leading her into a trap. As it turned out, the new voice over software was a productive use of Rich's time. It was a twist I did not see coming, and I love how the show is still able to surprise even after 4 seasons. I had to laugh at the last moments between Remi and Weller that felt very "Avengers" to me, as they ran towards each other at full speed ready to rip the other a new one. I guess we have to wait until next year to see who will be crown winner here. I'm betting on the good guys.