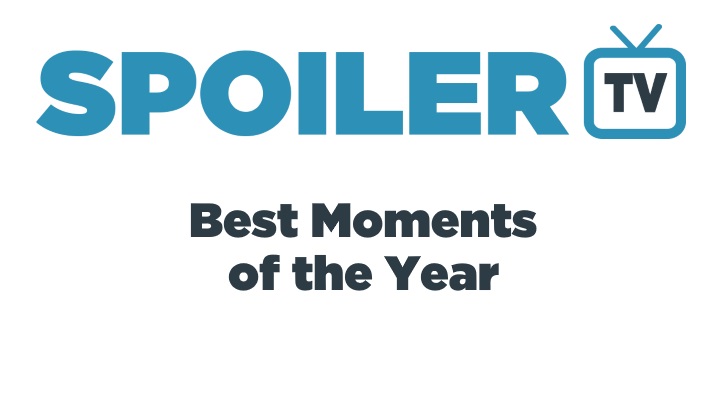 Note: The moments 8-11 had the same number of votes and their order is alphabetical. Also true for moments 6-7 and 4-5.
11. THE HAUNTING OF HILL HOUSE, Episode: "The Bent-Neck Lady", The Scene: Nell is revealed to be the Bent-Neck lady
Missions:
"The Haunting of Hill House" is one of the best TV shows of the year and featured many shocking reveals. But not a single one was able to top the reveal of Nell being the Bent-Neck Lady all along, in the show's fifth episode. The entire episode is a character study, shining a light on Nell's tragic life and how she met her maker. The reveal was truly terrifying, heartbreaking yet brilliant at the same time. It has set a new benchmark for any horror show on television. Victoria Pedretti is revelatory and worth recognition.
Omgluciferlover:
Disturbing but an epic reveal moment which caught me off guard!
10. THE AMERICANS, Episode: "START", The Scene: Stan confronts the Jennings in the parking garage
Paola Andrade:
Six years in the making and the scene didn't disappoint. And not only did it not disappoint, it hit all the right notes. The creators have said this scene took them the longest, and they kept going back to it and working the details, it shows. It's about 11 minutes long and it's all silent, no music, no score, just characters talking. And it's so tense! I felt my face inching ever closer to the screen. Stan confronts the Jennings, he already knows the truth, but he needs to hear it, and when Philip admits he is a KGB agent, it generates all these emotions, excitement, dread, relief, anxiety, sadness. To see that each sentence spoken by the characters from that moment on takes on five different meanings, that they are trying to get out of the situation, but manipulate Stan still, while trying to be genuine. It's a masterpiece. And Matthew Rhys earned his Emmy right there. It's my favorite scene of the year.
Lou:
This was a moment 6 seasons in the making and it did not disappoint at all as Stan finally confronts the truth about his neighbours and best friends. It was heartbreaking, the outcome unexpected and the entire scene filled with unbearable tension.
9. ONCE UPON A TIME, Episode: "Leaving Storybrooke", The Scene: Regina becomes The Good Queen
James:
After seven seasons, Regina's redemption comes full circle as she finally sheds her mantle as The Evil Queen for good (excuse the pun) and becomes The Good Queen. Rumple got his redemption as well, but Regina's felt much more natural, less rushed, and far more compelling. The end of a journey seven years in the making.
Lord Nikon:
Regina after defeating evil Rumpelstiltskin and looking out the window is met by her two sons, Adult Henry and Wish Realm Henry, and tells them that she has one final curse to create. She explains that this time it is not a curse in the traditional sense, and so she explains that if everybody just dropped something they love in the curse she can connect all of the magic realms and to bring them in one place. After the curse is made we jump in time and are greeted by a magic land in our world, then we see a car speed toward a castle in which we find Zelena and Regina talking about a surprise and Zelena doesn't tell her what it is. After entering the palace she is greeted again by her two sons and Zelena poofs herself into the hall. Then Regina enters and is greeted by the whole kingdom waiting for her. Including Snow, Charming and Neal in an arch. Regina asks what is going on here and they explain to her that everybody voted for her to be The Good Queen after what she did for everybody. After that the ceremony follows and goes to Regina being made The Good Queen.
8. BROOKLYN NINE-NINE, Episode: "The Box", The Scene: Jake tricks the suspect into confessing to his crime
LauraLoo77:
From hilarious callbacks like Jake's annoying guitar strumming, to just how much he wants to impress Holt, this episode of B99 had it all. It's a full circle moment, too, as when Sterling K Brown won his Emmy for This is Us, he made sure to thank Andre Braugher and acknowledge his win for Homicide: Life on the Streets. And when it was revealed that B99 would *finally* pay homage to this great show, and arguably its greatest outing, "Three Men and Adena", who else could you have to portray the criminal of the episode? It's easily the most well edited episode of the entire show, with perfect smash cuts and slick camera work. The dialogue works so well here, too, because in the best moment of the episode, when Jake monologues to get Philip to confess, it's what was subtlety mentioned earlier on in the outing that was Philip's undoing at the end. Obviously the acting being sublime doesn't need to be mentioned, but I think we all need to recognize this episode as a legendary piece of media in our time. Just think about it. When are we ever going to get something like this again?
Noor:
The suspect Philip Davidson (Sterling K. Brown) confesses just to prove he's not an idiot, it was a brilliant way to end the episode after Philip had the upper hand all along he was brought down by his own ego, Sterling killed it!
7. THE AMERICANS, Episode: "START", The Scene: Paige gets off the train and stays behind
Saloni Gajjar:
The entire series finale of The Americans was perfection but this moment, in particular, is such a standout. It was an unexpected and emotional turn of events in the life of the Jennings. The scene was elevated by the excellent performance of Keri Russell.
Ivana Cvetanovic:
Shocking and heartbreaking moment when Philip and Elizabeth realize that they have lost both their children - as Paige decides to stay in the USA and not go with her parents to USSR. Perfect use of "With or Without You" by U2.
Rainee Toneme:
The scene is devastating. Paige wanted to be like her parents, but eventually chose to live her own life. She couldn't leave Henry to fend for himself. Phil rushing to Elizabeth's side, risking their cover, says how much he loves her. He knew she would be heartbroken, and needed him by her side. They made it out alive, but it cost them their children, their friends and their home.
6. SHARP OBJECTS, Episode: "Milk", The Scene: The reveal that Amma is the killer
Missions:
"Don't tell mama" is THE most memorable TV line of 2018. Just when we thought the mystery surrounding Wind Gap's infamous killer had been solved with Adora (Patricia Clarkson) in jail, Camille (Amy Adams) learns that Amma, her little sister, is the one guilty of the charge. She finds the dead girls' teeth arranged as floor tiles in Amma's dollhouse, to which Amma responds, "Don't tell mama." Adams and Eliza Scanlen are both terrific in this scene, expressing each and every emotion with their eyes and facial expressions. In a post-credit scene we then get a glimpse of Amma committing the murders - a horrific image that is now etched into my brain.
Watercoolertv:
It was shocking and unsettling.
5. BROOKLYN NINE-NINE, Episode: "Jake & Amy", The Scene: Amy and Jake get married
Ivan:
This moment was a long time coming. Jake and Amy are one of the healthiest couples in television and to see them get married felt like a reward to their fans.
4. AGENTS OF SHIELD, Episode: "The Real Deal", The Scene: Fitz-Simmons wedding
Laura:
Fans waited many years for this and when it happened it was the sweetest thing we could have ever asked for.
ClassicWaffle:
Fitz and Jemma getting married was 5 seasons in the making and the best wedding I've seen - plus the Deke reveal was awesome!
3. THE 100, Episode: "Damocles – Part Two", The Scene: The ending
Ivana Cvetanovic:
Monty and Harper died, but they got maybe the happiest ending anyone is likely to get on the show. And after 5 seasons of constant wars, killing, pain and fight for survival, Monty provided his friends (and the small remaining number of the human race) with a new beginning, giving them a message of hope beyond the grave - not just to survive, but to be good guys and be happy.
LukeGllr:
At the end of the season 5 finale, we are told that we have arrived at a new planet by Monty and Harper, who have sadly died, but got to live a long life of peace. The season ends with a shot of this new planet, which was definitely one of the greatest reveals and TV moments of 2018.
2. AGENTS OF SHIELD, Episode: "The Devil Complex", The Scene: Fitz reveal
Noor:
It is revealed that the Doctor is not a fear dimension creature, but rather Fitz having a mental breakdown. When you watch AoS for all those years you swear they won't catch you off guard again, but they did! It was shocking, heartbreaking, foreshadowed subtly so it's not out of nowhere, acted to perfection by Iain, and served to take the season in a new exciting direction.
Ivan:
This moment is one of the 2018's most mind-shattering moments. Fitz had been under so much pressure the past few weeks, but it never seemed like he was near this break. The show didn't forget that Fitz suffered a massive brain damage and to have it revealed he had been hearing Leopold for longer than we thought made this reveal all the more heartbreaking and made us look at the season in a different way. It was extremely hard to watch but so rewarding to see Iain De Caestecker with his Emmy worthy performance.
Chloe Curnow:
That moment of realisation for him while Jemma watches heartbroken was one of the most gut-wrenching moments of the entire season, not least because Fitz is one of the most loved characters on the show. And that's not even mentioning the phenomenal acting as De Caestecker shifts between Fitz and the Doctor.
1. LUCIFER, Episode: "A Devil of My Word", The Scene: Chloe sees Lucifer's devil face
Lord Nikon:
Lucifer found out where Cain is and goes to fight him, but he is surprised by Chloe who followed him and joins him to confront Cain. While everything goes alright all of a sudden Chloe is shot and Lucifer picks her up, takes out his wings and decides to use them as shield which works and teleports Chloe to the roof. After that Lucifer returns and just dismantles Cain and his followers and is finally able to go after Cain. Eventually he changes to his devil face just when he stabs Cain in the chest killing him. Right at that moment Chloe is behind him and finally sees Lucifer's true face and finally believes him, that he is the devil.
Alfagirl:
Lucifer fights Pierce/Cain, gets his devil face back, turns around, reveals it to Chloe, and Chloe says, "It's all true".
Kay:
Such a badass scene and a shocking cliffhanger.
Honorable mention for the following shows:
911, 12 Monkeys, 13 Reasons Why, A Discovery of Witches, A Million Little Things, Agents of S.H.I.E.L.D., All American, Altered Carbon, American Horror Story, Arrow, Atlanta, Atypical, Better Call Saul, Black Lightning, Blindspot, Bodyguard, BoJack Horseman, Brooklyn Nine-Nine, Castle Rock, Channel Zero, Chicago Fire, Chicago PD, Chilling Adventures of Sabrina, Claws, Cloak and Dagger, Cobra Kai, Code Black, Criminal Minds, Daredevil, Doctor Who, Dynasty, Elementary, FBI, Fuller House, GLOW, God Friended Me, Gotham, Grey's Anatomy, Hawaii Five-0, How to Get Away With Murder, It's Always Sunny in Philadelphia, iZombie, Jane the Virgin, Jessica Jones, Killing Eve, Krypton, Legacies, Legends of Tomorrow, Legion, Lucifer, Madam Secretary, Manifest, Mayans MC, NCIS, New Amsterdam, New Girl, Once Upon A Time, One Day at a Time, Pose, Quantico, Queen America, Riverdale, Schitt's Creek, Shadowhunters, Sharp Objects, Star Trek: Discovery, Supergirl, Supernatural, Superstore, The 100, The Americans, The Big Bang Theory, The Blacklist, The Flash, The Gifted, The Good Place, The Handmaid's Tale, The Haunting of Hill House, The Last Ship, The Magicians, The Originals, The Royals, The Walking Dead, This Is Us, Timeless, Titans, Van Helsing, Westworld
These are YOUR picks. Come back later to read SpoilerTV Team's choices for Best TV Moments of Year 2018! And share your thoughts in the comments below.