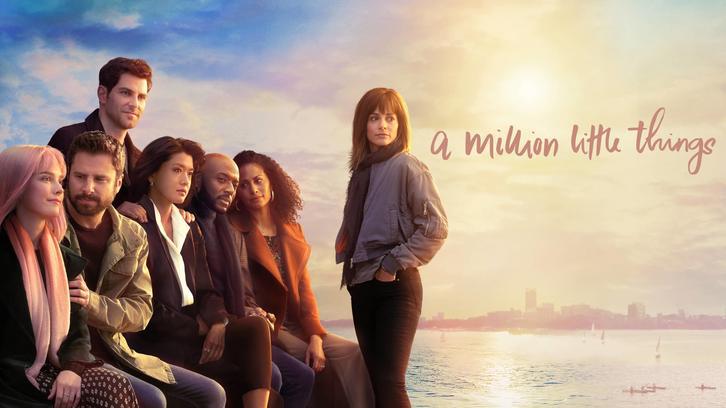 Even though it has evolved into one of the best shows on TV, A Million Little Things isn't above teasing its audience with the possibility of extra scandal. The closing moments of this episode showed a flashback where Jon brought Ashley to a mysterious apartment. She asks him what they are doing there.
"I'm not the man everyone thinks I am." He opens the door, and what happens next is she goes in for a kiss.

"Then we're going to get ourselves a Nativity scene sans Jesus, and that's how we're going to sneak your baby into this family."
One of many delightful, humorous bits in this episode's great screenplay.
"Me too."
"So did I."
Eddie and Gary chime in with absolute sincerity. It works on both the kids and us by temporarily relieving our anxiety. Though we, of course, spend the remainder of the episode waiting for Delilah to show signs of not being okay. I can't speak for everyone watching the show, but I am very invested in these characters now. And I cannot handle something bad happening to mom or baby! Delilah started experiencing some pain later when she was serving cookies. (Is nothing sacred?)
Even as the Dixon family celebrates, Sophie and Danny knowing about the baby creates a new emotional challenge for Eddie. Minutes before Sophie appeared, Eddie was having a heart-to-heart with Delilah. His drinking meant that he hadn't been a supportive partner for Katherine when Theo was on the way. Now he gets a chance to be that for her. However, as long as they continue to say the baby is Jon's, his ability to do that is limited.
"How do you know how to sew, Mom?"
It is not lost on Katherine that there are many things about her their son doesn't know. She begins to tell him how she learned from her grandmother and even lets him try a few stitches on the sewing machine. Grace Park continues to make Katherine one of the show's most fascinating characters. Watching her and Theo mutually learn new things about each other is subtly devastating and uplifting. She helps him a (quite marvelous) gingerbread house. Theo confides in her that "growing up is hard." Tristan Byon nails that cautious, wistful frankness when Theo relates how it's hard that so many things are changing. This inspires Katherine to enlist Eddie to stage a surprise phone call from Santa. A call that also comes with an apology from him about not being there more for her. Eddie continues to wear his wedding ring too, which can be interpreted more as a sign of respect than a wish to reunite. For now, it's enough that they are awkwardly rebuilding a friendship.
After the emotional roller coaster Gary has been on for the last few episodes, it's a relief to see him closer to his usual self. Delilah masterminds getting him and Maggie in a car together by sending them back to the tree lot for more lights. Without a doubt, one of the most painful parts of the series so far is their first car ride in this episode. Gary is going through the motions of being casual, playing peppy songs and singing along. Maggie sits beside him, with tears burning in her eyes, tears that she is holding back by sheer will. And he pretends not to notice. It hurts and hurts. At the tree lot, though, they find common ground in prevailing over some rude people ahead of them in line. This results in a much more cheerful car ride back to the house. Gary suggests they just be friends, which Maggie protests he won't be able to stick to. She also finds Ashley's scarf, which he jokes belongs to an elderly paramour. Delilah later unknowingly reveals to Maggie it was Ashley's. This upsets Maggie, mostly because she has bottled up a ton of stuff and just needs to get it out.
"You want to know why I slept with Ashley? Because I am in love with
you
."
That should make no sense, but there is total honesty in his voice. Maggie promptly throws up on him. (Allison Miller is phenomenal on this show in every episode, but I have got to give extra points for her authenticity in this scene. It's not some glam spew and still be fresh as a daisy scene. She's still groaning and shaky and miserable for the entire aftermath.) Gary, of course, absolutely freezes. His only instinct is to gently smooth back the hair from around her face. As she starts to cry about messing up his new car, Gary doesn't even seem to register what she's saying. He doesn't see puke. He sees hope. Pushing up her sleeve and seeing the needle mark confirms it. His reaction and his joy make the moment even more heartwarming. And the show has properly built up to this and developed their bond so all the emotional punches hit their mark.
On that note, don't forget the show is also moving. To a new Thursday night slot starting January 17th.