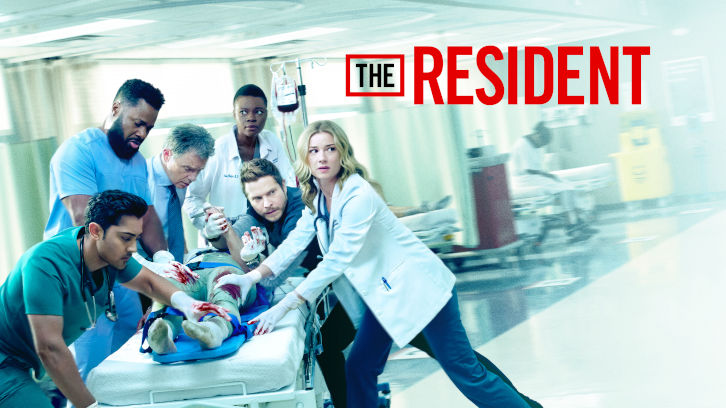 "The Dance" was the fall finale for "The Resident," and it was an awesome episode which left us wanting more. It was tense, yet heartfelt. It was genuine, yet surprising. It was an all-around very well rounded episode for the show where all characters had their chance to shine.

Lane was not physically present in this week's episode, but her last conversation with Bell motivates his actions in "The Dance." Randall needs to find a way to fulfill his end of the deal with the devil; he needs 500,000$ to post her bail. It's money he won't be getting back, but it's the least of his worries. He makes a deal with another kind of devil, and it's hard to know if he's privy to what is happening behind the scenes in Quovadis, to what he's getting himself into. I seriously doubt it. It's a bad move. He gets the money as an advance against future stock earnings, which means he will be on the hook if QuoVadis goes down. That's not good for anyone, especially the patients. Gordon will hold him by the balls before the season ends, I guarantee it.

Someone who wants Quovadis to go down is Julian, who is resolved to leave Atlanta after witnessing the ethics of her employer. Everything about the company is a sham. Gordon is lying to his investors; he is lying to their patients. I found myself constantly worried about her during the entire episode, and I thought I didn't even like her. What happened to me? The show made a great job in getting the audience invested in her character. She sneaks around her boss' office and steals his key card in the hope of snooping around the laboratory. I was internally screaming at her to stop, that there was surely a camera in there. In the end, it wasn't a camera that brought her down.

What she finds is even more shocking than what she was expecting, there is no lab. It's a hoax. She calls the FDA in the hopes of stopping all of this, she wants whistle blower status, and will tell them all she knows. Instead, she is turned in to Gordon. He has spies within the FDA. It was a very stressful moment, because it's hard to know what Gordon is capable of, he has a lot riding on his company. Julian confronts him with everything she knows, which couldn't have been a good idea. He lets her go with what seems to be a slap on the wrist, but it can't be that easy. As she is driving away, she realises she is being tailed, and crashes her car into the river. Her future is unclear. Greed can bring people to do nasty things.

I don't feel like they needed to get Julian involved in the whole love triangle thing to keep her relevant, the Quovadis angle was relevant enough. They did, and the wardrobe department made it a point to make them match, demonstrating how they fit together. Anyone else notice this?


When it comes to her relationship with Devon, she is hard to follow. Last week, Julian was adamant they did not have to make a big deal out of the kiss, they were friends, only friends. I don't know what he told her to get her to come meet him, but they are no longer in the friends category. Now, she can't be meeting with him on his wedding day. She will not be taking the blame for breaking up an engagement. Except…. Maybe she should. Everything is falling apart for the both of them. He doesn't want to go to San Francisco with Priya who took the job. Julian is quitting her job and leaving Atlanta.
On his wedding day, Devon is clearly still having doubts. He's a good person, and it's in not wanting to be the bad guy, the disappointment, that he waited until the last possible moment to tell the truth. That made it a thousand times worst. His timing absolutely sucks, but at least he put on his big boy pants and told Priya the truth. It's a conversation with his mother that pushes him to do the right thing, and not marry Priya out of obligation, but to be with the woman who actually has his heart. Priya does not take it very well, and that's understandable. She feels humiliated and betrayed, which she should. It was a great scene for Tasie Lawrence, you could really feel the emotion. She pretty much summed up what I thought of the situation. He
should
feel bad about it. I'm glad that he's not off the hook.
"Why did you wait until now to tell me? You've humiliated me, and you think that this little speech gets you off the hook." -Priya
A big portion of the hospital staff is all dressed up (aka gorgeous) and assisting the wedding (or almost wedding). Since none of them are on call, they decide to turn off their cellphones in order to enjoy the moment. This is why it takes them a while to be informed of Marshall's health decline.
Marshall collapsed as Mina and Nic are touring their new free clinic in the making, right across from Chastain. He has been living with Crohn's disease for over 20 years, but Conrad did not know it. In fact, he realises the does not know a lot about his father, about his relationship with his mother. As Marshall admitted to Chastain, Nic pushes Conrad to talk to his father as he would for all of his patients with that he learns more on his father. Upon talking with him, Conrad learns new information about his parent's relationship, bringing new light on his father's motives over the years. I get that no one is purely evil or good (except maybe Lane) and I really wish we could understand more of Marshall's character and why Conrad spent so much of his life hating him. They have made real progress in their relationship, it's easy to see.
"I am glad you came back. You're my father, and I love you." –Conrad

When Marshall designs Conrad as his medical proxy, it irritates Conrad. He claims he doesn't know his father enough to have that responsibility. He gets mad at it, mad at the fact that his father has no one else that can do that for him. He gets mad that he doesn't have the same type of relationship Rose shares with her father. He barely knows his father.
While Conrad spent a good portion of the episode comparing his father to Rose's, Nic takes her turn comparing Conrad and his father. She's there to support him, but also push him into the right direction, push him towards his father. It was good that he spoke with his father when he did, because the end of the episode took an unexpected turn. Marshall's survival now hangs in Bell's slightly incapable hands, and it's not looking good for him. This will have an immense impact on Conrad in the future, and I'm intrigued to see how.
I give this episode an incredible 9/10. This episode had everything, if you can't tell yet, I really loved it.