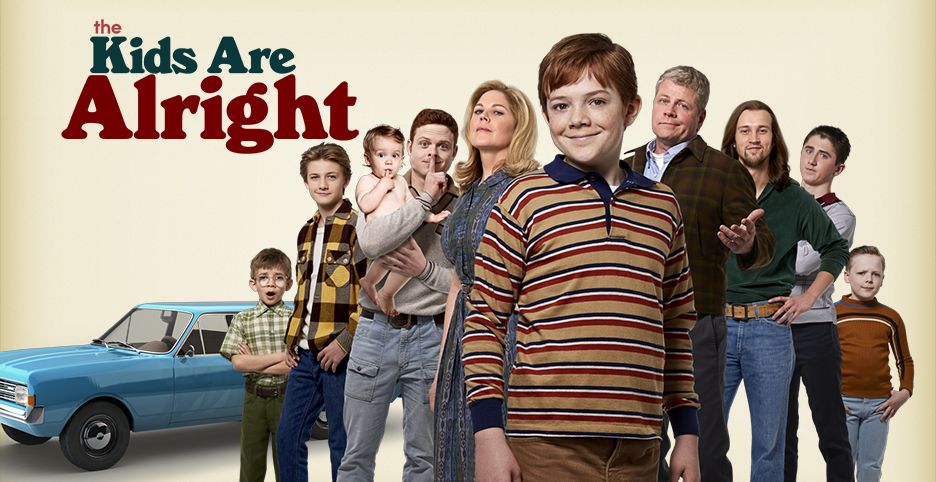 The Cleary Pekingese, er, Family have firmly rooted themselves in my heart. This episode not only used its wide cast of characters well, but it also employed several comic devices with great success.

A casual visit from Eddie's girlfriend Wendi kicks off a delirious chain of events. Eddie had secretly acquired a truly exotic bottle of champagne from Detroit and planned to bring it along on their meteor-watching date that evening. Until he accidentally dropped it. Red champagne exploded all over his bedroom, walls and all. It even ran under the door, where Peggy Cleary was eavesdropping. She decides to not reveal herself, because she wants to see how both Eddie and Wendi handle the fiasco.

Naturally, they decide on a cover-up. Wendi approaches Peggy and encourages her to take a day off. Eddie swiftly hops on the bandwagon, promising to do all the housework while she's gone. Peggy plays along but insists that Wendi come with her. Kennedy Lea Slocum plays up Wendi's petrified reaction perfectly. Eddie exiles the younger boys (Timmy, William, and Pat) outside and enlists Joey and Frank's help with the housecleaning. Joey promptly sneaks away on his bike. Pat wanders off to show his "secret dog" that lives a couple blocks away to Timmy. (They end up chasing this dog all over the place after Pat lets it out of its yard. The pipe entrance/exit scene was especially funny.) Of course Frank discovers Eddie's foul deed.
"Now I see the real reason you sent Mom to the hairdresser! You don't really care about helping her be as beautiful as she can be." God bless Sawyer Barth who drops that line with a spot-on mix of genuine indignation and barely concealed glee. They fight, resulting in some additional property damage, and Frank is restrained in the backyard. (The revelations of his restraint and Joey's return to the house are both fantastic moments.)
There's another hitch in the plan when Mike returns for his forgotten lunch. Joey meets him outside and lays all the cards face up. Yes, there's a mess inside, but it's nothing that can't be fixed by time he comes home. Does he really want to get in deep? (Kudos to Christopher Paul Richards who is definitely equipping Joey with a straightforward roguish charm and brilliance.) Mike thinks it over and decides to not ask questions, although he does get Joey's word that whatever happened didn't harm the TV. Joey is a man of his word.
As for Wendi, Peggy makes her an accomplice in a hair salon scam, which was another very entertaining part of the episode. They pose as two customers whose names Peggy got off the appointment sheet, Simone and Bianca, and Peggy passes them off respectively as a dog breeder and a falconer. Mary McCormack, it must be said, has an absolute knack for making anything believable. To watch her acting as Peggy acting to be someone else was delightful. Peggy does put Wendi on the spot, revealing she knows about the cover up. Wendi, at first, tries to take the blame, but Peggy won't let her. She does let Wendi know that she appreciates her loyalty to Eddie, who will need people around him he can trust.
"He's not my most devious offspring."
The Clearys gather for family dinner. There's another wonderful Frank moment. (He doesn't try to tattle.) And Eddie gets a reminder that Peggy knows all and sees all when it comes to her boys. It was a completely entertaining episode from start to finish.
Bonus Favorite Frank Quote:
"As long as you tell her it was me, unlike Mother's Day when I bought a card and everyone put their names on it."