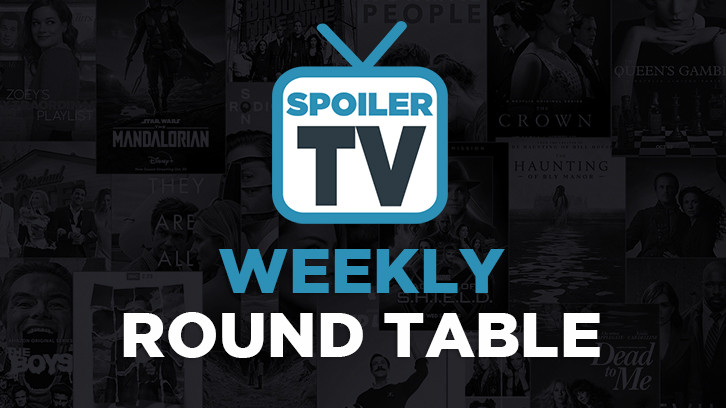 Hello and Welcome to a new Edition of SpoilerTV`s Weekly Round Table. SpoilerTV members featured in this issue are me (Yon), Milo, Diana Mack, Michele Schulman (MI), Katherine Meusey, Ellys Cartin (EC), Bex W, Joey Hedrick (JD), Jennise Hall (JH), Jessica Lerner, Beth (BW), and Jamie Coudeville. You just have to sit back enjoy the read and join the discussion in the comment section down below.


Yon:
Killing Eve was a show that massively surprised me. I knew that I'd like it, but I didn't realize just how much I'd completely and utterly love it. Runaways was a little slow out of the blocks but still a good show and I'm extremely excited for season 2. From the trailer Siren didn't impress me at all, but a day without Internet forced me into watching it to amuse myself and it turned into one of the best shows Freeform have ever produced. Grateful for Agents of Shield being renewed even if I have a bit of a love/hate relationship with the writing, thankful that I was persuaded to give Dynasty a chance because it's an extremely fun soapy show, blessed that The CW decided to give iZombie a final season to wrap everything up and I can't not mention Netflix continuing to deliver on the Spanish programming. Giving Cable Girls another chance is one of the best TV related decisions I've made, and Elite has been an overnight sensation. Fantastic story wise, even greater acting wise, and for a show that's a mixture of at least 3 different shows and genres, it shouldn't work but it does.
Diana Mack:
I'm grateful for Lucifer. This year has been a mess for this show. I love the series so much. when I read that FOX cancelled it, I was so upset, but I have to admit: I was among those who fought so much on Twitter to try to save the show. And fortunately it did work! So I'm thankful for Netflix for saving and renewing Lucifer.
Milo:
There's been so many good shows this year that I'm thankful for it's hard to name them all. The Little Drummer Girl and My Brilliant Friend have emerged as late contenders for the best shows of the year, Preacher Season 3 delivered its best yet, and The Americans wrapped up its finale by going out on a pitch-perfect note. Jodie Whittaker has killed it in Doctor Who too, giving the series a breath of fresh air even after the excellent Peter Capaldi run. And of course, when you throw in Cobra Kai, Killing Eve, Better Call Saul and the emotional send-off that was the Sense8 finale, it's been a wild ride indeed.
EC:
2018, for me, has been the year of TV shows so good they make it almost impossible to watch anything else. The absolutely delicious antics of Killing Eve, the traumatizing dread and stillness of The Haunting of Hill House, the hilarious spiraling twists and turns of Trial and Error: Lady, Killer.....we are not worthy of shows this good! That's probably why we get so very few of them. I am also thankful for the joyful escapism of Tangled: The Series and DuckTales, two delightfully smart animated shows. Also Poldark and The Durrells....alas only a season left of each. What will become of me when they are gone?! And of course 12 Monkeys which had a satisfying, thrilling final season.
BW:
I am most thankful for Mayans MC. When it was announced that the project was ordered to series, I was so happy. I will admit that I had some trepidation in the back of my mind that it may not be what I wanted, but once the pilot aired, those fears were put to bed. The story is compelling and the characters are easy to care about. The brother aspect of EZ and Angel is what sets it apart from Sons and makes it its own animal. Additionally, the character of Angel is one that I instantly cared about and became deeply invested in. The plight of Angel as the forgotten son has struck a deep chord within me and Clayton Cardenas hits all the right beats when bringing Angel to life. So thank you FX, Kurt Sutter and Elgin James for this show!
Bex W:
I'm thankful for Timeless, for the stories it told, the people in history it introduced me to, and the friends I've made because of it. I'm thankful that NBC uncancelled the show and allowed ten more episodes to be made. I'm also thankful for the upcoming 2-hour movie airing December 20th. I've never fought and campaigned for a TV show to be renewed before, I might never again, so I am forever thankful to NBC that the fans voices were heard. Twice.
Jamie Coudeville:
I'm thankful for Agents of SHIELD & Runaways. The former got a double renewal (super happy about that) and Runaways is yet to premiere this year but I just know it'll be great. Let's also not forget Killing Eve and One Day At A Time. I know there are other shows that I'm forgetting, but I watch so much, you can't really blame me.
JD:
This year, I am most thankful for The Haunting of Hill House. Never has a show (or movie, for that matter) both moved and terrified as much as this show. I've shown this to show to so many of my friends, and the end of episode 6 and 10 still gets me every time. I'm not a cryer by any means, but the most recent time I watched the finale, my eyes were watering. I had such low expectations and it completely blew me out of the water, so I'm thankful that this show entered my life this year. Thank you, Mike Flanagan.
JH:
Hmm, I'm thankful for the new showrunners on SEAL Team. And the fact that there is a lot of darned good programming available now. Several shows you wait for a year then gobble up in 2 days as well as those shows that leaves you waiting anxiously for the next ep to air.
Jessica Lerner:
I'm definitely most thankful for Twelve Monkeys getting a final season to wrap everything up. I believe this is one of the best TV shows to grace our screens in years, so I was so happy that it got to end on its own terms. The final season was amazing and everything I hoped it would be and more. For me, it'll be hard for other shows to live up to the legacy it left behind, but on the plus side, I can always rewatch it.

MI:
I know I was late to the party, but this year I'm so thankful to have found The Bold Type. It took me about a week to get through seasons 1-2, and by then I was able to enjoy the back-half of season 3 in real time. This show is so smart, and fun, and real. Well their wardrobe maybe not so much, but otherwise I feel like these young women could be me and my best friends. Watching each of the leads in their struggles and successes has truly empowered me to speak up for myself and live my life more boldly.
Yon:
I won't lie, as soon as I watched the trailer all I could think was 'money grab' and 'imposter'. The animated Lion King is the first film I ever saw at the cinema. coincidentally, it's also the first film that made me cry in the cinema, traumatized me and every time I see glimpses of THAT scene either through TV reruns or online meme's I cry. Despite that, it's also one of my favourite ever films so like many, I feel extremely protective over Disney doing it justice. It would be extremely easy to call Disney doing all of these remakes cash grabs.
Diana Mack:
The Lion King is among my top 3 of classic Disney movies. So I'm very attached to it. I was wondering the same thing, actually: do we really need to see it again in live action? I don't think so. When The Lion King came to the cinemas, it was pure magic. The story really got me; it was emotional - and still it is today. I don't think doing a movie, which is basically the same to the cartoon. would give me the same emotion.
Katherine Meusey:
This is right up there with my "reboots of shows that were canceled a couple of years ago": why? No doubt it will make money, particularly because the kids who saw it in the theaters are old enough to want to see again in this new form.
Milo:
The Lion King is one of my favourite animated movies of all-time, but this seems unnecessary especially as it looks like a shot for shot remake at this stage. It's going to set the box-office world alight regardless, and will probably be good - but is it needed? No.
EC:
I haven't seen the original Lion King. Never quite got around to it. But just speaking to this trend in general. Do we "need" to see it in live action? It doesn't matter one wit. Disney made nearly a billion dollars off Jungle Book and over a billion dollars off Beauty and the Beast. They can't stop, won't stop, making these remakes. Prepare for the end. Submit to your Disney overlords, or attempt to run from them. But you won't be able to. Disney is everywhere.
BW:
This is tough for me. The Lion King was a HUGE part of my childhood. I still remember my mother taking my sister and me to the the theatre to watch the magic unfold. So my knee jerk reaction is no, we do not need this story again, but when thinking a little more into it, this film may evoke those same emotions that I felt when I was brought to the theatre all those years ago. Why deprive kids many many years younger than me from that same feeling? Plus, I cannot deny that when i watched the trailer, I got goosebumps when Rafiki raised Simba up on Pride Rock.
Jamie Coudeville:
I am super excited about the Lion King movie. Here's the thing. This movie came out in the year that I was born, meaning I never really got to see it in it's original language before (I always watched in it Dutch instead). So for me, this will be a whole new experience. And the teaser looked so good. I just hope there's singing, usually I hate that but the Lion King has such a great soundtrack that it would be a real shame if they left that out.
JD:
This is purely a money grab. I'll give very minor credence to their decision to start doing live action versions of their animated classics, but a live action Lion King seems a bit ridiculous, given that every character will need to be CGI since there are no human characters. I honestly thought Jungle Book was a bit too far, but they at least had Mowgli to account for a bit of live action. The story of Lion King will still be Hamlet and the characters will still be animated for all intents and purposes, so I don't see any need for this movie to be made. Having said that, I will 100% be going to the theater to give Disney my money, but it's definitely money I don't need to/shouldn't be asked to spend.
JH:
I think the live action version of some of the animal based classics could be fun. I'm interested. But, as we all know, Disney wouldn't be making it if it didn't look like they were going to turn a profit. Whether or not it lives up to the animated version depends on the quality of the work. I really hope it does.
Jessica Lerner:
It's not surprising that the Lion King is getting the live action treatment, same as many Disney movies before it. I'm sure the potential profits were a huge factor in deciding to remake this classic – The Jungle Book grossed $966.6 million and Beauty and the Beast grossed $1.26 billion – but I'm cautiously optimistic about the movie living up to its legacy. And it seems like I'm not the only one. Just 24 hours after the teaser trailer's release, it racked up 224.6 million views online, becoming the second most viewed trailer in a single day. So clearly, the world is excited to see what the movie has in store, but what I'm most excited about is the cast itself. This new version of the Lion King only has three Caucasian cast members, who voice the characters of Timon, Pumbaa, and Zazu. The rest of the cast is voiced by black actors and actresses alike, which is a huge feat for diversity casting everywhere.
MI:
I personally believe that The Lion King is one of the greatest classic Disney movies. It's everybody's favorite. Disney is very aware of the pressure, but they're leaning heavily on nostalgia and familiarity to bring people in. And it's working for me! So if it's anything like the trailer, I have no doubt I'll enjoy this new version of The Lion King.
Yon:
I never like to celebrate when a show is cancelled because it seems incredibly disrespectful not just to the fans, but to the crew who are now out of work, but neither of these cancellations surprise me in the slightest. Given ABC for reasons I'm still trying to understand aired Somewhere Between which is now even more bizarrely streaming on Netflix, we know that they don't make smart decisions so even giving Take Two a shot in the first place answers itself. Salvation never captured my attention since it's a show that has been done a billion times before, and it got lucky with the fact CBS's summer slate was soooooooo terrible this year that it needed something to fill a little time in the schedule, but really you can't stretch out a show about an asteroid coming, it just doesn't make sense. I think as Cable and even streaming has shown, summer shows can work when you do them right. They have to be the right type of show for the right audience with the right scheduling, and Take Two and Salvation did not fall into either of those categories, and whilst fans may be sad, I doubt any will actually be surprised.
Diana Mack:
Take Two was Castle 2.0, don't get me wrong. ABC and CBS (with Salvation) didn't treat their series in the right way. Summer broadcasting can be hell.
Katherine Meusey:
Oh, were those still on? "Take Two" was somewhat amusing and light and fluffy but completely forgettable. I think Summer broadcasting was the downfall of "Salvation". Then again, if it were interesting enough to watch, people would still have come back. There are shows on USA and TNT that only appear in the summer (Animal, Claws, Queen of the South) that people do come back for year after year. More network support or good writing/casting? It's so hard to know in TvLand anymore.
Milo:
I didn't even realise Salvation was still on. Seems like a bigger push is needed if networks want to treat their Summer shows as hits. Shows can survive in the summer but first they need the audience, and if the audience doesn't know that they exist, then they're not going to last long at all.
EC:
If I didn't follow show coverage on SpoilerTV, I most likely would not have even been aware that Salvation or Take Two existed to begin with. When a show gets a summer slot these days, it's because the network wants to make some kind of money off it before they cancel it. If it does lukewarmly better than expected, they might begrudgingly renew it. But they don't seem to either want or need it to be a hit, so they invest almost nothing in it. Perhaps there is some financial formula that dictates a certain number of shows need to under-perform. In any case, Take Two and Salvation were most certainly toast from the very beginning this summer.
Bex W:
I enjoyed both Salvation and Take Two. For me, season one of Salvation was the stronger of its two seasons and I saw this cancellation coming, and while I wasn't as invested in season two that final moment of the finale did what it intended to do: made me want to come back for a season three. But I don't feel the loss of it because watching some of those season two episodes felt like a bit of a chore at times. As for Take Two, it was fluffy summer fun, and I care a bit more about losing it if only because it was the kind of show I needed in my life at that time. The leads didn't have great chemistry, I was never invested in the Sam/Eddie ship, and it was all a bit Castle 2.0. I still enjoyed it despite this and had hoped it might get a season two.
JD:
Did I watch both of these shows? Yes. Did I enjoy them? They just barely met the requirements necessary to keep my attention. I completely used these shows as background noise I checked in on every now and then while I was working on other things. I cared about the story just enough to be curious about what would happen, but neither of them were good enough for me to be sad about their cancellations. Sure, neither of these shows were treated well in terms of marketing and placement, but did they really deserve to be? My vote is no. While the familiar background noise will be slightly missed, the void will easily be filled with whatever new cannon fodder the networks decide to add this Summer.
JH:
For me, one of the bonuses that the networks seem unwilling to fully embrace is the opportunity to the summer to tell really good (or simply fun – I loved BrainDead) one-season stories. If a one-season story is successful the network just has to try and milk it by adding a second season.
Salvation should have, IMHO, been a one-season story. (Asteroid coming..it's either stopped or not...end of story.) The attempt to stretch it into a two-season show just didn't work for me. It appears a lot of people did what I did. Tuned out. Take Two felt like a mid season replacement. I'm sorry it didn't pull in the numbers. I liked it, but it never felt like it was going to get a second season.
I think the network treatment is only part of the problem. If the show itself isn't a quality show nothing the network does or doesn't do is going to save it.

Jessica Lerner:
I'm not particularly devastated by the news of their cancelation. I enjoyed Salvation during its first season, but I stopped watching during season 2, as I felt the plot became too convoluted. I also watched a few episodes of Take Two but couldn't really get into it. To me, it felt like a cheap imitation of Castle, and not in the good way. I feel like summer shows should be more of guilty pleasures than trying to compete with regular fall through spring programming. With so few episodes, it should be more entertaining rather than getting bogged down with procedure and annoying tropes. While both of these shows weren't given the best treatment and promotion, I feel like they didn't really warrant it. Personally, I don't think better promotion or time slots would have done much to increase viewership, and they probably would have been canceled all the same.
MI:
I'm not going to miss either show. I never saw Salvation, but I really tried to get into Take Two. I made is 3/4 through the season before I had to quit. Castle is one of my favorite shows of all time, but like Jessica said, I felt like it was a cheap imitation that paled in comparison. I'm not sure I can put my finger one what exactly didn't work, but in each episode I felt that the one-liners fell flat, the chemistry was forced, and I really didn't buy Sam's (Rachel Bilson) backstory when compared to the character we were watching on screen.
That's a wrap from us, sound off in the comments below with your thoughts. Until we read again......