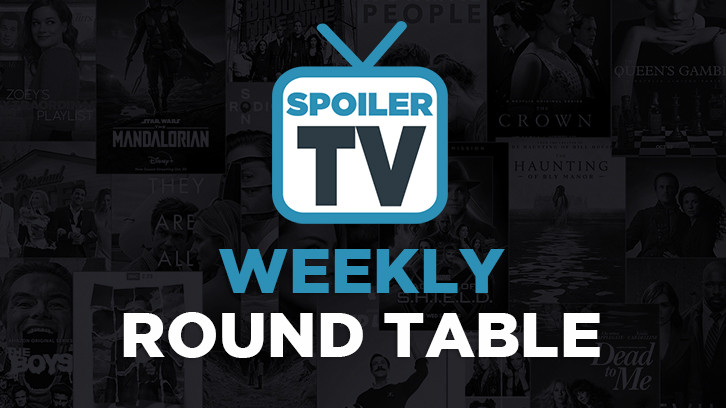 Hello and Welcome to a new Edition of SpoilerTV`s Weekly Round Table. SpoilerTV members featured in this issue are me (Yon), Marko (MK), Milo, Michele Schulman (MI), Beth (BW), and Jamie Coudeville. You just have to sit back enjoy the read and join the discussion in the comment section down below.


This week a Legend left this world. The one and only Stan Lee passed away. What is your favorite Stan Lee moment and what will you remember him after?
MK: The greatness of Stan Lee and all what he did can't really be caught in words. The impact he had on the comic book world is immense. My favorite Stan Lee moment is probably from the library scene from The Amazing Spider-man. Loved every tidbit of it.
Yon: Like with Marko, my favorite Stan Lee moment was the library scene from Amazing Spider-man because it was so incredibly funny. I'm still so incredibly sad and processing the realization that we're now living in a world without him, because Stan Lee was so incredible and the legacy he leaves behind will be felt for generations to come. Marvel wouldn't exist without him, a lot of the movies and TV shows we love wouldn't exist without him and the only commiseration is that he died knowing how loved he was. Sure of recent times he was in the headlines for reasons that were slightly untoward, but the out-pour of love and support is what I choose to focus on.
Milo: There's so much that Stan Lee has done it's hard not to love him. It's important to remember that he was not the only creator of so many Marvel heroes - he worked with Jack Kirby and Steve Dikto, but without him there'd be no Spider-Man, X-Men, Iron Man, Thor, The Hulk, Fantastic Four or Black Panther - among others - or if they were created anyway, they'd look very different, and Marvel itself would look very different if it survived today at all. It's impossible to pin down what was awesome about Stan Lee in just one WRT question - he deserves a whole article - if not more than one - but I love that Marvel keeps managing to incorporate him to the table in Marvel films with some spectacular cameos. My favourite to this day remains the one in the first Amazing Spider-Man, but there are so many it's hard to pick just one.
MI: I truly believe that Stan Lee will forever live on in his characters and their stories. While I'm not a comic-reader, I do love Marvel TV and movies. I love every one of his cameos, but the scene in The Amazing Spider-Man (though my second favorite Spider-Man iteration) where he is a librarian and oblivious to the chaos makes me laugh every time. He will be missed.
BW: Admittedly, I didn't know who Stan Lee was until I was an adult, but learning all that he was to the comic world has been eye opening. I think I will remember just how open and loving he was to every actor that was in his orbit for films and TV. I know Armie Hammer dragged people for posting pictures of themselves with him and I found that statement misguided because I found that to be a very touching and sweet tribute to a man that seemed so welcoming. I also loved anticipating his cameos in all the movies. I do hope the Marvel Universe continues doing that with pictures of him in the background.
Jamie Coudeville: I didn't learn who Stan Lee was until I started watching the MCU and the shows. I'm not really a comic book person but even I can see just how big of an impact he's had on not just the comic book but also the tv and movie industry. I loved his cameo's, my favorite probably being the one in The Amazing Spiderman, where he's the librarian shelving books with his headphones on while a battle is going on right behind him.
Jon Cryer as Lex Luthor and AoS renewed for another season. What are your thoughts on these news and which are more excited about?
MK: I was completely shocked by the AoS renewal. As everyone else I expected it to wrap with season 6. But the decication and love the fans spread regarding this show is phenomenal and they all deserve this renewal.
As for Jon as Lex Luthor I was quite perplexed by the news. I expected someone younger for the role. Generally I think Jon he has the dramatic chopes to deliver the role, but it will all depend on the material he'll get.
Yon: Jon Cryer.......... as Lex Luthor....... when you think of Lex? Of all the actors out there who could possibly play him? Jon Cryer isn't a name that comes to mind. Granted I've only seen Jon in Two and a Half Men, so he might be more than capable of playing a more dramatic role...... even then I still wouldn't peg him as Lex Luthor. This is an iconic character, and many like myself were probably spoiled my Michael Rossenbaum's portrayal of him on Smallville. He set the bar extremely high, as he fleshed Lex out as a three dimension character who never came close to being a one note villain, and no-one since then has truly lived up to what he did with the character. Supergirl has done rather well on the casting side of things so far this season, so hopefully Jon will end up causing a massive surprise.
I was extremely shocked to discover Agents of Shield had been renewed. Its been a show that's flirted with cancellation for so long now due to bad scheduling and in places dodgy storytelling, that I was overjoyed to simply get a 6th season and never considered the possibility it could get a 7th. I'm probably more excited about Shield's renewal even if I at times have a love/hate relationship with the show. Acting wise it is fantastic, and how the likes of Iain haven't sweeped up the Awards season I'll never know. On the writers side of things however it has suffered a little. Season 5 overall was a good enough season, but some arcs went on a tad too long or just weren't particularly interested. I understand that renewing ahead of time helps on the business side of things, but I always worry being renewed so far ahead can cause showrunners to become complacent and stretch the story out. Sometimes it's best to just have a fantastic 1-2 season run which upholds the quality throughout, rather than dragging the story on and on and wear out the creative juices (which is a reason I'm slightly nervous over Elite being given a 3rd season
only weeks after s2 was confirmed)
Milo: I don't watch Supergirl anymore but Agents of SHIELD has been nothing but excellent and this early Season 7 renewal before Season 6 even began is excellent news, especially when considering how unlikely it was that we would even get a Season 6 at all. We don't have to go through all that worry about whether or not it will be cancelled during Season 6 and hopefully, the boost from Coulson appearing in Captain Marvel should lead to more people checking the show out again for Season 7.
MI: I'm not gonna lie, the idea of Jon Cryer as Lex Luthor doesn't work for me. I think of Superman and Lex through the Smallville mythology, which insinuates they are much closer in age than Jon Cryer, 53, and Tyler Hoechlin, 31.
Agents of Shield was the bubble show I was rooting hardest for last spring. (I may or may not have done a happy dance when the renewal came through.) I'm thrilled that it's guaranteed a seventh season so I can watch S6 next summer and fully enjoy it without worrying if that'll be the last we see of some of my favorite characters on TV. #fitzsimmonsforever
BW: I am so happy they've renewed AOS already because it perpetually being on the bubble has always been stressful as a fan. I love an underdog story and that is the embodiment of what AOS is to the superhero TV genre. It is the show that could and has outlived all the predictions regarding its longevity. I am also happy the writers have the opportunity to map their course without contingencies and can tell the story they want.
Jamie Coudeville: I am beyond excited about the renewal new of AOS, totally unexpected but at least now we can enjoy a season without worrying that it'll be the last. AOS has been a bubble show for a while, it's nice for the fans to get a break from that for a little bit. As for the casting news of Lex Luthor, I'm not thrilled mostly because of the age thing. Lex was only supposed to be a few years older than Lena yet they cast someone in his fifties while Lena is supposed to be 26 or something.
Dungey Channing former ABC president "exits" her position. After what will her run as President of ABC be remembered after?
MK: Channing's time as head of ABC I will remember as a very poorly scheduled era. She lost a lot of quality drama by dumping them at 10pm. Also the procedural push didn't really work out. I hope they will get some new blood with the new leadership.
Yon: Unfortunately I think Channing is likely to be remembered for more bad things than good. She's brought a number of dud shows to series, whilst cancelling shows that were pretty decent and stable in the ratings. Some of her decisions scheduling wise..... they've very much been a choice. The refusal to break-up Shondaland Thursday and resist the urge to give a new drama the post Grey's slot is baffling. Even if it has been begrudgingly, she has kept Shield on air (even if season 6 has moved to summer)and she brought the Grand Hotel remake to series, which is something I'll always be grateful for as a huge fan of the original and looking forward to seeing what the American version brings to the table. However I think it speaks for the decision making at ABC that they're replacing Channing with the head of Freeform. That channel has slowly been dying for the last few years, due in part to questionable shows such as Alone Together being picked up, horrendous promotion and Freeform not being able to decide between a weekly release and binging which is what killed Beyond, no show has really been able to match what Pretty Little Liars brought to the Network and Siren is the only real worthwhile show the Networks had to boast about in a while which is quite shameful. ABC will either head in a new direction, or just continue to die a slow death.
BW: I think Channing Dungey's tenure will just be forgettable, much like the shows she green lit that went as fast as they came.
That is a wrap guys! Ur turn now, come and join the discussion down below. Till we read again. . .