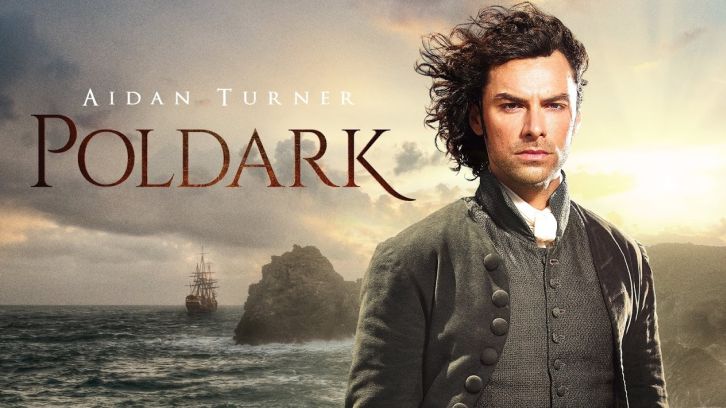 Poldark manages quite elegantly to transition effortlessly from exquisitely sad scenes to jubilant ones. With the amount of grieving and scheming about, it came as a welcome relief when the ever so uppity Ossie was dragged into the woods, squealing like a pig, by his runaway horse. The wages of sin were death in the monstrous reverend's case. Though his death doesn't mean peace for his victim, it at least alleviates some of Morwenna's torment. She still has his mother to contend with; but, at least, Elizabeth was able to persuade George to call off a manhunt for Drake. Morwenna told Elizabeth and George the truth about her marriage at the funeral.
"I feel nothing but relief. I loathed him with every bone in my body."

Elizabeth feels a great deal of guilt. George naturally does not. The death came on Drake's wedding day to Rosina, which is for sure a great plot convenience, which he immediately called off. Dear sweet Rosina, now twice rejected, took it with a stiff upper lip. Her father and brother burnt down Drake's forge. It's the loss of Morwenna, who told him she was "tainted" and didn't want to see him, that sends Drake into the arms of Demelza and Sam to sob. Without a doubt, however, it was premature of him to call on Morwenna. Even though he doesn't know the extent of her marriage's horrors, a couple days after the pig died is too soon for propriety's sake. Her mother-in-law is already talking about taking away her son. As for the true facts of Ossie's death, Rowella's husband caught wind of the affair and went after him with a candlestick. It remains to be seen if Ossie's mother will succeed in having his death ruled a murder. One of the last awful things he did was try to get Doctor Choake and Dr. Enys to commit Morwenna to an insane asylum. They might try to swing that as motive, but I wouldn't rule out Rowella's husband breaking down and fessing up.
George's desire to have Drake hunted down for murder stems from his new frustration with Ross. After a great deal of expense, he managed to buy his seat in Parliament, from which he can literally stare smugly at Ross from across the room. But he is unable to thwart a bill that Ross proposes to alleviate the nationwide starvation the poor are suffering. That irritates him, as do some impudent remarks Monk Adderly makes, in which he reveals to George that Ross and Elizabeth met that night in the garden. Elizabeth reminds George that suspicions have no place in their marriage. One would feel dreadfully sorry for George, if he weren't also planning to bankrupt Ross any day now.
The Adderly conversation takes place at party that Caroline threw in London. Dwight had to tell her the truth about Baby Sarah when she got sick.
"She has a cold. Even I know that won't be the end of the world."
"No, but for Sarah it will be."
Her precious little heart doesn't have the strength to fight the infection. Caroline never puts her down again from the moment Dwight tells her. Even after she is gone, Caroline doesn't let go. She doesn't cry though, but she tells Dwight she has to leave for now. Once in London, Ross keeps tabs on her. At one of the parties, he tells her about Julia and how he held his little girl too when she died. He tells Caroline that taught him that real strength doesn't come from not being weak. He encourages her to grieve. Later, Caroline shares with Ross that she has begun to weep for her daughter. That doesn't make it hurt one little bit less.
There's also a dangerous flood at the mine, in which Ross nearly perishes saving Zack's nephew and Sam rescues them both in the nick of time. An action-packed highlight. Another excellent scene is when Dwight refuses Ossie's demands to rule Morwenna insane and straight up accuses Ossie of treason for suggesting mental illness was sent by God. (The king of England at the time was afflicted.) Demelza choosing to stop Drake's wedding was a strong moment too, as she recognized right away that it would never work if Morwenna was free. And I am simply not ready to talk about Ross literally supporting Dwight through his grief.
And yet episode five ends with Ross succeeding in passing his bill, after a very tender reunion with Demelza. People will not continue to starve and die as often as they have been. Practical goals aside, what's left is personal conflicts. Will Morwenna be able to open up about her trauma? Will George succeed in taking over the bank and wiping out Ross? How will Caroline and Dwight find their way back to each other again? Does Geoffrey Charles's have a gambling problem like his father? (This might seem minor, but I am worried about the kid.) Will Ross take Demelza's hints and invite her to join him in London? With only three episodes left, there's so much at stake.