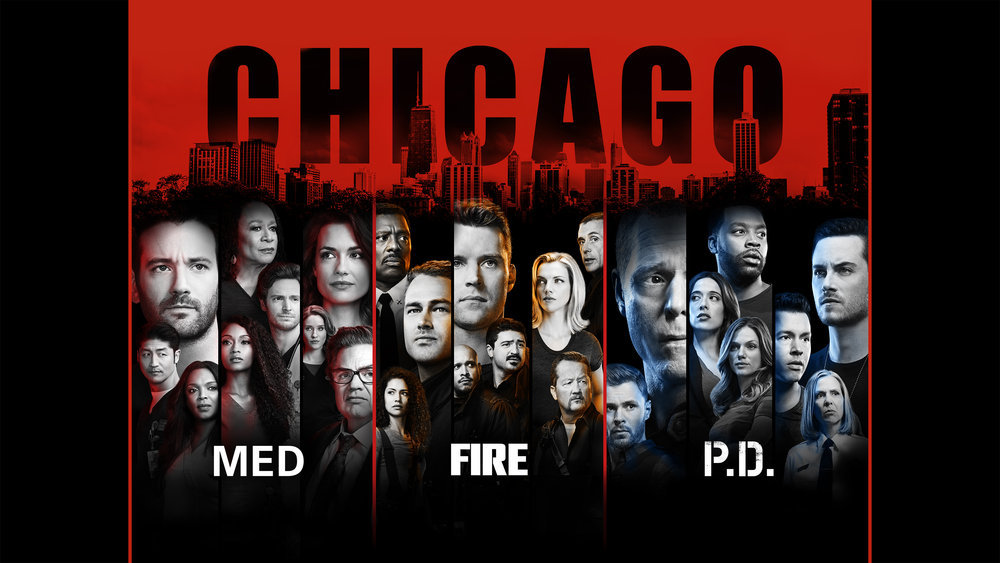 If there's one thing these episodes managed to do, it would be to tug on your heartstrings. How could you not feel for the abused spouse on Chicago Med who couldn't leave her husband for fear of deportation? Or when Severide arrived at the hospital on Chicago Fire after learning his father had a stroke to be told Benny had already died? Or when we and Ruzek learned that Upton had been beaten by her alcoholic father on on Chicago P.D.? There were plenty of tearful moments to go around, but thankfully, they were balanced by dramatic and comedic elements, so we didn't have to run through three separate boxes of tissues.

Chicago Med

ACT FIRST, THINK LATER | We're four seasons in, and Will and Natalie are still making impulsive decisions. This week saw the pair faking their patient's death. Yes, you read that right. A woman was admitted to the ED after being in a car accident, and it was discovered that she was being abused by her husband. However, the woman felt she couldn't report him for fear of being deported back to the Ukraine, as she was in the country illegally. So instead of attempting to pursue Goodwin's more rational approach of getting the woman an immigration attorney, Will and Natalie decide to take matters into their hands and fake her death, believing it's the only option. While there were extraneous circumstances that tugged on your heartstrings, I'm not sure what the right approach was here. I can't say whether Will and Natalie were right or wrong, but I will say I'm really confused how both of them still have a job. Goodwin said they would be fired if they pulled another stunt like this, but they pull stunts like this all the time. During the first few seasons, Will was more likely to go off on some sort of suicide mission, breaking all sorts of protocol, than Natalie, yet the past season or so has seen Dr. Manning making more than her fair share of reckless decisions. These decisions are always made with good intentions in mind, but there doesn't seem to be any consequences to these actions, especially when things blow up in their faces. The woman's husband could have very well requested an autopsy. Sure, it was unlikely given the circumstances, but it still could have happened. We've seen the duo make these impulsive medical decisions time and time again, yet there's never any professional repercussions. Hell, even Will hasn't faced any blowback so far from working as an informant for the Feds, though his time may be running out on that front. Despite being told by Jay at the beginning of the episode to stop treating Ray Burke, Will decided to defy his brother's warning and plans on bringing Ray into the hospital. Will could potentially face criminal charges if he blows the undercover operation, but I doubt the show would let one of their leads rot behind bars for long. What's more likely is his relationship with Natalie will come crashing down when all of this finally comes to a head. But who knows? These two seems to have more than nine lives, so maybe Will will get lucky.


THOSE WHO CAN'T DO, TEACH | We've already established that Gwen Garrett is the worst, but Dr. Lanik, the new ED chief, is pretty bad as well. Who would have thought we would miss Dr. Stohl after all? Lanik may be head of the ED and holds the power to reprimand his staff accordingly, but his actions with McNeal were pretty messed up. First, Lanik uses medical student Terry McNeal as a coffee gopher, then coerces him into performing a medical procedure he's not ready for, and subsequently ices McNeal out after he screws up. You essentially forced him into performing a procedure he wasn't ready for, and then yell at him when he screws up. Isn't this supposed to be a teaching hospital? Why don't you try teaching the med students for a change? And as if that wasn't bad enough, he's actually happy when the patient is braindead, as the patient's cause of death can be attributed to the injuries the individual suffered from the motor vehicle accident rather than McNeal's mistake, for which Lanik would be on the hook for. I mean, what kind of person is happy that his or her patient died, just so they avoid the liability of a lawsuit? Lanik's behavior and actions this episode just further prove that Chicago Med is seriously in need of a complete rehaul when it comes to certain hospital personnel. Is there any way we can get Cornelius Rhodes to step in and have them fired? That would certainly be a good use of his power. Despite everything McNeal goes through in this episode, he at least has one doctor in his corner: Connor. Most of Connor's subplots this season have revolved around Ava and his new hybrid OR, so it was refreshing to see him involved in something else entirely, and even more exciting to see him going toe-to-toe with Lanik. It was also nice to see Connor taking on this sort of mentorship role with McNeal, as the pair had several heart-to-hearts throughout the episode. From giving McNeal a pep talk to explaining that the medical student has to leave everything at the door, Connor helped McNeal get through a pretty rough experience. If not for Connor, McNeal may have given up on medicine right then and there. Of the two medical students introduced this season, McNeal is obviously the more likeable one. Curry has managed to essentially piss off every doctor in the ED, so McNeal sort of wins by default, though this episode did provide more insight into the medical student, which I didn't mind too much. Mostly because it was worked into the background as Lanik and Connor sparred. I definitely wouldn't mind watching these two doctors duke it out in the future.

Chicago Fire