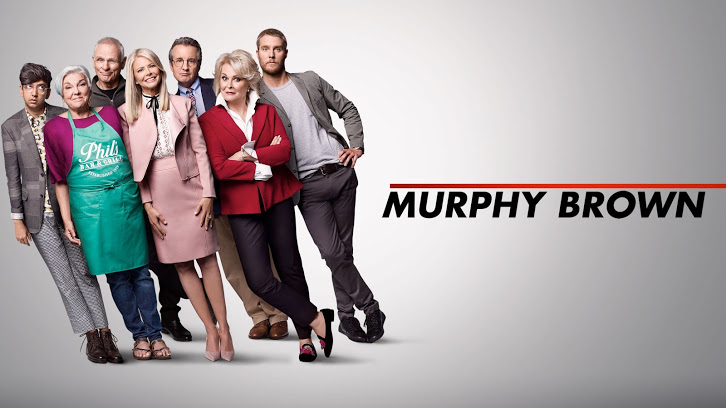 Murphy Brown
"Thanksgiving and Taking" was written by Russ Woody and was directed by Michael Lembeck. This episode has some hysterical moments in it, but like the stuffing in the turkey, it also contains a very serious – and heartfelt – message about the current plight of undocumented migrants. In fact, I don't think that Candice Bergen (Murphy Brown) is actually acting in the very last scene. I think that her very clearly emotional plea about illegals is both poignant and very real. Kudos once again to the show for tackling such an immediate and horrendous crisis.
It's Thanksgiving and Murphy is determined to throw a family dinner to celebrate Avery (Jake McDorman) being home for the holiday for the first time in years. She's bought a $350, 25 pound turkey and is planning on doing all the cooking herself. It's hilarious that everyone tries to get out of having to go – mainly because they all know that Murphy can't cook!
Pat (Nik Dodani) objects to the entire holiday – he doesn't want to celebrate a holiday that celebrates how the settlers abused the indigenous peoples. He's also a vegan – but Murphy assures him that there will be lots of green stuff. It was a nice touch to have the visible minority voice these concerns, and of course, it also tied into how those original settlers are now treating the immigrants arriving at their borders, especially when Murphy's giving thanks for her family turns into the taking of another family.
There were lots of laughs at Murphy's as she tries to host Thanksgiving. I loved her ridiculous turkey apron, and the turkey "hotline" (Brian Scott McFadden) really should be a thing if it isn't. It's hilarious when Murphy has to take the warranty material out of the oven to turn it on – and doesn't put the turkey in until her guest are arriving!
Naturally there's a blizzard – and I was sure that Avery was going to miss his plane, but everyone ends up arriving at once. Phyllis (Tyne Daly) and Miguel (Adan Rocha) bring the drinks, and Phyllis immediately decides that she's taking the day off – and pretty much expects Avery to wait on her. Murphy realizes that she's forgotten to invite Miguel for dinner, but he explains that he's working for his parents in their food truck for the day. However, when the weather is too bad for that, she invites Maria (Selenis Leyva) and Carlos (Valente Rodriguez) to join them too.
It's lucky for everyone that Maria doesn't decide to take the day off like Phyllis, and while Murphy won't accept anyone else's help, she does let Maria help. It turns out that the two of them have a lot in common. They are both working mothers for starters who would do anything for their kids. For Murphy, that's buying an expensive turkey and cooking a huge dinner. For Maria, it's fleeing a dangerous country to live essentially in hiding in order to raise her son in relative peace. Murphy tells Maria that Miguel is a terrific young man.
The two emerge from the kitchen, and Murphy announces that dinner will be ready in an hour – it's already been hours and everyone is starving because the only appetizers were old airline nuts! Maria tells them that she's done everything she can – and then the lights go out! I loved Maria's "God has spoken." But they aren't out of luck yet.
Everyone piles out to the food truck that is still in front of Murphy's to finish cooking the turkey. Unfortunately, Murphy's neighbors have complained about the truck and ICE shows up to take Maria and Carlos into custody to deport them. Luckily, Miguel is DACA. And of course, this has been very much in the news lately. Here is a hard working couple who have made it on their own and raised a wonderful citizen – what if the current government has its way and those like Miguel are also deported? Should hard working citizens be deported out of hand or should their individual circumstances be considered?
Everyone tries to stop the ICE agents from taking Maria and Carlos – Miguel even tries to pretend that he is Carlos. Avery has Pat record everything that is happening. The ICE agents are there without any paperwork, yet insist on taking away a couple who have lived peacefully in the country for 20 years, contributing to the community that entire time. Maria tells Miguel that this is why he needs to finish school and become a lawyer. Phyllis promises that Miguel will always have a home with her.
This horrific and troubling scene cuts to the next morning's
Murphy in the Morning Show
. There's a nice little bit of comedy as Corky (Faith Ford) tells the audience that the President and his family enjoyed a large butterball turkey – and we cut to a picture of his said President's butt as he is golfing – both a butterball and a turkey.
The final word goes to Murphy – who goes "off script" with a rare personal story. Over the footage from the day before, Murphy voices the tired argument of "why can't these illegals just get in line like everybody else?" The answer is that they were in imminent danger with a young child – they risked not only their own lives but that of their young child if they waited. Murphy tells those spending time with their family that they should be grateful for that time – she can't imagine not being able to spend it with family – and Miguel will very likely never see his parents again. And this is where Bergen really did become emotional. She urges the audience that we can and must do better.
While there were plenty of funny moments in this episode, it really did contain and emotional punch. The episode explores some truly difficult and horrific situations unfolding in the US right now. I really liked this episode. What did you think of the episode? Let me know your thoughts in the comments below!