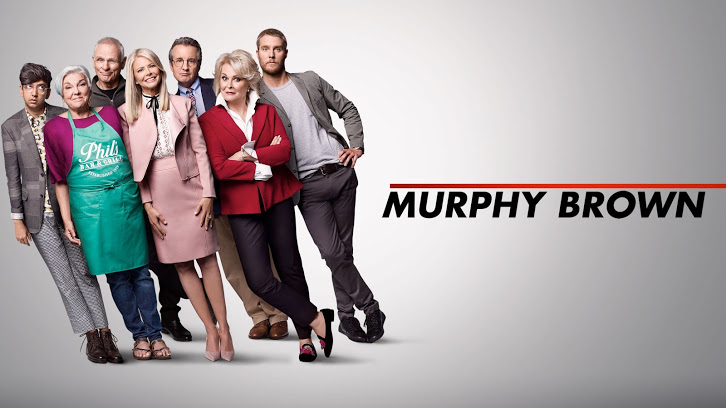 Murphy Brown
"A Lifetime of Achievement" was written by Tom Seeley and was directed by Michael Lembeck, whose other credits include
Friends
,
Mad About You
, and
Everybody Loves Raymond
. I'm still really impressed at how many of the original
Murphy Brown
writers have mostly come out of retirement to join Diane English! I was wondering how they would sidestep the issue of the midterms, and they did a fine job of it with the second of three promised guest spots by Charles Kimbrough as Jim Dial – the recipient of the Lifetime Achievement Award alluded to in the title. The show also keeps us distracted with two terrific guest stars – Bette Midler and John Larroquette. Rather than focus on the political, this episode focuses on personal relationships.
As the episode opens, Miles (Grant Shaud) informs the team that they'll be paying for their own table at the ceremony – CNC is cable (and therefore cheap), not network! Midler shows up to reprise her role as Caprice. Murphy (Candice Bergen) is horrified, remembering as her worst every secretary, but it's even worse. She's now the widow of the largest shareholder of CNC stock and has all kinds of ideas for "livening up the brand!" Luckily, by the end of the episode, it's clear that she's really much more interested in finding another – elderly – husband.
Everyone is trying to find a date for the awards ceremony. Frank (Joe Regalbuto) wants to go with Murphy, but she's planning on going with Avery (Jake McDorman). Corky (Faith Ford) is going stag, and we learn that sadly, Miles and Monica have broken up. Miles awkwardly identifies with Pat (Nik Dodani) because Pat is the young upstart as Miles was in the first run of the show. Let's not forget the mini-me wardrobe fiasco of last episode! Because it's even worse in this one when Miles lets Pat dress him! To be clear – Pat looks amazing, but Miles looks like a giant tomato!
Jim, meanwhile, as the guest of honor, has a bit of a problem. He hates awkward ceremony dinners and used to get through them with the help of his late wife. When he mentions this to Phyllis (Tyne Daly), she simply assumes that he's asking her to go with him!
When Murphy gets home, she smells something odd in her house… it's Avery cooking! I like the little glimpses we have of Avery's clearly unconventional upbringing. Of course he had to learn to cook because Murphy doesn't! Avery tells her that Wolf paid for their table – and he can't go with her because he's bringing a date. Avery suggests it's time Murphy got her own "plus one." Murphy insists that she likes being a solo act – and when Avery brings up sex, she doesn't want to talk about it. She also insists there's lots of men out there, so she'll have no trouble finding a date. Naturally, Murphy ends up bringing Frank.
Corky ends up wearing the same dress as Katie Couric – and loved the banter between these two. Katie insults Corky with "morning television isn't for everyone" and Corky fires back that Katie's podcast is perfect for a "woman her age." While the banter is amusing, I did also find myself a bit disappointed that we get this petty competition between women sparked by what they are wearing and centering on their appearance.
This somewhat disappointing trend continues in a mild cat fight between Phyllis and Camille over Jim. However, I did really like the banter in this scene. When Camille first approaches Jim and insists he knows her, he thinks she's a prostitute! Which given that she's a gold digger isn't far off – but again, rather disappointing stereotypes from a show that I expect more of. The scene gets better when Phyllis returns and points out Camille has taken her seat. She tells her that she was a traffic cop in New York City, so she knows when someone is parked where they shouldn't be. Camille asks if her meter has expired, and Phyllis tells her yes, and the tow truck is coming! Camille takes the hint and leaves. We do get a couple of nice scenes between Jim and Phyllis as they discover they actually do have some common ground.
Miles discovers that Pat is gay when his former boyfriend, Jack (Isaac Powell), is a server at the event – and is jealous that Miles is Pat's date! Pat, once again, is much more savvy than Miles but is surprised Miles didn't know he was gay. Jack's evidence that Miles is gay is the suit – of course. I did love the extremely awkward drive home with Miles driving and Jack and Pat making out in the back seat.
Avery, somewhat reluctantly introduces his date, Lauren (Analeigh Tipton), to Murphy. Murphy fires off three questions to Lauren: Favorite Supreme Court Justice? Notorious RBG! (of course!!!!) Citizens United? Overturn it! Net neutrality? Essential! And then Lauren turns the tables on Murphy and asks Beatles or Rolling Stones? Lauren gives her a high five for her answer – there is no right answer!
Murphy is pilfering meatballs – is that why she dressed in black and white? To blend in as a server? – when Nate Campbell – Larroquette – helps himself to one. It turns out that he's a Judge. The two exchange a little small talk, and Nate confides he'd rather be at home with a bottle of wine and a documentary. Murphy says substitute hot chocolate for the wine and that's her perfect night! He gives her his card and suggests they discuss it over coffee sometime – but is then worried he's overstepped.
Murphy is then cornered by Jim who's freaking out because Phyllis said they were on a date. I was worried that might be it for Nate… Murphy gives Jim some advice – that she clearly then takes herself. She tells him he can't just close the door on the future – he needs to write a new chapter.
Jim then delivers a lovely speech – delivered "extemporaneously" rather than the prepared one he'd written on the First Amendment. He decides he wants it to be more personal – rather like a comparison between this episode of the show and the last one! He tells the audience that it's not the big things that you remember, but the little ones. He tells them not to forget to treasure the moments as they are chasing the next big moment.
Phyllis compliments him on the speech, and Jim tells her that he's had a lovely time on their… date! Frank has tried unsuccessfully to hit on Diana (Merle Dandridge) – ew! Corky and Katie leave together to get burgers.
Next morning, Avery is sneaking Lauren out of the house when he finds Murphy on the front porch. And then, of course, Nate comes down for breakfast! Walks of shame all around!
I thought that rather tired stereotypes aside, this was a pretty solid way to follow up the midterm episode. I'm really hoping that John Larroquette will become at least recurring! Although there's also some attraction to Murphy having a revolving set of men instead of secretaries… What did you think of the episode? Let me know your thoughts in the comments below!