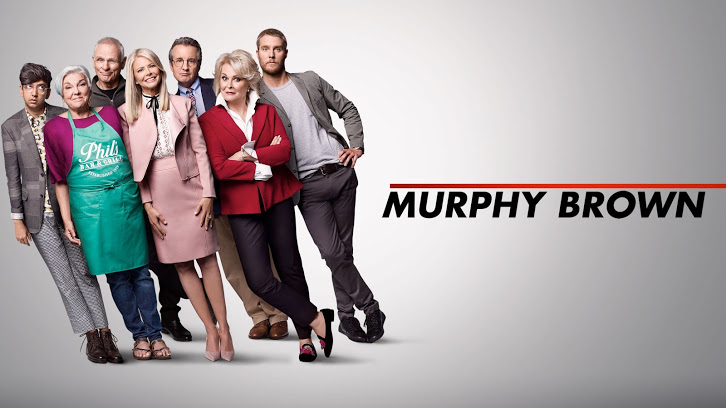 Murphy Brown. - A Lifetime of Achievement - Advance Preview

Murphy Brown
A Lifetime of Achievement
Season 1, Episode 7

Episode Airs:
On CBS Channel
- Thursday, November 8, 2018 at 9:30-10:00 pm Eastern

I really enjoyed this episode.

The official synopsis of this episode is:

The "Murphy In The Morning" Team, Avery And Phyllis Join Jim Dial At An Eventful Lifetime Achievement Award Gala In His Honor, Hosted By Katie Couric And Attended By Murphy's Worst-Ever Secretary, On "Murphy Brown," Thursday, Nov. 8.

Multi-Award-Winning Guest Stars Include
Broadway, Film and Television Actress and Singer Bette Midler;
Journalist and Best-Selling Author Katie Couric; and
Television, Broadway and Film Actor John Larroquette
Broadway, Television and Film Actor Charles Kimbrough Returns as Jim Dial for His Second of Three Episodes

"A Lifetime of Achievement" – The "Murphy in the Morning" team, Avery and Phyllis join Jim Dial at an eventful lifetime achievement award gala in his honor, hosted by Katie Couric (playing herself) and attended by Murphy's worst-ever secretary (Bette Midler), who has a surprising new connection to Murphy. Also, Murphy discovers a kindred spirit in Judge Nate Campbell (John Larroquette), another gala attendee, on MURPHY BROWN, Thursday, Nov. 8 (9:30-10:00 PM, ET/PT) on the CBS Television Network.

So I should mention up front, even though I write for SpoilerTV, I'm not a huge fan of giving away spoilers for episodes that haven't aired yet. So, that being said, here is my preview and what I can't say in words, hopefully the pictures tell you all you need to know.


My preview of this episode..
I enjoyed this episode a lot. I really enjoyed the guest stars. The synopsis of this episode above tells so much. I enjoyed the award ceremony. There were a ton of funny moments in this episode. Miles clothing, Murphy meeting 2 important people, the scene in the car, and the end of the episode. Essentially, just watch the whole episode. You so will enjoy it. I know I did.
Watch it. I know I will be.
I hope these pictures below add a little more to what I've already said and tell you a little more than I can say in words. Some of these pictures are of FUNNY moments you so need to watch and enjoy.
Let me know what you think of this episode. And don't forget to watch. I know I'll be watching tomorrow.