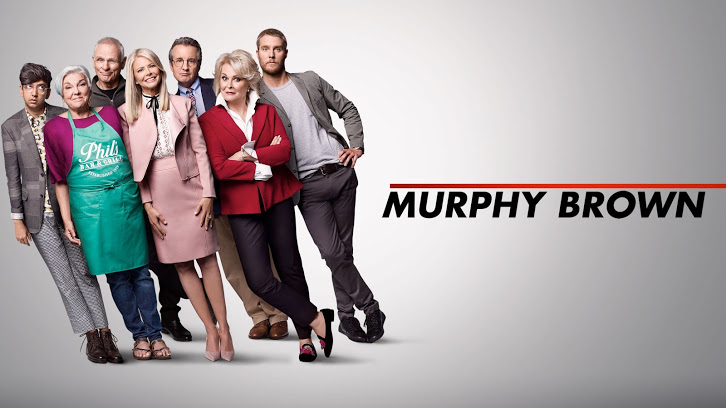 Murphy Brown
"The Girl Who Cried About Wolf" was written by Norm Gunzenhauser and was directed by Don Scardino. While there is always going to be a bit of political poking, this episode focuses more on the relationships between the characters and the intricacies of journalistic integrity when Murphy's (Candice Bergen) big story is scooped by Christy Shepherd (Katie Finneran) at Wolf. I liked this episode because it gives us a bit more of a focus on the characters, but I did miss the skewering of current political misadventures.
As the episode opens, Murphy is hush hush about a big story she's about to break. Miles (Grant Shaud) wants more vetting done by the legal department, but Murphy wants to break it before she gets scooped. Frank (Joe Regalbuto) almost gives Miles a heart attack by almost being late to set – and it is hilarious when Corky (Faith Ford) knows immediately that he's spent the night with a woman.
Murphy is pushing for a new assistant, and Pat (Nik Dodani) provides her with V.A.L. (Kristin Price) – an artificial intelligence – that looks like a giant dildo and is apparently a stupid version of SIRI. It is, however, hysterical when V.A.L. says Trump has lied 5,248 times since taking office – and then she keeps having to add to the number! There's also a nice shout out to hacking (and it's also a nice clue) when Pat admits that he knows what Murphy's big story is because he's hacked all their computers!
Meanwhile, we get another nice scene at the bar. Miguel (Adan Rocha) is on the phone speaking Spanish and one of the customers tries to give him a hard time – even threatening to have him deported! Of course this was a lot funnier before this week's rumors about the 14th Amendment being repealed – by Executive Order. Regardless, once again Phyllis (Tyne Daly) is magnificent as she tells the customer that in her bar it's her America – and she tells him to leave!
When Avery (Jake McDorman) shows up and mentions that Christy Shepherd was also late for work, they know that this is who Frank's been seeing. Even Miles is concerned, and let's a hint about a "monster story" drop. Avery is all over it – but Murphy quickly distracts him, saying it's a tape that everyone has been looking for. If you don't know what the "pee-pee" tape is about, google Trump, Putin, and pee-pee! The others are impressed when Avery takes the bait, but Murphy points out she's been lying to Avery for years!
Murphy drags Frank aside and wants details. Frank tells her that he's known Christy for a long time but they've only recently become intimate. Murphy is worried – and Frank throws Avery in her face. Murphy is furious and tells Frank that he's crossed a line.
I did really, really like Murphy urging her viewers (and viewers of Murphy Brown in turn) to get out to vote. After the show ends, Miles gives the thumbs up to the story, but it's too late. Christy is already reporting it. Murphy immediately blames Frank.
Hilariously, Christy meets Frank at the Trump Hotel – because all Wolf (read Fox) employees get a 60% discount. Christy is not happy when Frank suspects her of stealing the story from him. She tells him that he's not the leaker – and if their relationship is going to work, they have to trust each other.
Back at Murphy's, Avery has been digging up the backyard, desperately looking for the tape. Murphy now doubts herself – and Avery. When she asks him if he scooped it, he tells her that he'd report on it himself – not give it to Christy! Avery also goes on to say that they should go full throttle, head-to-head competition at work, but they should leave all of that at the door when they come home.
In the final scene, Miles panics that he's the leaker when he discovers that he's lost his phone. Pat, however, knows exactly where Miles' phone is – under the seat in his car. In the end, it looks like V.A.L. is the leaker – and isn't that also ripped from the headlines?
This was an interesting episode to focus on the trials faced by journalists to maintain their integrity. There were some funny moments – like Avery discovering Barney in the backyard, and Murphy confessing she tried and failed to burn the stuffed animal! Overall, however, this wasn't my favorite episode so far. What did you think? Did you prefer more of a focus on the characters rather than current events? Let me know your thoughts in the comments below!