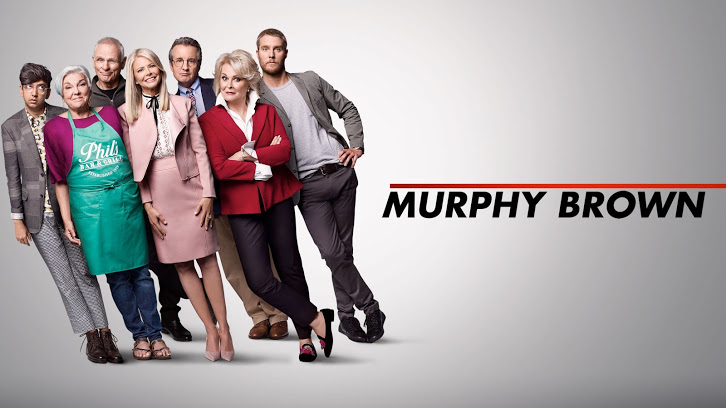 Murphy Brown
"The Coma and the Oxford Comma" was written by Marc Flanagan (another writer coming out of retirement for the show) and directed by Michael Lembeck. Once again, the show has to sidestep politics in order to avoid the actual results of the mid-term elections. This time it's an hilarious take on the infamous case of the von Bulows – made famous by the movie
Reversal of Fortune
. It's all a bit over the top, but funny nonetheless. Brooke Shields guest stars as Holly Mackin Lynn – the coma victim and Corky's (Faith Ford) longtime friend.
The episode title really only references the oxford comma once – and is just a nice play on words. Joanna Adler puts in a brief, but hilarious, appearance as secretary Mary Kate #97. Her annoying habit would appear to be her obsession with grammar. Another nice little moment on set is another meltdown from Julius (Andre Ward) who flounces through the set declaring they're "making me as crazy as Kanye!"
The episode actually opens with Corky visiting Holly who has been in a coma since it was suspected her husband, Charles (Stephen Plunkett) pushed her down the stairs. It was the trial of the decade that Murphy (Candice Bergen) naturally covered – and he got off. Corky visits her friend from their pageant days every day – and while there, Holly suddenly wakes up and shouts "Pam!" This was a terrific red herring. I thought for sure that Pam would turn out to be the woman who Charles was having an affair with… His motive was supposed to be that if he divorced Holly, he'd have to give her half of everything.
Naturally, the team is excited to cover this next chapter in the story. Corky is sure that Charles is innocent – and Murphy is adamant that he's not. Corky even reminds Murphy that Murphy doubted her instincts when Charles was acquitted. They descend on the hospital to be there when Holly remembers what happened. Frank dons a ridiculous disguise to go undercover as a doctor to help keep other news outlets away.
Naturally, the differences between Murphy and Corky are highlighted. Corky wants to be gentle and let Holly remember slowly, and Murphy just wants the facts! I loved how they sum up how the world is different – if you liked MySpace you'll be sad, but if you liked
Will and Grace
and
Magnum PI
– and
Murphy Brown
!! – you'll be happy - because they're all back. Then Murphy brings up Trump – who Holly hilariously remembers as the pervert who came backstage at the Pageants. She tells Holly he's President – and she asks of what – hilarious! When Murphy tells her the country, she wants to go back into her coma. I think many of us would like to be in a coma until he's done. Shields is particularly hilarious with her reactions in this scene.
Charles finally shows up – with the lame excuse that he'd been in China on business. I loved Murphy commenting that it took him long enough and asking if he took the stairs! Holly suddenly remembers that Charles didn't push her, she tripped over the cat! Corky enjoys rubbing it in that she was right. Murphy can't believe she was wrong, but Miles (Grant Shaud) insists it's still a great story. Julius calls it a "huge disappointment," however, and I couldn't help thinking of the Geraldo Rivera opening of that vault!
Corky is on-site with Holly and Charles when Holly suddenly reveals that Charles DID do it! She says that he even greased the stairs with cooking oil – and it's hilarious when Corky and Murphy both shout "PAM!" at the same time. It's a great punchline and end result of the red herring planted at the beginning. Holly was just waiting to expose Charles on national television!
Back at Phil's Corky is utterly disillusioned. Tyne Daly (Phyllis) gets a couple of great lines in this scene. She says that she knew Charles was guilty – after four husbands, she knows a stair-pusher when she sees one! When Corky decides to drown her disillusionment in vodka, Phyllis threatens to send her to "Kavanaugh Corner" – oh yes please! More Kavanaugh digs!! Love it!
Murphy is – of course – happy to be right, but she also feels badly – or tries to – for Corky. She tells Corky that her own cynicism needs to be balanced by Corky's eternal optimism.
Avery (Jake McDorman) tells them that everyone watched at WOLF – and like FOX – their reaction to the story was why didn't Holly call the police on the way down the stairs? Victim-blaming at its finest!
The secondary plot in the episode revolves around Avery's new ad campaign for WOLF. Let's not forget that he wants to be considered a serious journalist – and he's proud to watch the spot with Murphy, until at the end, they've inserted footage that he didn't agree to be shot that makes him "beefcake" eye candy! I did love that they did this to a man instead of a woman because it's just as wrong. Murphy gets the best line as she remarks after he's left the room – "Your tushy. I made that!"
Avery tries to talk to the network, but they like the ad and aren't about to change how they are selling him. It's hilarious when Avery decides that he's going to wear his glasses on air instead of his contacts – to look more serious. But of course it backfires as two fans stop to say hi in Phil's. The woman gushes that she loves his show, and the man remarks that he loves the glasses – so hot!
This was another fun episode, very much in the tradition of the show. I suspect that fans of the original – like myself – are still enjoying these new episodes. I like that the show captures the original flavor of an 80s/90s sitcom. Even so, the show makes some great comments on our current universe. What did you think of the episode? Let me know your thoughts in the comments below!