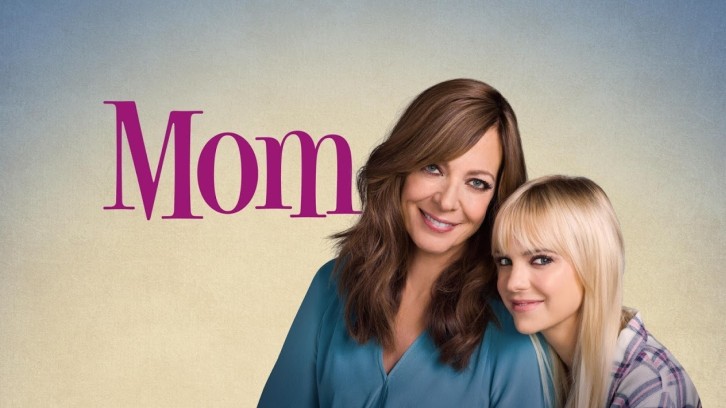 This week on Mom, Bonnie and Christy both face temptations.

Christy's trying to study, but with Bonnie and Adam arguing over which movie to see and Tammy being, well, Tammy, she's not having much luck. After Tammy finds water damage in the wall and then accidentally puts a hole through it because it's so far gone, Christy decides to get the hell out of Dodge and go to Jill's to study.


At Jill's, Christy studies by the pool while Jill runs around flaunting sparkly swimsuits and making the life of her maid, Belinda, miserable. As Christy's getting ready to leave, Jill asks her if she has her money. It's the first of the month and that's when Christy pays $75 of the two grand she owes her for gambling away Bonnie's bail. Christy says she doesn't have it then, but she'll get it to her after she works a shift tomorrow.

Meanwhile, Adam and Bonnie are out on the town when they walk by a tattoo parlor and a couple of "young whippersnappers" make some snide remarks about "grandpa and grandma getting tattoos." Bonnie, of course, pretty much takes this as a dare, and drags Adam into the shop for matching couples tattoos. Despite Adam's career as a stuntman, he's obviously not up for the pain of the needle, and ends up wimping out and only making it through the first two letters of "Bonnie." Bonnie, who obviously isn't too happy about this, seems to have found her new high though. ("It hurts so good!")

The next day, Christy goes to give Jill her $75. It was a slow day at the restaurant, but Christy was able to make the whole 75. After being handed the money, Jill promptly gives it to her maid Belinda for a mandatory facial, ("You're looking a little clogged.") and as the whole world internally groans "Ugh, rich people!", Christy gets pretty damn appalled.

She tells Jill she can't believe she'd just hand off the money she was barely able to scrape by to get to her. Jill claims it doesn't matter because Christy owed it to her. Christy claims she doesn't need it. And then Christy shoves her in the pool. (Cmon, you know Jill totally had that coming!)

Back at home, Tammy's redoing the water damaged walls, while Adam waits around wondering where Bonnie went. Bonnie comes back, and what does she have - another tattoo! ("It took twice as long and felt twice as good!") Christy comes in shortly after, still pissed off at Jill.

Then Jill comes marching in, still wearing her chandelier of a bathing suit. She says that what she does with her money is her own business. Christy tells Jill that she doesn't understand what it's like to not be filthy rich and when Jill treats $75 like it's nothing, it's a slap in the face.

Jill then surprises me, with an unusually thoughtful, un-Jill-like motive. She says it's never been about the money, she wanted Christy to be prompt in paying her back because she knew it would help support her recovery from gambling. Jill says that if the money is going to ruin their friendship, then they can just call it even.


At her GA meeting, Christy's sponsor Ned encourages Christy to still pay Jill back, because it's crucial to her sobriety. He says that every-time a gambler cheats the system and is able to get out of paying a debt, they're given more fuel for their addiction. Even though she's reluctant to admit it, Christy knows he's right, and at the AA meeting, tells Jill that she still wants to pay her back.

Adam, meanwhile, realizes he's got a potential problem on his hands with Bonnie's tattoo addiction after she reveals to him a full-size sketch of her face that she's planning to get on her back. So, he consults the great oracle, otherwise known as Marjorie. He tells her that he's worried her tattoo addiction is going to lead back to her drinking addictions. Marjorie tells him that there's nothing he can do to stop Bonnie from making bad decisions, but does encourage him to attend an Al-Anon meeting to get to know other people with loved ones struggling with alcoholism. Adam's not too hip on this suggestion, and quickly, (Well, as quickly as he can - he was to navigate a lot of tables first!) wheels out.

While Christy is mending fences with Jill, Bonnie prepares to make her ginormous face tattoo idea a reality. Adam, however, has other ideas, and bursts into the tattoo shop, telling her she can't do it. Of course, this just gives Bonnie more fuel for her fire. ("Pick up the needle, Earl!") As Adam tries to explain why he wants her to stop, he realizes that Marjorie may have been right - the real problem might be his unwillingness to accept that he can't stop Bonnie from making bad choices, like possibly drinking again, and he decides to attend an Al-Anon meeting.

Random Thoughts:
-I just about died when Belinda jumped into the pool to "rescue" Jill from her "non-swim-able swimsuit." I really do feel sorry for that woman!

-Adam getting lost in the hallways trying to find the Al-Anon meeting and Bonnie telling him to "just look for the exhausted people who have nowhere else to turn" was hilarious.

-Best lines go to Jill when she's showing off her chandelier bathing suit ("Ew! Thumbprint. Gotta go Windex my tummy!") and Tammy, after seeing Bonnie got a tattoo of a rose without thorns ("No problem. Get me a guitar string and some boot polish and I can thorn that bitch up before lights out!") She really is a jack of all trades!

Do you think Christy will be able to stick to her gambling sobriety? Is Bonnie gonna stay out of the tattoo shop? Let me know below!