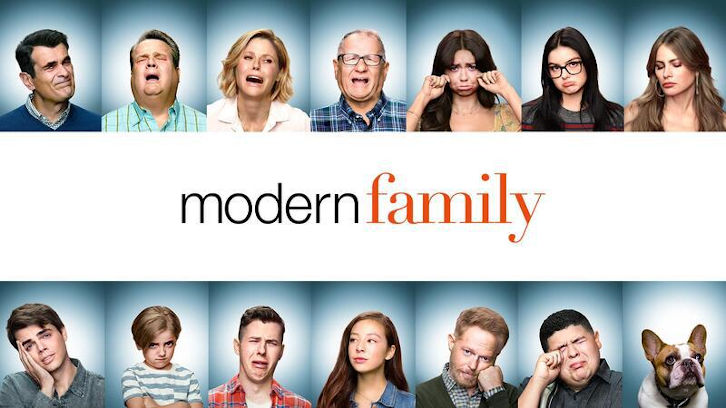 Some of Modern Family's greatest episodes involve a fair share of miscommunication and inconvenient timing. "On the Same Paige" ventures back to that comfort zone for Modern Family after a much more emotional dramaedy-esque episode last week in "Good Grief." While this episode won't rank as one of the best episodes of the series, it continues a string of episodes this season that have made Season 10 a vast improvement over Season 9.

Of course, no one is on the same page in "On The Same Paige," fittingly enough. From the very beginning of the episode, we see that with a quick case of mistaken identity from both Claire and Luke who mistake one of Phil's real estate students as Phil in their own house. That's because, for reasons not particularly clear, Phil has opened up his house for office hours for his students. Sequoia Community College (established 2016) clearly has some very laissez-faire views on what professors can or can't do. But it's all part of Phil's plan to keep his students happy to make sure no one drops his class. He's at the minimum amount of students required to even have the class (18) and if one person drops, he won't able to mold young minds anymore.

Enter Paige Stevens, A young lady in Phil's class who Phil quickly notices isn't laughing as he makes one of his always clever real estate puns while flipping through a catalogue of classes. Phil's only recourse to prevent her from leaving is to bust out the Dunphy charm and "woo" her into staying - by talking her up and making her his "MVP" student. By the end of the class, Paige has clearly been "turned" and is more excited than ever about real estate. And perhaps about Phil as well, as Phil would find out when he goes to retrieve the notebook she left behind that has doodles of "Mrs. Paige Dunphy" on it.



While Phil is worried he had "overwooed" his "wobbler" with his flattery, we find out that Paige is actually a girl that Luke is currently wooing as well and it would appear that Phil is reading into the situation wrong. Luke is the object of Paige's affection, not Phil. So when Paige shows up to prepare dinner at the Dunphy household for her dinner date with Luke, the comedy ensues as Phil keeps walking in on Paige by herself with her dinner courses and misreading his dialogue that makes her sound like she's a character out of a Lifetime movie. With Phil worried about the 7PM deadline to drop classes, he didn't want to do anything that would upset her, in his mind. So he forced himself to eat the meals she had prepared for Luke while she watched on with some apparent confusion.

Luke is in and out of the room (and never the same time as Phil, of course) because he's dealing with Claire's issue with her old college essay on the Monroe Doctrine. Earlier, Claire had found out Luke had procrastinated on his history paper - which was on the Monroe Doctrine - bringing up bad memories Claire had about what she thought was an amazing paper she had done on the same topic that only got a "C" grade. When Luke was planning to drop the course, she actually encourages him to turn in her own paper so she could get a second opinion. However, Luke decides not to drop the class since Paige is a History major and she even went in and edited Claire's paper, making it better. This clearly upset Claire, who then vented her frustrations out Phil, who in turn thinks Claire is mad about the fact that Paige is trying to make a move on Phil.

In the end, Claire realizes how much Like is into Paige and accepts that she actually made her paper better and decides to thank Paige for taking the most boring thing in history and making it interesting, with Phil standing by thinking Claire is talking about him! Claire tells Paige that she actually does approve of the relationship (with Luke), but, wait, Paige is now the one misunderstanding Claire as she leaps into Phil's arms with glee. In a marvelous twist to the farcical plot, Paige actually WAS into Phil the whole time. As Luke later found out, her last two boyfriends were all over 50.

Elsewhere, Jay had invited Mitch & Cam to the country club for lunch, though only because he was trying to meet his monthly minimum and they were the only ones available. While at the table, Jay gets a text from a friend of his who happens to be a mom of one of Joe's school friends. Mitch and Cam tease Jay about having a female friend which sends Jay into paranoia where everything he says when he meets up with her later layered in unintentional innuendo. Jay's conscience is getting the best of him since he hadn't told Gloria about this friendship. Meanwhile, Gloria is busy worrying about someone else's deception - Joe's. Apparently, Joe has had to wear an eye patch lately due to his lazy eye, but has been taking it off and hiding it. Gloria didn't trust Joe to wear it even after he promised he would - so she went to the school to check on him. What ensues is another misunderstanding as Gloria catches Joe on the playground and gives him "the look" - but Jay misinterprets it, thinking Gloria is upset with him because she walked in just as Jay was doing a selfie with his female friend.


Back at home, Jay walks in on Gloria complaining about Joe's "wondering eye," and Jay confesses to her about the e-mails from his friend. Gloria could tell the e-mails meant nothing and also wasn't worried at all because she's "35 and gorgeous." Gloria worries that Joe will not have Jay's strong conscience and will be more like Gloria's family who can lie over and over again with no ounce of guilt. But when Joe returns from school, he shows he is more Jay than Gloria when he admits to his lies, and not just about the eye patch but also about how he never walks Stella (he puts her on a treadmill!) and that his last 3 teeth under his pillow were Tic-Tacs!

Back at the country club, Mitch & Cam took Jay up an offer to treat themselves to a Spa Day as they order a Couple's Massage before heading to a fundraiser at Lily's school where Cam was performing. But much like Monica from Friends, Cam is a very noisy recipient of a massage. The uptight Mitch is unable to enjoy his massage next to Cam's noises. Cam, upset about Mitch always reprimanding Cam for being Cam, confronts Mitch in the locker room and encourages Mitch to let loose and not be so modest all the time (which Cam displays himself by disrobing and marching nude through the locker room).

At the fundraiser performance (an all Dads variety act), Mitch reflects on Cam's words as he sits in an audience full of nothing but Mom's and realizing he should be on that stage with Cam instead of being worried about making a fool of himself on stage. Mitch talks one of the other Dads into letting him take his place in Cam's skit and finds himself in a bee costume literally flying across the stage, much to the delight of Cam. Unfortunately, Mitch slips up while still tethered and ends up flying across the stage afterwards and unfortunately ruins the memorial of a recently passed lunch lady.

Random Thoughts:

-Another solid episode has Season 10 off to a somewhat surprisingly decent start. The Paige storyline was the best of the episode, but what took it over the top was the twist that she really was into Phil the entire time after all.

-I do like that Gloria didn't overreact to Jay's friendship, she clearly knows she has nothing to worry about at this point. And Joe, as usual, is a scene stealer.

-The Mitch/Cam story was probably the lowest note for me this episode as we've certainly covered these grounds before with Cam getting Mitch to come out of his shell. But there were still some good comedic moments with Cam's singing of people's names.

-No Manny again this week! But also no Haley or Alex (or Cal).

-"Don't your trust me?" - Joe
"Two days ago, I caught you making a copy of a $20 bill." - Gloria
"Dad told me I could start picking what we watch when I started making money." - Joe

-"You never lie to me, do you?" - Jay
"Never." - Gloria
"...." - Jay

-When describing Cam while receiving a massage on their honeymoon, "ARUUUUUUBA. That's not where we went, that's the sound he made." - Mitch