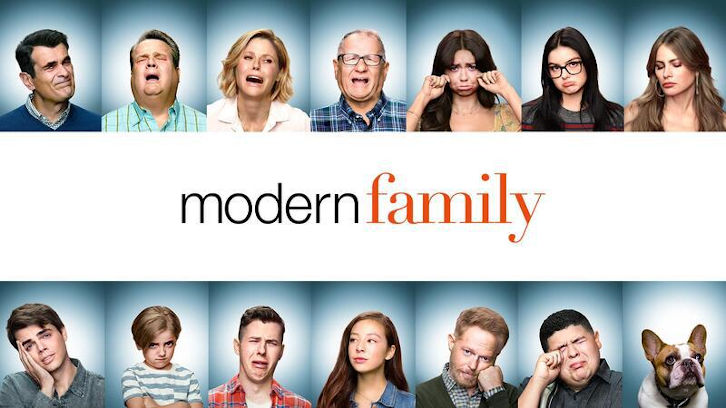 This week on Modern Family, many members of the family are struggling with who they are.

First, it's Cam and Mitch who are having a complete role reversal on what we (and they) expect of themselves. Cam starts the episode by waking up Mitch in the middle of the night in a panic. He realizes he has forgotten many of the words to Thank God I'm a Country Boy which to Cam means he is losing touch with his country roots. Cam puts much of the blame on Mitch for all the eye rolling when Cam says things like "y'all" or the fact that Mitch made Cam take down his outside clothesline. Cam's solution is that he must get back to his roots and to do so, he is going to buy himself a chicken.

Knowing Mitch is well versed in law, Cam already has done his reach and knows there is no legal reason that he can have a chicken. So he brings one home and begins to go through multiple names for the chicken along the way - Egg Leia, Egg Ryan, and Chickie Menage to name a few.


But the truth is, Cam actually hates the chicken. It's filthy and beyond stupid. Cam wants to return the chicken...just as soon as he can find the receipt. But in a twist, it's Mitch who won't admit it but he actually LOVES the chicken. He has never really felt connection to animals but there's something about that chicken (most likely the red head), which he calls Hennifer. Plus, Mitch loves going to the Feed Store to put on his best "gentleman farmer" act.
So it's Mitch who is actually quite upset when he finds out that Hennifer has gone missing. Mitch thinks he may have accidentally left the gate open, but when Cam wants to look at the security footage to see what happened, Cam steps in because he knows Mitch might not like what he sees. Which is true, because it was actually Cam who chases the chicken down in the footage to get rid of the chicken - and not the raccoon attack story that Cam spouts out.
Arming themselves with Hennifer's favorite squeak toy, Cam and Mitch head out to track down the chicken. Once Mitch notices the scratches on Cam's arm and the egg in the backseat, the lawyer puts two and two together and realizes Cam was the culprit who got rid of the chicken and in fact hated Hennifer/Egg Leia. Mitch admits to Cam that he actually did like the chicken.
In the end, the chicken is quickly forgotten once the two make their confessions. Instead, they relish the fact that both of them have rubbed off on one another. Cam had become much more "citified" while Mitch has taken to some of Cam's country ways. They wrap up their storyline by doing something they both would enjoy - shopping at the Feed Store.
Things in the Dunphy household were getting quite psychological this week thanks to Luke's new expertise in the matter (having read Chapter 1 of his Psychology text book). With the family gathered for a group interview that is part of the application process for a big government job Alex is trying to get, Luke points things the viewers have known forever. Claire is controlling and possessive, Haley can't grow up and has a Peter Pan personality, and Phil is a "gullible" dreamer.
These things play out during the interview as Claire obsesses over her chair placement and her answers to her portion of the interview, Haley brags about how Alex inspired her to move out of her room..and into the basement, and Phil tells a story about the time his tumbling team visited the Soviet Union during the Cold War that revealed he may have unknowingly been giving out intel to the Soviet government.
Haley and Phil especially seem to be taking their personality revelations the hardest. Haley immediately begins trying to do things more adult - such as canceling plans with Dylan to go to the carnival and instead go to a 4 1/2 hour play while Phil wonders about all the things in his life he had been duped into believing.
For Phil, things wrap up in a touching moment with Alex when she finds out she got the job (what a fast decision). As Phil worries about whether or not his distant relative really met Walt Disney based on a very sketchy sketch of Mickey Mouse, Alex reassures him reasons why it could be true. When she reveals she got the job, Phil congratulates her and says he knew she would. Alex admits that she knew he would say that because he always says that...but that's what she needs in her life. She has always been there to convince her that she could do something when she thought she couldn't. For Alex, it's nice to have a dreamer in the house.
Meanwhile, for Haley she realizes that being an adult doesn't mean doing adult things, per say. When she and Dylan realize they are the youngest people in line for the play, they decide to visit the carnival anyway because...well, they'd be the oldest people there and that kind of makes them the mature adults there in comparison. I mean that's pretty sound logic, for Dylan anyway. But an errant bumper car bump sends lipstick up Haley's nose and sends her to the hospital.
At the hospital, Haley's nurse encourages Haley and Dylan to enjoy living their carefree life while they still can. Because once she's a parent, it'll all change. Haley laughs, that's a long time away. Well, not quite...because the urine test reveals that Haley is, in fact, expecting. A shock to Haley, for sure...but perhaps not to the trained eye of some of Haley's clues the last couple weeks. But for Haley, she may be forced to abandon her Peter Pan mentality much quicker now...
Random Thoughts:
-There's a third storyline about Jay trying to get Joe to eat his vegetables that also involves Jay as a soccer ref at Joe's game, where Gloria is also Joe's coach. Jay relishes at the chance to boss Gloria around and eventually ejects her...and leads to them agreeing they need to be on the same page with Joe and they work on getting him to eat his vegetables...but they quickly find out they can't outlast him and both make side deals behind the other's back to eat one of his beets for him. It's such an uneventful and somewhat out of place story given the overall theme of the episode and drags the episode down a bit.
-Part of me wondered about Haley being pregnant during Good Grief when she was scarfing down so much food, and thus the clues were certainly there. If anything, it opens the door to some new stories to be told here.
-Credit to the Mitch & Cam story line, I believe this role reversal of Cam having some city in him and Mitch having country in him was a fresh idea for the show.
-No Manny again this week, like third episode in a row. Not that I'm complaining.
-Phil week in and week out is the MVP. His subplots about him being an unwitting Russian Spy and also story behind his hats are highlights of the episode.
-
"Your last English paper came with a Garfield sticker that said well done!"
- Alex
"That's the second highest sticker they give out!"
- Luke