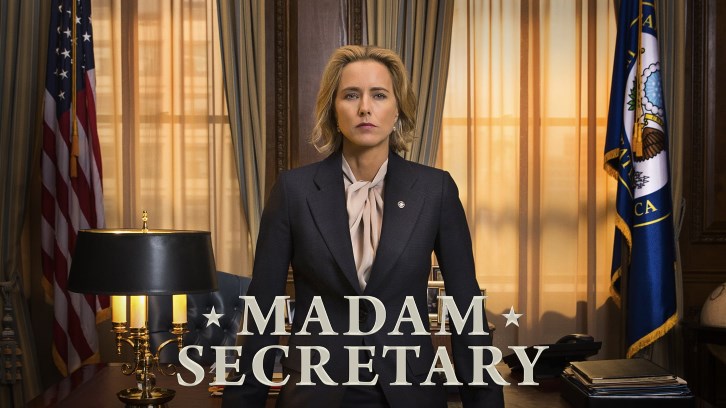 Madam Secretary
"Requiem" was written by Keith Eisner and was directed by Eric Stoltz. Eisner joins the writing team from
Designated Survivor
and his other credits include
The Good Wife
,
Law & Order
, and
NYPD Blue
. He seems to have brought with him the good parts of
Designated Survivor
, leaving behind the messy FBI plot from that show. Having reviewed
Designated Survivor
too, I always did feel it was a shadow to
Madam Secretary
. This episode sees the return of Sara Ramirez as Kat. The episode, on the eve of Remembrance Day in many parts of the world and US Thanksgiving, is a tribute to fallen soldiers and the duty owed to their service. On the eve of the US mid-terms, the episode also contains a valuable lesson about the importance – and reality – of voting.
The episode begins with a flashback to World War II in the Philippines and the loss of Captain David Paley (Paul Alexander Nolan). This sets up the episode for his daughter Gloria (Phyllis Somerville), founder of the David Paley Foundation, which lobbies for POWs, to lobby for having her father's remains returned to the US after they are found. Naturally, because it's the Philippines we also get a return to the extremely obnoxious President Andrada (Joel de la Fuente). When Dalton's (Keith Carradine) administration not only doesn't get the bodies returned but remains silent on the matter, Gloria turns to the media.
Russell (Zeljko Ivanek) then turns to Elizabeth (Tea Leoni) to do something about it. The mid-terms are coming up and if Gloria gets people to vote against Dalton's supporters, it will mean that none of Dalton's programs will be supported until the end of his term. Making them all superfluous. Unfortunately, this puts Elizabeth between a rock and a hard place. Don't forget that there is no love lost between Elizabeth and Andrada since she punched him – and broke his nose – for making advances on her.
In fact, the responsibility of getting the bodies of the soldiers home should rest with Gordon (Mike Pniewski) at the Department of Defense. He's not happy when Elizabeth is put on the case. It was his technology that allowed the bodies to be found. I really loved how everyone stepped up in this episode to express how important it was to them personally to get the bodies of these heroes home.
Elizabeth turns to the US Ambassador for the Philippines, but Andrada won't take him seriously because he's only part time – which is a nice comment on all the currently unfilled US Embassies at the moment. Andrada has sent him a message through a plant that suggests he feels the US has broken a promise to him. Elizabeth fairly quickly divines that Adrada is being obstructionist about the bodies because of a US aid package.
Meanwhile, Elizabeth meets with Gloria and tells her that they are working hard to bring the bodies home, but it's a difficult situation that might take some time to resolve. The scene underlines the 72,000 families who are still waiting for news about their loved ones – again taking the opportunity to underscore the duty owed to the sacrifice of both military personnel and their families. Gloria agrees to stand down until the morning of the mid-terms – which would still hurt Dalton at the polls.
Dalton doesn't blame Gloria for taking a hardline. Their real problem is Senator Callister (Will Chase) from Kentucky who is blocking the bill for Philippine aid from getting through. Dalton too underscores the importance of "no man left behind" and gives Elizabeth the go ahead to lean on Callister. It turns out that Callister is publicly refusing to support Adrada and his administrations consistent Human Rights violations – even though Callister has a huge defense contract in his own state. Elizabeth appeals to him to accept the lesser of two evils, but Callister insists that he doesn't have to choose – he just has to look his constituents in the eye.
Jay (Sebastian Arcelus) meets with lobbyist Mickey Kensington (Quentin Earl Darrington) who reveals that Callister has his own money from his tech company and therefore doesn't need the deep pockets of the Defense contract. In fact, he doesn't like the owner of the Defense contract company based on his race – Callister is a racist.
Both Jay and Kat tell Elizabeth not to call Andrada, but she's determined to get those soldiers home, especially after Dalton placed such faith in her to do it. Andrada is just as rude as ever, eating his lunch during the call and demanding the aid package while throwing up ridiculous obstacles. De la Ruente is delightful as the cringe-worthy and annoying Andrada! Elizabeth decides she must fly to the Philippines – and this time Russell tries to stop her. I kind of liked how everyone treated Elizabeth like a bit of a loose cannon throughout the episode and she maintained her cool throughout.
Before she can leave for the Philippines, the entire staff stages an "intervention" to tell her about Stevie (Wallis Currie-Wood) and Henry (Tim Daly) getting thrown out of one of their favorite restaurants over Dalton's failure to get the soldiers' bodies home. They expect Elizabeth to be furious, but she calmly tells them that it's beneath the dignity of her office to respond, so she's just going to ignore it. Meanwhile, Henry and Stevie have decided not to even tell her.
Elizabeth goes to the Philippines only to be completely disrespected by Andrada who blows off their meeting and forces Elizabeth to come to the boxing gym where he's working out so he can further embarrass her by striking boxing poses and presumably showing off his fighting prowess. I love how they make him look as ridiculous as Putin usually looks doing similar ridiculous stunts. Elizabeth barely keeps her temper and tells him that far from disrespecting him, she's showing him more respect than he deserves by coming all the way to the Philippines. She also tells him that she'll get him the aid, but he's going to release the bodies immediately or she's going to release a statement about how he really broke his nose! And that gets through to him…
Elizabeth is complimented by Gordon on her return for getting the bodies released without an international incident. However, there's also bad news. Gordon tells her that David Paley won't be getting a military funeral because he was AWOL before his last mission and would have been court martialed on his return.
Elizabeth asks Dalton to override Gordon and give Paley the military funeral. Dalton asks Henry as a marine – and as his ethical advisor for his opinion. Henry says that he would look at Paley's life in toto (total). Paley had gone through 3 years of missions before breaking and going AWOL and in the end, did the right thing and showed up for his mission. Dalton, however, sees that the man bent but didn't break. Henry also reminds Dalton of Gloria's tireless mission and how much good the Paley Foundation has done. Russell chimes in that if you don't recognize heroism, you discourage heroics. In the end, however, Dalton decides that as Commander-in-Chief of the armed forces he is duty bound to enforce military Protocol.
Elizabeth volunteers to break the news to Gloria who is furious. Elizabeth tells her that the only thing she can control is what she tells Gloria, and she's opted to tell her the truth because she thinks she deserves it. She tells Gloria that her father's file will remain classified in order to protect his reputation, but Gloria asks what she should tell people. Elizabeth suggests telling them that she's opted for a private ceremony and a quiet resting place at home, and this satisfies Gloria. I liked that the show doesn't give us easy answers – or fairy tale endings all the time. I also like that in almost every case a balanced view of the sides is shown – which helps increase the drama through the difficulty of coming to a decision.
Russell tells Elizabeth that Callister is friends with the restaurant owner who threw Henry and Stevie out. Elizabeth realizes that she can't do anything to respond until she's actually a candidate. Russell agrees that she has to let it go – but it also means that Callister is running. And Russell also suggests that Elizabeth can handle it another way.
I loved that they sent Kat! And it was great to see Ramirez get such a nice meaty scene! Kat lets him know that they know he's preparing to run because all he's done is oppose their international policy. He hasn't brought up anything relevant from his own state like farming. They know he's running and trying to eliminate the competition early. She also taunts him that she came specifically because she's everything he hates – a gay, Latino woman! She tells him that if he threatens the Secretary of State's family again, Elizabeth will come herself – not as Secretary of State or a candidate, but as a mother defending her own. The Senator asks her if her comments are a threat, and I loved how she smiled as she told him it was a gift.
Finally, there's an interesting side story about Alison's (Katherine Herzer) first real foray into politics. It was nice to get to see Herzer, who has really grown up on the show, get to have a bit of a meatier storyline – she often seems like the forgotten middle child! She's volunteering for a candidate – Craig Pavano (Brandon Gill) and is clearly starry-eyed and idealistic about him. She is clearly impressed when he solves the problem of a missing interpreter by signing his own speech. However, he is easily and quickly toppled off of his pedestal when Alison discovers that he's backing away from his campaign promise to forgive student loans.
On election day, Elizabeth finds Alison on the couch. She's quit the campaign and didn't even vote! I love how passionate Leoni is in this scene. She is furious that Alison is simply checking out of the entire process. You would think that being in a rather political family, she's have a clearer sense of the importance of voting and how the political system works besides! Nobody can be all things to all people, and you have to get elected before you can do anything! Elizabeth scolds Alison for giving up on a candidate who was forced to compromise on one issue. And I loved the way they tied this back to the main storyline. Elizabeth reminds Alison that 1,000s of soldiers died in countless wars to secure Alison's right to vote. In the end, of course, Alison is consumed with remorse – but Elizabeth gets her to her polling station in time to vote!
I thought this episode had outstanding performances from Leoni and Ramirez, and I do enjoy when de la Fuente guest stars! Once again the show highlights some very complicated issues, but also manages to underscore the real necessity for people to vote – and why they should. What did you think of the episode? Let me know your thoughts in the comments below!