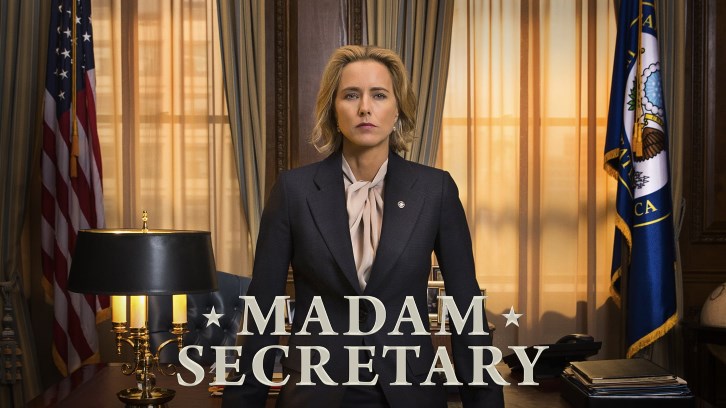 Madam Secretary
"Baby Steps" was written by Kristi Korzec and was directed by Kevin Dowling, whose other credits include
The Strain
,
The Americans
,
Bosch
, and
Extant
. The episode features the return of Jayne Atkinson as Vice President Teresa Hurst and sets her up as a challenger for Elizabeth's (Tea Leoni) run for President. The episode focuses on another important global issue – human trafficking – but from a somewhat unexpected direction: surrogate mothers. As always, the show provides lots of interesting discussion without finding any easy answers.
As the episode opens a couple – who turn out to be Teresa's daughter Lyla (Hannah Cabell) and son-in-law Charlie (Aaron Ramey) arrive in Laos to pick up their baby from a surrogate mother (Dearlesia Cearcy). As they arrive, the Laos police are rounding up all the women for human trafficking. Whether surrogacy is actual human trafficking isn't really addressed directly in the episode, but it is legal in the US in some states.
Human trafficking, however, is a huge problem worldwide when one considers women, children, and men who are sold into slavery against their wills. This is nicely covered in the scene in which Dalton (Keith Carradine) tries to decide on a response. Dalton wants to take a hard line and punish all the 3rd tier countries. Elizabeth advises a more nuances country by country assessment. Teresa wants to help the mothers arrested – but doesn't divulge her personal connection. Russell (Zeljko Ivanek) points out that Laos did comply with the appeal to crack down on human trafficking right away. Henry (Tim Daly) points out that it is a complicated issue touching on human rights, reproductive rights, and children's rights. Dalton ultimately decides on the hardline, but tells Elizabeth to ensure that there are no human rights violations.
After the meeting, Teresa pulls Elizabeth aside and confides her personal connection. She tells her that she didn't want to saddle Dalton and the administration with a conflict of interest. She also says that she doesn't trust Russell not to make it political. It's clear that Teresa is also planning to run for President in the next election- even though she knows that Russell and Dalton are behind Elizabeth. And you just know that this entire storyline is going to end up biting Elizabeth in the butt when it comes time for the election. And of course, Elizabeth agrees to help.
Jay (Sebastian Arcelus) and Elizabeth meet with Donna Parker (Maddie Corman) of the Bureau of East Asian/Pacific Affairs about the over 200 pregnant women who were rounded up. Parker tells them that Laos doesn't like the optics, but it's part of the overall crackdown. Elizabeth insists that they are invested in the health and well-being of all the surrogates – who are carrying American babies (and citizens) after all. Privately, she confides in Jay about Teresa's daughter's surrogate and asks him to try to find her. I loved the banter between the two about Jay giving her "the look" that runs throughout the episode. Jay is clearly skeptical of Teresa from the start – because d'uh!
Jay briefs Elizabeth that the Laos officials are going after the ring leaders first, which gives them more time to lobby for the women without really interfering with the Laos justice system – something not allowed in international law. Elizabeth comes up with the idea of an International Coalition to lobby for surrogates – and the women in Laos. There is a real need for international standards to protect women. Jay again points out that Laos is worried about the optics of incarcerating pregnant women and this would make them look good if they could come on board to support an international effort.
When Elizabeth tells Teresa about the coalition, she shoots it down as too ambitious. How little she knows Elizabeth! She's only concerned about her daughter's surrogate. Elizabeth is clearly shown to be unbiased, but in the long run, she's the one who makes the sacrifice. Elizabeth asks Teresa to trust her – and was anyone surprised when Teresa not only didn't trust Elizabeth but also betrayed her trust? Alison (Kathrine Herzer) sees the story break on the news that the VP's daughter used a sex slave to get a baby!
Henry and Elizabeth are both called to the White House. Dalton asks Teresa why she didn't tell them. Russell is concerned that according to cable news the White House is now an illegal baby mill! He asserts that there will be both domestic and foreign fallout over it. Teresa asserts that American lives have to come first – ie HER grandchild. Dalton tells her she can't be unbiased – but he still agrees with her! He insists that they will have to cut aid to Laos after Henry sides with Teresa. Dalton tells Elizabeth that she'll have to get the surrogates without the aid as a carrot.
I loved the scene in the car on the way home. It truly underscores what makes this series different from so many others. Most shows would have simply devolved into the soapy drama over Henry disagreeing with Elizabeth. He simply apologizes – and she – like an actual, mature adult!! – acknowledges it, but also says it's not necessary. She points out that they have been on opposite sides before and that different opinions mean more options. The coalition is now dead in the water too, and she's more upset about that – her eye is always on the bigger picture. Henry, however, is immediately suspicious about the link between Teresa knowing about the coalition and the leak – he suspects her immediately. Elizabeth insists that Teresa is too much a political animal to torpedo her career, but Henry points out that people will do extreme things for family.
Elizabeth appeals to Foreign Minister Vong Phommapanya (Claro Austria). She congratulates him on Laos' swift action on human trafficking, and he tells her they want Tier 1 status. He points out that Americans are exploiting their citizens as surrogates. When Elizabeth pulls the aid, he points out that the aid goes to removing US bombs that kill Laos citizens every year. I loved how the episode also shone a light on this issue. Elizabeth admits that the US doesn't have the high moral ground. Vong concludes their conversation by saying that while they value the US as an ally, Laos will be concentrating more on their relations with China.
Meanwhile, the team is focused on the re-opening of the Japanese Peace Garden – gardens that they have installed all over the world as an apology for WWII. However, problems arise when the Japanese have greater ambitions for the garden than the National Parks Service can afford. Blake (Erich Bergen) is spearheading the project and tries to run interference between Ken (Cole Horibe) from the Japanese delegation and Maddie (Ann Sanders) from the National Parks. He's also dealing with a Japanese video game mogul – Usuki (James Chen) – who keeps sending ridiculously expensive "gifts" to try to get a one-on-one meeting with Elizabeth. I'm really, really enjoying getting more storyline for both Bergen and Arcelus.
Blake has almost lost it – and I love the scene where he's pulled an all nighter trying to solve a problem that he has no power over. When Matt (Geoffrey Arend) suggests it's a shame that Blake couldn't just sell the expensive watch he's been unable to get Usuki to take back, Blake has a brainstorm. I was really, really worried that he would actually sell the watch!
However, he goes to Usuki who is playing with a racecar. He asks him to fund the garden. Blake can't promise a one-on-one meeting, but he's sure that Elizabeth will want to thank him personally for the donation. It turns out that Usuki has very fond memories of visiting a garden with his grandmother and sitting on a bench with her when he was young. However, Usuki wants a gigantic pagoda dedicated to him within the garden, and Blake can't give him that. Blake finally loses it and tells Usuki that the garden is a symbol of peace and reconciliation – not a means of self-promotion! Usuki is taken aback and says that no one speaks to him like that. Then Blake forces him to take back the watch too. Usuki is impressed by Blake's integrity in returning the watch and remarks that his grandmother valued integrity. He tells Blake to wait while he takes a lap in his racecar to think.
In the end, Usuki agrees – and settles for a small bench in the park with a plaque on it that reads: "In loving memory of Chiaki Usuki – A Rad Grandma." Blake is a little worried at the opening that it's smaller than they'd discussed – and Ususki hasn't actually signed the contract yet, but Usuki turns out not to be a complete douche and says it's perfect. I'm really hoping we see him again!
Jay also fills Elizabeth in at the opening that Israel and the UK are very disappointed that there will be no coalition. Elizabeth asks Jay to make sure that the US Embassy is doing all they can in Laos for the surrogates. We come back to Jay's facial expressions, and he admits that he wouldn't have trusted Teresa – but he admires that Elizabeth did.
As Henry and Elizabeth walk through the garden and remark on its beauty, Elizabeth returns to the fact that Laos is the most bombed country – and the US has never owned that. Henry remarks that the peace garden makes you think about the power of apology and that humility makes space for new possibilities. He suggests maybe they need some kind of peace garden for Laos – but Elizabeth has a better idea – and one that is also completely selfless.
She goes to Teresa and tells her that she knows she was the leak, but she also admires that Teresa was prepared to trade her political career for her grandchild. Elizabeth suggests that Teresa lead a US delegation of worried Americans to Laos. At the same time, Laos is waiting for an apology for the bombing – which Teresa could give. Teresa thinks it will make her look weak. Elizabeth tells her that apologizing isn't weakness and reassures her that she's a gifted politician – but she needs to open with her humanity if she wants to be a leader.
In the end, Teresa makes a very personal speech and is able to bring the surrogates home. Russell, Dalton, and Elizabeth watch. Dalton remarks that it's a side to Teresa that he's never seen. Russell isn't quite so happy – Teresa had a likeability problem – and Elizabeth has solved that. Teresa also comes across as having one this one for the US when Elizabeth did all the work. Teresa is politically devious enough that we know that she will never acknowledge the role Elizabeth played.
Again, Elizabeth isn't worried about herself, and when Jay tells her that the UN is going to host a summit on surrogacy, she considers it a win. I loved her high fiving him and then turning to Blake for one "up high" – and he's so much taller! I love the subtle use of physical humor.
Finally, there's a subplot involving Stevie (Wallis Currie-Wood) that also ties in to finding peace – and what you will do for your family. I'm also betting that this is also going to end up being an issue during the Presidential race. Ephraim (Clifton Davis) comes to Henry with CIA footage of Stevie – with Talia (Masha King) following her. They are worried that the Russians have gotten to Talia and set up a coffee shop to question her.
It turns out that Dmitri (Chris Petrovski) had reached out to her after the attack on the White House to make sure Stevie was ok. I loved her explanation that it took her all day to find out if Stevie had all her fingers and toes – and was generally ok – because Stevie walks very fast! Talia also says that she would do anything for her brother because of all he's done for her. Henry decides she's telling the truth. He tells Elizabeth who thinks the gesture of Dmitri still worrying about Stevie is sweet. She wants to tell Stevie, but Henry isn't so sure.
In the end, he does tell her – and I loved that she knew something was coming because Henry made her breakfast. Henry has pulled strings to allow Dmitri to write to Stevie – it's a one time deal. Stevie also thinks his worrying about her is sweet. She goes to the Potomac Lodge where they used to meet to read the letter. The final scene shows Dmitri in Alaska receiving her response – also a one time deal… but will it be? It's clear these two still care about each other and are in love. I think that this show won't have a soap opera ending for the two, however. Which is too bad because I really enjoyed Petrovski on the show and would like to see him come back.
What did you think of the episode? Did you enjoy the main plot on surrogacy? How much of this do you think is going to come back on Elizabeth during the Presidential race? Should she have trusted/helped Teresa or looked out for herself? Are you enjoying more Blake and Jay? Do you think we've seen the last of Dmitri? Let me know your thoughts in the comments below!