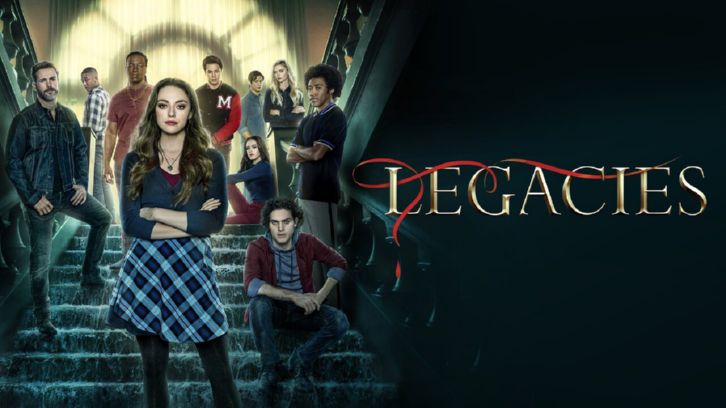 This week on Legacies, Rafael and Landon are on the run. They are spotted by a werewolf hunter when they use Rafael's powers to earn money but are saved by Jeremy. Lizzie, Josie, and Hope are forced to do community service. Lizzie is attacked by a gargoyle, which then goes after the entire school since it seems to hate anything supernatural (great idea to put that thing at a school for the supernatural). Alaric saves the day when he figures out it won't hurt him but his kids aren't too pleased that he put his own life at risk. Hope and Josie bond over their dislike of Lizzie, which doesn't last long. M.G. sees Kaleb feeding on a human. Something attacks a few teenagers not too far from the school.

It's not you, it's me … I think: I need more info on what's going on with Landon as soon as possible. Is he human or something else? How did the knife "speak" to him? And most importantly, can we trust him? Right now, I can't stand this guy for some reason, despite that he's sort of been disproven as a villain. I guess I just need more to go on. Rafael, on the other hand, I love. Even knowing he's about to be thrown into to a triangle with the twins and possibly Hope.

Teenagers are mean: The further away from high school I get, the more I forget how mean kids can be. The twins are mean to Hope because they're jealous of the time she spends with their dad. Hope is rude to everyone because … well, her life sucks. And at a certain point, people just forget who started it and go on hating each other without really knowing why. I'm glad to see a friendship growing between Josie and Hope, even if it was mainly them uniting against Lizzie, which didn't last long. I really hope Josie learns how to stand up to her sister before the end of the season. It's sad to see how little regard Lizzie has for her sister's feelings.
I smell trouble … and blood: One of the downsides of a school for the supernatural, where they're sequestered from humans and learn all about how much harder, better, faster and stronger they are, is that it can go to their heads. The only human interactions these kids have is the occasional teacher and the jerks they occasionally have to play flag football with. And since teenagers are such great decision makers, it was only a matter of time before a teen vampire decided to use one of the humans in town as lunch. I highly doubt Kaleb is the only vampire at the school that does something like this. M.G. didn't seem that happy about it but this was enough to make him go against his friend.
Worst chaperone ever: Which brings me to my next part. Dorian has to be one of the worst chaperones I've ever seen. We had teenagers making out, getting into fights, one actually left all by herself, one stabbed herself in the foot and one fed on a human. But did Dorian see any of this? Nope. He was so focused on helping Alaric out with info on the gargoyle, one could've been standing right behind him and he wouldn't have noticed.
Yikes: While the gargoyle was creepy as hell, I found its storyline severely lacking. I really hope we're not headed towards a monster-of-the-week rhythm with this show, but aside from that, when you introduce a new species or monster I would like for them to spend more than one episode on it. If The Vampire Diaries did anything right it's how they gradually unfolded the mythology of the species (though I still want more on the origins of witches). I was hoping we'd get something similar on this show, though I did think they'd wait at least half a season before introducing anything new (and take that time to build their characters' backstories). But we're only 3 episodes in, there's still plenty of time.
Cameo alert: We got a glimpse of Jeremy in the series finale of The Vampire Diaries, and I was wondering if this meant that he was involved with the school. Turns out he is, but I did not expect we'd actually see him. He looks good, a lot younger than I think he should be, though (same with Alaric, and they can't use the magical youth excuse like Davina). I wonder if this was a cameo to lure in more Vampire Diaries fans or if we'll actually see more of him this season.
This won't work: So after 2 weeks of complaining, they finally gave us the explanation of where Caroline is. And I hate it. She's supposedly on recruiting trips. The reason I hate this excuse is that this can't possibly work as a long-term answer. Say that this show runs for 5 seasons as The Originals did, are they going to say that she's on a recruiting trip for the entire duration never once checking in on her kids?
Best quotes: Rafael: "It's just the 2 of us, living off the land. There's nothing better." Landon: "A burger. A burger would be better."
M.G.: "Forget we made out, but also remember I'm a really cool dude with super dope football skills and I crush it all day, every day."
Alaric: "Dorian was supposed to keep you away." Hope: "He tried. He lost."
That's it for this week. Check in again next week for an all-new review and let me know in the comments what you thought of this week's episode.
Please be respectful in the comments, any unnecessary rudeness isn't welcome.