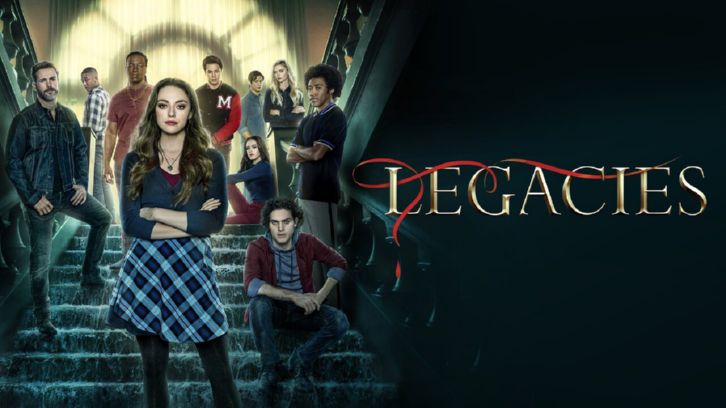 This week on Legacies, there was an election for honor council. Lizzie and MG were busy campaigning but both lost to Josie, who was elected with some help of Penelope, and Kaleb, who got back at MG for the events of the previous episode. Rafael beat Jed in a battle for alpha but was furious when the council voted that Landon should leave. Landon and Hope spent the episode trying to figure out what he is, with no luck. Hope sent Landon to New Orleans with a kiss. Alaric and Dorian caught a dryad that came looking for the knife. She ended up dying but not before revealing some secrets (that will hopefully be explained more next week because I'm not quite clear yet on what's going on).

I need more: I know she's the mean girl and that we're supposed to hate her but I really liked Penelope this week. Finally, someone told Lizzie off for how she treats her sister. Penelope clearly still cares about Josie. She went out of her way this week to give Josie a voice, knowing Josie would never run against her sister. And yes, it did cause a conflict between the twins. But at this point, maybe there should be. If they fight, then Josie can finally say all she's been bottling up. I'd love to know what the reason was for Josie and Penelope's break up. Josie seems really angry at her, so Penelope must've done something but I can't really see her want to hurt Josie. And I need more backstory on Penelope in general. She's exactly the type of character that usually ends up becoming my favorite.

Not feeling it: And speaking of favorites, Hope really needs to start letting some people in. It appeared that she was doing so with Landon, but now he's off to New Orleans (to meet with Vincent, I presume) and she's by herself again. Things went from hostile to romantic very quickly with those 2 this week. I'm not really feeling this relationship, to be honest. And it's not because I don't like Landon. True, I haven't been a huge fan of his these past few weeks but this week was different. I'm really intrigued by his backstory and upcoming storyline. I'm excited to see him off on his own for a bit, away from the other main characters. That way we can get to know him better. But Hope and Landon, yeah, I'm just not feeling the chemistry.
Most badass: I knew it wouldn't take long before Rafael got fed up with Jed, who is a typical bully, always hiding behind a group. Turns out Jed was all talk, when it came down to it Rafael kicked his ass easily, and this with minimal training while Jed has spent years at magic school doing nothing but training. Unfortunately, werewolves do have temper issues, which was clear this week. I get why he's mad, Landon is like a brother to him so of course, he wants him to stick around. But I actually think Hope and Josie made compelling arguments. Rafael can't protect him all the time, and you know Landon would be a target. And from Josie's point of view, bad things started happening when Landon arrived. As long as they don't know what he is, he could be dangerous, even if he doesn't intend to be. So I understand Rafael's anger, but I really don't think sleeping with Lizzie was the best outlet. This is going to cause so much drama.
Freak of the week: While I love dragons, the dryad this week was definitely the 'monster' with the most substance so far. For one, she actually talked. And she wasn't just 'evil monster without motivation'. I still don't like that the new species are being glossed over each week, but I do think things are improving. Now that we're getting closer and closer to the big mystery that is Malivore, I wonder what else we'll see. I'm still hoping for a succubus.
Best quotes: Dryad: "Trees are patient, humans are not."
Emma: "What are you testing for exactly?" Hope: "His ability to get away from me as quickly as possible. If he's going to stay in this school, it's a must."
Hope: "The political is personal. I learned that in advanced civics taught by you." Alaric: "That's cheating."
Kaleb: "Hold up, who voted for her?" Hope: "I ran unopposed."
That's it for this week. Check in again next week for an all-new review and let me know in the comments what you thought of this week's episode.
Please be respectful in the comments, any unnecessary rudeness isn't welcome.