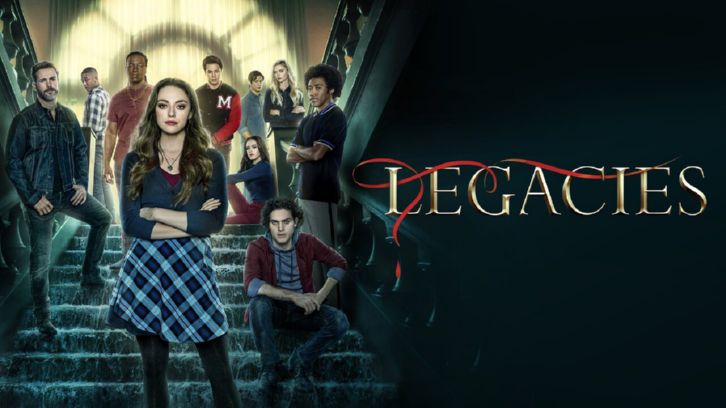 This week on Legacies, Josie helps out Rafael who is having problems with the other werewolves at the school. He eventually submits to Jed. He and Josie share a kiss when trapped in a spider's web. Hope, Lizzie, Landon, MG, and Kaleb spend the day at the Mystic Falls high school looking for clues on Dana's whereabouts, who went missing the night before. When they find her they first think she's transitioning into a vampire but it quickly becomes clear that's not the case when she liquefies (this episode had some gross stuff). Turned out she'd been bitten by a giant spider monster that had taken over Dana's boyfriend. Anyway, the spider thingy is defeated by Hope, Josie, and Lizzie. At the end of the episode, Kaleb gets vervained for feeding on humans and Dorian gets attacked by something ugly.

Most responsible: Each week I grow to love Josie more and more. I guess the writers are trying to highlight the differences between the twins, one is quiet and rational, the other is loud and chaotic. Josie really held her own this week. She defended Rafael with an offensive spell without taking things too far (like Hope or Lizzie probably would've done). She never told Rafael what to do, but advised him so that he could make his own decision. And she made a rational argument to her dad about learning offensive spells. (Seriously, why were they not learning that stuff? Is Umbridge teaching there or something?) You can see that her confidence is growing each week. I do hope the writers find a way around the twins' magic problem. It's kind of annoying that they have to draw it out of things or people all the time.

Prom queen: I'm genuinely surprised by how well Hope fit in at the high school. It did make me sad that she's looking for an escape from her life while she should be making the best of the life she has. She opened herself up to opportunities in the short time that she was at the high school, maybe it's time that she starts doing that at her own school as well. Though I guess with people knowing who she is, she's probably not the most approachable student. It wouldn't shock me if a lot of the students were afraid of her, based on reputation alone.
This feels like a priority: I'm starting to seriously wonder if Alaric has any idea of what's going on in his own school. He was clueless about the vampires feeding (more on that later) but what worries me, even more, is that he either doesn't know or doesn't care about what's going on with the werewolf students. They've literally formed a gang right under his nose. Rafael had to either join or get the crap beat out of him. I truly hope that Jed guy is one of the first to die this season. We've seen a lot about pack mentality on The Originals, how an alpha needs to be respected (and earn that respect). When Jed just arrogantly told Rafael that he's his alpha I snorted and said: "Yeah, and I'm the queen of England". You can't just declare yourself someone's alpha. Man, I wish Hayley was still alive so she could school this kid. It seems that every student knows about this, though, so why aren't the teachers doing anything?
Hold on! And speaking of Alaric's great leadership skills. Last week I thought Kaleb was going to be a problem and he probably will be. However, after what we learned this week, I have a feeling Kaleb won't be the only vampire that'll cause trouble. Alaric, have you learned nothing from Stefan? Is he really giving them animal blood? We know from The Vampire Diaries that animal blood doesn't even come close to comparing to human blood. When Stefan was on it he was weaker, worse at compulsion and do I need to remind you of what happened the minute he got a sip of human blood. Sure, he was a ripper and probably a bad example. But of course, the vampires at the school are not going to want to go back to animal blood once they've gotten a sip of the real deal. I don't buy that Alaric wouldn't have been able to make a deal with the blood banks, he's connected enough. And if he'd given them human blood in a controlled environment (the school) they wouldn't have been sneaking off and feeding on humans.
I'm sick of it: It's been 4 weeks and I'm already tired of the "freak of the week" format. It's starting to feel too much like Supernatural. We don't really get to learn anything about these new creatures. They're defeated as quickly as they arrived. And I feel like the time they spend on the creatures, they should be spending on character development instead. Those were the moments that I always enjoyed the most on The Vampire Diaries and The Originals, the ones that really focused on the characters and their relationships (the non-romantic ones). I'm really hoping it doesn't stick for the entire duration of the show (mainly because they can't keep that up).
Best quotes: Hope: "So what's your plan with Landon. Does he like, go here now?" Alaric: "Why? Do you still think about murdering him?"
Lizzie: "MG, I need your compulsion skills. Would you like to be the Robin to my Batwoman?" MG: "Actually, Batwoman doesn't have a Robin." Lizzie: "Metaphor, nerd. Let's go."
Hope: "Come on, Landon. Adultery, missing girls… it's like every TV show that old people watch. A crime of passion, I think they call it."
Hope: "So do you want to play good cop or bad cop because I don't think emo cop is a thing?"
That's it for this week. Check in again next week for an all-new review and let me know in the comments what you thought of this week's episode.
Please be respectful in the comments, any unnecessary rudeness isn't welcome.