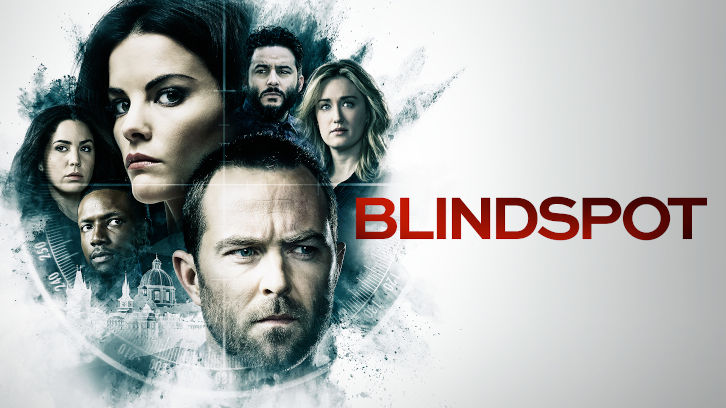 This week's Blindspot, once again, delved into political corruption. More importantly though, Ca-ca-candidate for Cri-cri-crime focused on the new dynamics of the team, in regards to their new Director. This season, Matthew Weitz was kind of simply thrown in there, and this week's episode was the first episode where we actually got to know him, see how he operates. I have to say though; I usually find Blindspot's episode titles to be quite clever; I did not get that title at all here.

A congressman is killed, which led them to a tattoo they had seemingly already solved. This then steered them towards a lobbying group: GPA. It doesn't take long for the team to find a connection between the lobbying group and their director, Matthew Wietz, who used to be in politics. When confronted on his involvement with the victim, he lies to the team, and that is a big mistake. They see right through his lies. He could have been the last person to see the victim alive, and seems to be covering up a murder. He is not putting up any points here.


"On a scale from one to ten, how close are we to building a secret workshop in your apartment? Like a five? I'm hearing 6 or 7, just tell me when I'll go build the secret lab." –Rich
Rich gave the audience a call back to last season, when the team were investigating the big conspiracy in Jane and Weller's apartment. I laughed, hard. Don't judge me. They seemingly aren't going as far this week, at least for now. Ca-Ca-Candidate for Cri-cri-crime had Patterson and Rich mostly in the in the lab, somewhat in the background but, they still managed to pull some hilarious dialogue. Rich finds himself playing devil's advocate as he is the one defending and rationalising the actions of the FBI director. We have to understand them though, the team was not very lucky when it came to authority figures in the past. Their reaction is understandable.
In this episode, Reade also faces the consequences of haven given his access code to Tasha. He let her walk away with several classified files. Let me tell you this though, I do not trust that new CIA lady at all. She interrogates Reade, alone, in regards to the security breach and the sterile interrogation room is where he is stuck for a big portion of this episode. Last week it was his apartment, now the interrogation room, Reade is an unlucky guy. During the interrogation, she confirmed that Claudia had probably been MI-6, but I'm still not buying it. Call me hard headed, but Tasha doesn't look stone cold to me. Because of this, Tasha is now wanted dead or alive. She is no longer simply being an embarrassment to the agency.
"And we are coming together with hard work, and trust and sticktoitiveness, and loyalty… as a team." –Wietz


I am glad we got an episode that focused in more detail on Wietz. His attitude, and his charisma is really a great add to the team. I really do like him, like really. He was all around great in this episode. I mean, he's no Lebron, but he's a good addition.

After Reade confesses he simply gave Tasha the codes, the CIA orders his termination and an investigation, to which Weitz follows suit, sort of. He fired Reade in front of the interim CIA director, but just for show. I wasn't expecting that, and I love being surprised. I really enjoyed how he came back to Reade's apartment, and made fun of him before telling him he was only fired on paper. He has developed an affinity for the team, and he and Reade are going to find Zapata. Maybe Rich wasn't that far off when he called the secret lab.

Tasha's mission this week is to scare an engineer from Bradley Dynamics into taking pictures of classified documents. Nothing truly exciting happened within her storyline this week, but it put light on Madelyn's agenda. Crawford industries is 40 billion dollars in debt and Bradley Dynamics is their main competitor in a big government bid defense contract. She needs to find something that discredits them. Since they can't beat them to market, they plan on tanking them. Literally, she wants Tasha to make a passenger plane crash.

On another note, the beginning of the episode had Remi doing simulations in breaking Shepard out of the CIA blacksite, unsuccessfully. But let's be real, they weren't doing a breakout unitl at least the mid-season finale. With the end of the episode, I'm doubtful they will get that far. Their code breaker is not fast enough, to be able to plan the break correctly, they would need time, time that Remi does not have. She might be dead by then.





"What the hell is going on Jane?" -Weller


In last week's episode, I thought Remi was turning soft, here there wasn't much we could read, but she seemed back to the hardened Remi. I wish they brought back Roman just so we'd understand her inner turmoil more.

Also last week, Weller had gotten the information about Jane's new friend, and this week we got to see how he reacted to the information. He spends a big portion of the episode being passive aggressive, which made me roll my eyes. In the end, he had enough of the crap, and would not be fooled by Jane's stories. Yes, Kurt! Yes!!! He put a tracker on her, and followed her to the warehouse where he was shot at by Victoria. The smack down in next week's episode should be good. No more flake outs Blindspot, this time the fists come out.

Anyone else scream for Kurt?