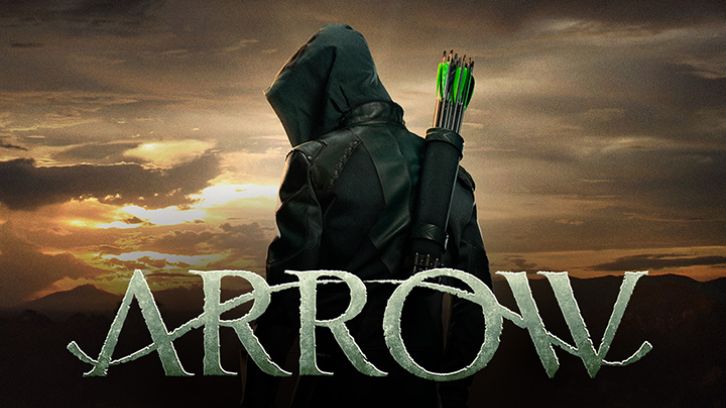 First, my apologies for being a bit late with the reviews for
Arrow
. Second – I'm going to try a bit of an experiment with the Arrow reviews going forward. Instead of a lengthy re-cap, I'm going to give brief highlights of what I liked and what I disliked about the episode. I hope that people will then chime in in the comments with a similar list of what they liked and disliked.
Arrow "The Longbow Hunters" was written by the team of Jill Blankenship and Rebecca Bellotto and was directed by Laura Belsey. Blankenship joins the writers' room from The Last Ship.
What I liked:
Oliver (Stephen Amell) staying in shape is always a win – and him owning being Green Arrow is too.
Loved the train sequence fights.
The Longbow Hunters – Red Dart (Holly Elissa), Silencer (Miranda Edwards), and Kodiak (Michael Jonsson) – were interesting – but it would be nice to have a bit more of their backstory, and shouldn't at least one of them actually use a bow?
The reveal that William (Ben Lewis) had a boyfriend.
Oliver managing to keep his morals intact and still satisfy Brick's (Vinnie Jones) terms. And just plain having Vinnie Jones on the show!
What I disliked:
Felicity (Emily Bett Rickards) ditching Diggle (David Ramsey) and ARGUS and being generally stupid.
The flash forward stuff. I hate that we are likely going to have to have a time jump to get to this. I also don't like the entire premise that Oliver and Felicity would simply ghost William. And I'm really, really hoping that we are going to get current Colton Haynes without the dreadful aging make up.
Really don't care for Dinah (Juliana Harkavy) in any capacity, but definitely not having Laurel (Katie Cassidy) having to team up with her. Though I do give a pass to dueling (and silenced!) canary cries…
Arrow
"Crossing Lines" was directed by Gordon Verheul with a story by Elizabeth Kim and the teleplay by the team of Onalee Hunter Hughes and Sarah Tarkoff. As always, I'm never thrilled by the results of having that many writers get credit on an episode. There may be more women in the mix, but I'm not sure the storylines are much improved.
What I liked:
It was a bit heavy handed, but I did appreciate how the title wove through all the storylines.
Diggle and Lyla (Audrey Marie Anderson) together – and committing to no more secrets and keeping the romance alive by kicking butt together. Also? Diggle and Lyla with JJ (Marcello Guedes).
I like tough Felicity. And while I miss her pink hair, I also like that she isn't dressed in skin tight dresses and high heels all the time now.
Watson (Sydelle Noel) being humanized was great, but how stupid that we finally get some character development just before she leaves the show? Also? Her fighting skills were very disappointing.
Rene (Rick Gonzalez) working with Felicity – and letting her sleep on his couch.
The sting with the painting in Zurich. I love when Diggle and Lyla go undercover – and the tech in the paint was pretty cool.
Great fight scenes. I especially liked Rene's cool knee kick to Kodiak. All of Oliver's fights were awesome, but I particularly liked him parkouring up the balcony to Brick.
I did like the "silent" fight between Dinah and the Silencer.
Felicity thanking Watson for helping. And Watson in turn, telling Felicity that she's a good person. Still a bit annoying that she urges her to try legitimate cyber security.
I loved Turner (Michael Jai White) telling Oliver that he was the one to save Diggle's life. Finally!
A special mention for the Diggle apology followed by Lyla's. My worry is that they are setting Lyla up to be killed by her superiors at ARGUS….
I'm on the fence about Oliver stabbing the guards. He still didn't kill anyone though…
What I didn't like:
Curtis (Echo Kellum). Sorry. Just can't get over how annoying his "clever" verbal diarrhea is.
Lyla keeping secrets from Diggle – though it would be perfectly acceptable for her to keep things above his security level from him! He does work for her after all!!
Diaz (Kirk Acevedo) getting away again!!! Really??? I know he's the big bad and a regular so they can't get him too quickly, but at least make his getting away a bit more plausible!
Was anybody the least bit surprised that Rene and Felicity had captured the Silencer and were secretly keeping her prisoner to get information out of her?
Also on the too obvious to really enjoy it scale? It's absolutely obvious that Stanley (Brendan Fletcher) is going to turn out to be the Demon.
The misleading tease at the beginning of the episode making it look like Oliver had killed a guard. Boo to fake outs.
So those are my thoughts in a nutshell. What did you think of the episodes? Let me know in the comments below!