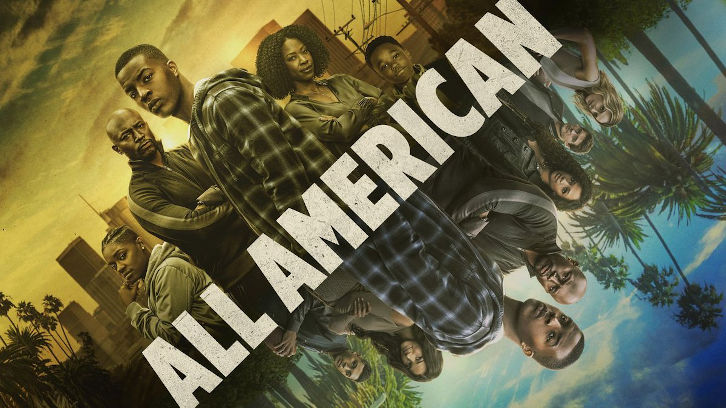 It's official: Spencer is not Billy's son. I'm relieved that the show chose not to go that route, and I'm glad we know for sure now. I do have a theory about what really happened with Billy and Spencer's dad, but I'll get to that later.

This episode All American revolves around Billy's secret and Spencer's birthday. When the episode begins Spencer's mom calls Spencer and sings happy birthday to him along with Dillon and Coop. When he goes downstairs Laura finds out it's his birthday and insists on throwing a party for him. Spencer doesn't really need a party, but she insists it will be small.

Leila also has a present for Spencer: tickets to the UCLA game. This was a really nice gift, and he's excited until he learns who the game is against. His dad works for the other team and will be on the field. He gets upset and tells Coach Baker he's going to find his dad at the game. He wants his dad to know that he's living his dream without his help. Coach Baker understands what Spencer's going through: he hasn't spoken to his dad in years.
"It's best to find what you need in the people who are there for you. Not the ones who let you down."
Before Spencer's party Olivia and Jordan try to find out more about their dad's wire transfer. They drive to the address in Crenshaw and discover that it's their grandfather's house. I laughed when Jordan brought along a box of candy as an excuse. Olivia was not impressed.
"So your big plan is to pretend like you're an eight year old?"
Grandpa Willy explains to Jordan and Olivia why he never talks to Billy anymore. He thinks that money changed Billy, but he does still take his money. Billy made the NFL because of him so if he wants to send a "thank you" check every month he's cashing it. While he doesn't want a relationship with Billy, he does tell Olivia and Jordan they're welcome at his house anytime.
Olivia and Jordan return to their house for Spencer's birthday party that goes down hill pretty fast. (Side note: Did anyone else think it was funny when Coop tried to get the worker at the party to sit down?) Grandpa Willy shows up and everyone starts arguing. Olivia and Jordan want to know if Spencer's their brother. Billy is surprised that they think that, and they explain that they thought the wire transfers were child support payments. I'm so glad that Olivia and Jordan were wrong and Spencer is not their brother. And I loved that Laura called them the worst detectives in the world.
Grandpa Willy ends up making things worse when he makes some snide comments to Laura about her house. He also talks to Spencer and informs him about Grace and Billy's past and how they were in love. Spencer thinks everyone's been lying to him and runs out of his party. He wants to find his dad because while his dad left he never lied. He goes to the game but learns that his dad doesn't work there anymore. He moved on without telling Spencer.
Billy finds Spencer, and they have a nice heart-to-heart. Spencer wanted to let go of his dad; that's why he wanted to see him at the game. He wanted to tell his dad that he's his own man. Billy says that while he is his own man, he can't always do it on his own. I liked that Billy wants him to be a part of his team because Billy has already chosen Spencer.
Spencer and his mom make up after the party. Grace didn't mean to hurt him, and Spencer has all he needs right there. I'm glad that Spencer forgave his mom because she seems like a really great mom, and I would hate for their relationship to be hurt.
After the party Olivia and Jordan have a heart-to-heart themselves, and Olivia says that Jordan was right.
"The truth may not always feel good, but it's the only way to move forward."
She's sorry they're not close anymore, and Jordan asked why she pulled away. She confides in him about being scared of losing the people she cares about over a mistake she can barely remember. She reveals that she slept with Asher. He gets really protective, but she says that he can't just be mad at Asher. He also can't say anything because Leila doesn't know. Then he hugs her and tells her it's okay.
I think that Jordan and Olivia at the pool may have been my favorite part of the episode. I hope that this strengthens their relationship, and they become close again. I love brother/sister relationships, and I think Olivia and Jordan could have a great one.
At the end of the episode Billy and his dad have another confrontation. Billy's dad doesn't accept Laura, and Billy makes it clear that if he can't accept his wife then they're done. At the beginning of the episode I thought it was strange that Billy cut his dad out of his life, but after seeing the way he treats Laura I can kind of understand. Then Billy's dad tells him that Corey James, Spencer's dad, stopped by a few years ago and had a lot to say. How will Spencer react when he finds out what really happened?
After learning everything this episode now I'm convinced that Billy and Grace had an affair, and Billy is really Dillon's dad. It would make sense why Grace didn't want Spencer to know anything, and why Billy didn't originally tell Jordan and Olivia about his past with Grace.
Other Thoughts:
- It seems like Leila and Asher are heading for trouble. She wants him to come clean about not having money, but he doesn't seem like he wants to end the lying. I can see both sides. I understand why Leila doesn't want to be part of the lie, but it must be hard for Asher. His whole life was changed when his dad lost all his money.
- With the episode ending on a bad note for Asher and Leila, I have to wonder if the show is heading toward a Leila/Spencer/Olivia love triangle. I loathe love triangles, but the show is on The CW. Leila also may need someone to talk to now seeing as her dad just showed up with a new girlfriend.
- I was so happy that Coop decided to stop hiding her relationship with Patience. Coop shouldn't be ashamed of who she is just because her mom can't understand. I think that Patience could be really good for her.
What did you think of "All We Got"? Do you agree with my theory about Billy being Dillon's dad? Are you glad Olivia told Jordan the truth? Let me know in the comments!