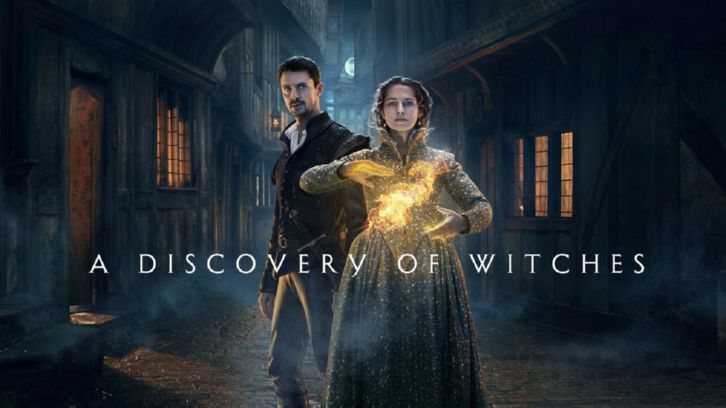 It begins with absence and desire
It begins with blood and fear
It begins with ….

A Discovery of Witches


When I first suggested we review this series I can safely say I have been pleasantly surprised at the outcome making this a very popular show.
The teaser trailers led me to the books of the All Souls Trilogy as well as the loyal and large fan base.

Deborah Harkness's first book 'A Discovery of Witches' of the soon to be All Souls Trilogy was released in 2011. It was once picked up as a movie. Jane Tranter and Julie Gardner and their production company Bad Wolf along with Sky productions picked up the rights proposing a series. It has been greeted with critical acclaim and a success for the network. Announcing series 2 and 3 would also be coming to screens at the end of last week.

I had the pleasure of interviewing Deborah Harkness, Author and Executive Producer of the series and spending time in Oxford at one of her book signings. Be sure to look out for the interview which I am hoping answers some fans burning questions and gives you a glimpse into this world.

For now, let's look at the rollercoaster of the finale which left us on the edge of our seats from start to finish.

Last week, while Diana and Matthew were training in the woods, Diana stumbles upon an unexpected visitor in the barn, Juliette, one-time lover of Matthew, Gerbert's puppet and extremely volatile given our first introduction to her in episode 2.

Juliette grabbing Diana springs Matthew into action, but Matthew is making a deal with a devil and she soon attacks him in a brutal way, hell, hath no fury like a woman scorned especially a vampire. Juliette's glee soon turns to fear as we see Diana unleash her own fury and Witch fire with a flaming bow and arrow to the heart, powerful, amazing and deadly.
At the Bishop house, Miriam and Marcus dash to the woods causing Sarah to follow and they all find a dying Matthew, but Diana makes a promise to the Goddess and manages to save Matthew with her blood leaving her clinging to life herself. Luckily physician Marcus is on hand to get her the much-needed blood for a transfusion. You can't help feeling sorry for Diana not only has she nearly been flayed by Satu but now drained by Matthew. However, time isn't on her side as they must get her powers under control if they are ever to get away from the Congregation.
Gerbert is concerned for Juliette but Dominico shows him he has Satu. Satu's powers are still drained and Gerbert is not happy she released his enthralled Witch. She reveals that Diana is a very powerful witch maybe more powerful than Meridiana. She also reveals Baldwin was part of Diana's rescue and is covering up their location.
Miriam is intrigued about Diana's powers as well as they defy what they learned from her DNA. Juliette found them so too can the Congregationmaking them unsafe anywhere. Matthew feels the answer may lie in Diana's time walking power (Yes, we all can hear the song in our heads) they can hide in time. Its a power her Father had and Emily seems to have the most knowledge on the subject.
Time to catch our breaths but soon we head to the congregation, the intention of Baldwin is to interview Satu about her actions towards Diana. Baldwin warns Matthew his time is running out.
While in the books the ghostly apparitions, as well as the Bishop house itself, lend a hand, the budget could not run to several vapours running around the house. We settle for shaking walls and timely returning of objections. Firstly, one of the missing pages of the manuscript and this week a poppet appears and inside is one of Ysabeau De Clermont's earrings. It is clearly trying to tell them something.
Sarah and Emily are worried about the risks of Diana Time walking, it seems you need three things from that time period and she must learn to focus. Matthew has some things coming from his past, but Emily mentions coming back is difficult the further you go. Diana will need training, one of my favourite scenes of this episode, apart from Diana with her fiery bow and arrow, is Miriam dropping a crystal she was examining when Diana literally appeared in the kitchen. Miriam has always appeared quite sober and all business up to this point, it did make me smile.
Two new visitors to the Bishop house have a surprising gift and information for Diana, all the pieces literally seem to come together as well as the arrival of Hamish with items from Sept-Tours.
Sophie and Nathaniel Wilson come to visit, the pregnant Sophie knows she has to tell them everything. It seems the piece she has hold of is an old chess piece of Matthew's he lost years ago. The piece has been with her family, The Norman's, for generations, a white queen in the shape of Diana Goddess of the hunt.
Cross-species is something none of them knew was possible until Sophie reveals her parents were Witches and she is a Daemon.
Emily and Sarah can tell Sophie is fearful for her baby, these two are such mother hens its so lovely to watch.
First, they must test her Time Walking ability. They take a trip to the past is, 25 days to be exact and them having dinner and dancing in Sept- Tour's. It was lovely to revisit this scene and I am sure the BBC may be calling Matthew Goode for another show next year.
As the Congregation meets, Gerbert and Knox though fearful of the other seem to want to work together for a common goal and switch the tables, Baldwin is in danger of losing his head after keeping Matthew's and Diana's whereabouts secret. It's the rule no two species are to be together. These laws are old and outdated however the Congregation seems bound by them. They are also keen to get their hands on the book of life, which they believe is Ashmole 782. Satu's powers seem to have made a remarkable come back and all her crimes are overshadowed by the charges against Baldwin.
Baldwin with surprising support from Dominico and not so surprisingly from Agatha Wilson and the Daemons keeps his head but time is up for Diana and Matthew.
The goodbyes are emotional as they don't know how long it will be before they see their niece again, having raised her from a young age their bond is undeniable. Sarah and Emily are the Aunt's we all would love to have and has made them fan favourites.
Satu, Knox and Gerbert are soon knocking at the door as Diana and Matthew prepare to head to a time where not only can they hide but may also be able to locate Ashmole 782, the 1500's Elizabethan England.
They take a step and as Diana turns we hope Matthew held on and made it too.
A Discovery of Witches while only 8 episodes manages to capture the storyline of the first book, keeping fans old and new enthralled in this world each week. The acting, direction, cinematography and stunning locations brought the All Souls from page too screen and I can't wait to see more.
As mentioned above this series has been a hit here in the UK, Series 2 and 3 has been announced by Sky UK, air date TBA.
US viewers on Sundance Now and Shudder as from January 17th 2019
How did you like the series as a whole?
Did you feel it did the books justice?
What do you hope to see when it returns?