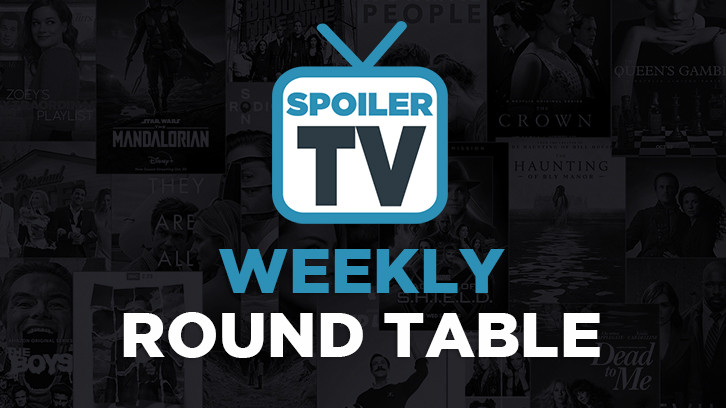 Hello and Welcome to a new Edition of SpoilerTV`s Weekly Round Table. SpoilerTV members featured in this issue are me (Yon), Mads (MD), Kollin Lore (KL), Laura B (DL), Sam Dinsmoor (SD), Ellys Cartin (EC), Katherine Meusey (KM), Jamie Coudeville (JC) & Joey Hedrick (JD). You just have to sit back enjoy the read and join the discussion in the comment section down below.


Fall Season officially started! What was the best and what the weakest premiere you watched this week? And best surprise so far?
Yon:
So far the only show I've been able to watch is The Goldbergs, and that premiere was every bit as good as I'd hoped. Despite a 9 month break, I haven't been able to catch up on my fall shows to be able to watch the new seasons just yet. Little intrigued by Lethal Weapon and how they handled Rigg's departure & of course seeing how NCIS: Los Angeles resolve the season 9 cliffhanger, but I just don't have any real desire at the moment to get caught up.
MD:
For me the best premieres I watched this week were Single Parents, The Resident, Grey's Anatomy, A Million Little Things, The Gifted, and The Good Place.The weakest, in my opinion, was The Cool Kids, not really impressed by that show but I'll give it a few more episodes. I also didn't love Manifest as much as I wish I did. I'm definitely going to stick with it because I'm interested in the concept but the first half of the episode was more gripping for me than where things ended up.
KL:
N/A. I'm actually not really feeling the new shows this Fall. Maybe the Rookie, but that premieres in a couple weeks, and Whiskey Cavalier, which will premiere in 2019, but everything else I just don't have the care to tune in.
DL:
The only premieres I have watched are Manifest and the second season of The Gifted with both off to strong starts.
SD:
The only premiere I've watched this week is A Million Little Things, which I wasn't very impressed by. I just didn't get hooked on the premise or the characters.
EC:
My TV week zoomed out of the gate with 9-1-1 and The Resident. Both these premieres brought suspense and energy and romance and Oh My Goodness right out of the gate; I'm excited to watch more. If there was a weak new premiere, it would be The Cool Kids and FBI, as one wasn't funny and one was funny without intending to be.
KM:
Enjoyed HTGAWM a lot, mainly because of the last 30 seconds or so. Also The Gifted, which shows promise. Hoping we see less Strucker and more Lorna, hopefully giving her a chance to further explore her origins. Newly evil Strucker (currently rocking a cosplay Draco Malfoy look) may be the exception.
JC:
The premieres that I liked the most this week were The Gifted and HTGAWM. Those are the ones that really got me hyped for the rest of the season. I had a few shows that felt weaker, no standouts though, and it's mostly the procedural ones.
JD:
I'd have to say the best premiere for me was A Million Little Things. One of the only shows that made me want to immediately want to watch the next episode, with Manifest being a solid second. This is Us is, of course, bae, and was therefore not taken into consideration on this because it's automatically the winner always. The weakest, I believe was FBI. I definitely watched it. I know I watched it. But I can't tell you a thing that happened other than the building explosion. Nothing really grabbed me. The biggest surprises for me were Bull and Lethal Weapon. Bull has always been a show that's just on for noise while I do other things, but something about this premiere felt so much better than their past two seasons. Hopefully whatever they did they can keep up. Lethal Weapon, meanwhile, was a scary prospect since one of the two leads was replaced, but they did a great job paying respect to Riggs while introducing the new guy. Loads better than anticipated.
The X-men are on a move! Both Gambit and Dark Phoenix premiere dates were pushed back once again. Are these pushbacks profitable or just pushing viewers away heading to watch the movies?
Yon:
These push backs are a sign of the mess we know is happening BTS. The logic in pushing back a movie release date, when that release date appeared in the trailer is beyond comprehension. No-one is really here for this Gambit movie, so the wisest thing to do would be to shelve it completely. Dark Phoenix looked decent enough from the trailer, but is basically destined to flop like most of the X-Men movies unfortunately have because Fox is incapable of promoting anything correctly.
MD:
I think these push backs are a detriment. I think about all the reshoots that films like Justice League and Suicide Squad underwent and the mess that was made of the final product. I'm not really sure what's going on in the FOX X-Men world. I'm more keen to see the X-Men in the MCU and I know many people have mixed feelings on it but I do think they'll be given better care under the Russos. I could be wrong so we'll see but it feels like FOX is just trying to get their last money grab from the franchise before they surrender those properties over so I think they're trying to get the films as good as they can be but based on the trailer I saw for Dark Phoenix, while I'm still excited for it, I was ultimately underwhelmed.
KL:
I think these setbacks hurt the movies for sure. Dark Phoenix and Gambit don't really sound that great from the get-go, and the trailer for Dark Phoenix was very underwhelming. These two X-men universe films seemed doomed and pushing back their release dates really just confirmed things for me.
DL:
I'm definitely in the camp that thinks these setbacks will hurt whatever is left of FOX's X-Men film franchise. I have to say that the Dark Phoenix trailer wasn't very enticing either. It just didn't really show anything we haven't seen before, which I also think is a mistake. I don't know if they need more time in post production or what, but I had thought maybe the reshoots where always about Disney's takeover and perhaps they requested an alternate ending, but the re announcement of Gambit, still on the table and still being a rom-com (something I only imagine FOX would want to do), really puzzles me as to what anyone in charge is thinking!
SD:
Pushbacks are usually not a good sign for movies. The more you push it back, the more viewers tend to forget about it until the final movie premiere date actually comes up and the promotional material reminds viewers about it and draws them back in. Would that make them more money than just sticking with the date? I don't think so. Depending on the quality of the movie, the profits will be about the same either way.
EC:
I'm still recovering from XMen: Apocalypse and what a blow to my expectations that movie was. Dark Phoenix being pushed once...I was optimistic, hoped it would refine the final product. And there aren't as many movie choices in February, so it would have bee nice to have that movie there. Pushing it to June though just sends a negative signal. Will people still see it? Yes. Will it be a total bomb? Not likely. But the first excitement is gone, and viewers will be more aware of flaws when they watch it now.
KM:
I'm not sure what they're doing with Dark Phoenix right now. The preview was compelling, people are excited. I think it's a mistake to keep pushing the date back if they're ready to release it as previously scheduled in February. I don't feel that it shows a lot of confidence in the product, and if they wait until summer it may just get lost in the stream of potential "blockbusters" it may get lost in the shuffle no matter how good it is.
JC:
I had no idea what the original premiere dates were so I don't mind. I'm also not really a movie go-er. I tend to wait until the digital release to watch movies.
Netflix ordered 3 Sci-Fi dramas this week. Does any of these projects appeal to you or are you starting to get ill from Netflix oversaturation?
Yon:
Netflix went beyond oversaturation 20 shows ago. There's now so much content on their platform, it is literally impossible to watch all of it unless you're tuned into Netflix 24/7 for the rest of time. I do though think ordering sci-fi dramas is a good thing. I like many others are a subscriber to the platform, but I tend to find despite paying? Not a whole lot on Netflix I want to watch because there program genres are so basic (most of the programming I watch is foreign language). It's good to branch out and try to make more content that appeals to more demographics and pushes the storytelling a bit creatively speaking. I just hope the casting departments work their magic and sign up some good actors.
MD:
All of them appeal to me but I also love sci-fi and tend to enjoy most Netflix series, particularly their horror/sci-fi shows, so take that as you will.
KL:
Yes! I am so excited for the 3 dramas that Netflix ordered, or at least 2 of them (Warrior Nun and October Faction). Mainly because I am a sucker for supernatural themed shows, that of which there is not enough of in terms of quality television. Those two shows along with The Witcher, Another Life, Wu Assassins, Locke and Key, The Order, and V-Wars makes for a mean lineup of future fantasy/sci-fi programming that I am pumped for.
DL:
I sometime wonder how Netflix has been able to pick-up so much stuff lately, especially some the genre shows that will surely need bigger budgets. I thought all three of the projects sound interesting and I'm looking forward to seeing how they progress!
SD:
Honestly, a lot of these Sci-Fi dramas blend together for me, including these new ones. But if I'm just scrolling through Netflix and looking for any Sci-Fi show to watch, chances are I'll turn it on to whatever they have listed. It's not something I really get tired of. Because if I don't like one show, then they have many more options in the same vein and I can just try another one. But I'm a Sci-Fi fan so that works for me. For non-fans, it might be more of a problem if all they see is Sci-Fi listed.
EC:
The projects look mildly interesting, as all Netflix programs tend to do. I'll probably get around to watching them two years after their release date.
KM:
Not so interested in Netflix series. There are only so many people with amnesia stranded someplace or people with supernatural/magical/etc. powers who move back or visit home for some reason and find out that their hometown is weird that one can really find interesting. And don't get me started on secret societies! I never thought I'd say this, but I think there is way too much sci-fi on television right now.
JD:
I'm always down to try out a new show, Netflix or otherwise. Particularly excited for I-Land as anything that is a "mix of LOST" and other things automatically gets my attention. That promise usually is not honored, but I'm still searching for my next total obsession.
#Arrowverse heading to Elseworlds. Does this excite you or makes you skeptical of this years Xover event?
Yon:
Thankfully with Legends of Tomorrow skipping this year, I have absolutely no reason to watch the crossover and couldn't care less about it if I tried. Sure the casting has been alright, but this whole Elseworlds thing just sounds really complicated + confusing and one giant alternate universe event which will have absolutely no impact on any of the 3 main shows involved going forward in their storytelling (ie it's the same old self contained story that promises big ramifications but the week after everyone acts like nothing happened).
SD:
I'm pretty excited just for Batwoman, honestly, and seeing how Ruby Rose steps up to the plate with this character. As for the setting, I'm interested to hear more details about how exactly it's going to go down. It could go very, very well or very not so well. Won't know until we actually see it, but I'm still looking forward to it for now.
EC:
The Arrowverse. I'm almost grown up enough to admit this is mediocre corner of TV at best, that the quality of its two flagship shows died after their second seasons, that Supergirl has never escaped its identity crisis so the show is now like a preteen girl waving a placard while getting her nails done. Legends of Tomorrow is the only show over there still delivering quality, and it has basically left the Arrowverse. BUT I loved these shows so much once, especially the characters, that I will once again tune in and look for all the good that there is, over-celebrating every speck of intelligence. In a corner of my soul, though, there will probably be a little voice rattling off a list of better ways to spend my time.
JC:
After last year's crossover, I'm automatically skeptical for this one. But I doubt they could do worse than last year, with nazi versions of the main heros.
JD:
I will never not be at least moderately excited for a crossover. I'll eat them up all day. I'm not terribly optimistic that this year's will be great, but I'm definitely excited to watch it for Batwoman, if nothing else.