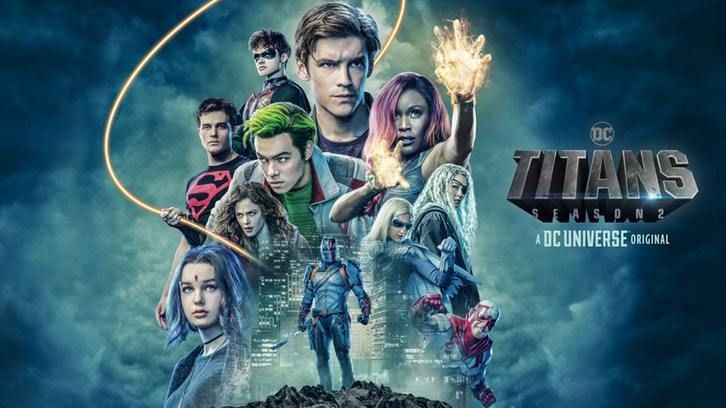 Titans - Pilot Episode 1.1 - Advanced Preview

Holy streaming service Batman, DC Universe and the Titans are here! DC's long awaited live action series is upon us and they are pulling out all the stops for their entrance into the television world. Fans have been anxiously awaiting the show, clamoring to see what DC has in store for them. This fresh new take on the classic Teen Titan characters is evident right away in the tone and ahem, dialogue that this series is comfortable using with some of its most revered characters. I feel as if DC watched all the Marvel TV shows and said "Wow those are awesome, hey maybe we should try something like that" and this was their response. They are looking to take existing characters and stories and mix and mash and pluck and use what they want how ever they want. So in some regards, Titans is really an Elseworld, something that has never existed before, but yet is familiar. This is not your kids Teen Titans Go and I am so OK with that.


Immediately we meet young Raven (Teagan Croft) and her nightmarish existence. After seeing a tortuously confusing vision we see that she and her mother live a modest life that Carrie and her Mom would be jealous of. Raven is definitely being set up here in this series as something dark and powerful and murderous. Young Teagan plays her well as she is almost always on the edge and scared of what might happen should she lose control. And when she does, as several bad guys find out, look out.
The violence and tone and uniqueness of the show are exhibited most pointedly when Detective Dick Grayson's (Brenton Thwaites) story begins. We find he has been on the Detroit police force for just a little bit after coming over from Gotham City. Dick is the standard aloof loner who doesn't need a partner and likes to investigate cases on his own. He eventually gets to kicking some butt as Robin and then we really get to see how this DC show is going to differentiate itself from everything that has come before it. Robin is tough and quick and ruthless in his battle with the street gang. He pulls absolutely no punches. We see how well Batman has trained him and how he is extremely capable on his own.
Later on Dick is trying to track down Raven as she is on the run from some shady people who are after her. Everywhere she turns she seems to be in trouble, but she keeps herself safe, even if others have to be hurt in order for that to be. She uses her smarts as well to avoid capture by getting herself picked up by the police, and delivered, to Det. Dick Grayson.
Starfire(Anna Diop) is amazing! She is easily the best thing about this show and what they do with her and how she is portrayed is fantastic. Her intro is so cool and cinematic and she just keeps it going from there. This Titans series is definitely going for more of a cohesive, cinematic, worldly look and feel and it really shows with Starfires story line. She is mysterious yet funny, powerful, and real and I predict she will be the breakout fan favorite of the show.
The mysteries for everyone continue with twists and turns and violence galore. Dick does what he does and falls into trying to help Raven any way he can. Starfire stumbles her way from one tense situation to the next, searching, searching for answers, and eventually for a special girl with blue hair and dark eyes. And then, just when you thought this show was gonna be all horror, and gritty detective fight club, and secret agent super hero smack downs.... along comes a certain individual at the closing of the premiere episode. A certain someone named Gar. Let the comedy ensue.
DIALOGUE TEASES
"M)He's been pushing off getting a partner since he got here a month ago, some shit about his last one or something. W)He's from Gotham, likes to work alone. W2)Gotham? Jesus, what happened to his last partner? M)Gassed by the Joker....who knows?"
"It's you. You're the boy from the circus"
"Who am I?"
"Little birdies alone"
"D)I loved you. S) I don't think I loved you too"
"Rad"
DC UNIVERSE STARTS RELEASING "TITANS" EPISODES OCTOBER 12, 2018