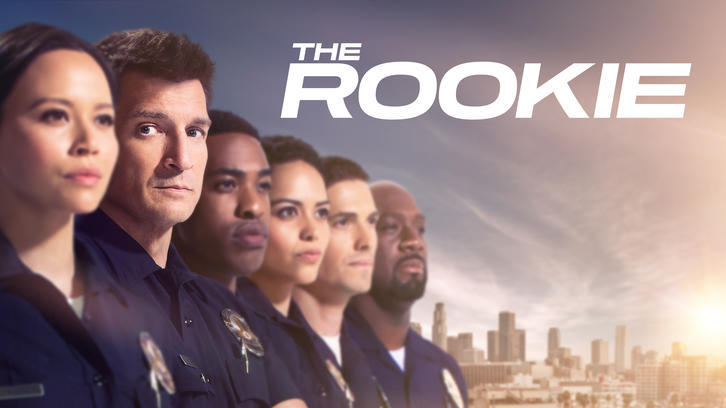 The Rookie takes a very likeable character actor in Nathan Fillion and surrounds himself with other likeable character actors. How can this show go wrong? Based on it's series premise, it doesn't.

Fillion plays John Nolan, a down on his luck divorcee who discovers a new calling after stopping a robbery at a bank. At the age of 40 Nolan joins the LAPD.


As expected, Fillion delivers the occasional humour here and there with his impeccable comedic timing, but it is his dramatic moments where he really shines.
The memorable moment of the episode was the scene where Nolan holds the dying man in his arms, mere hours after that same man hinted he was the one being victimized by his smaller statured wife. We feel Nolan's guilt afterwards. The storyline gets across just how hard it can be to be an LAPD officer. It isn't all about saving lives, like it seems Nolan thought it would be based on how he joined so eagerly, people die on the job too and sometimes at the choices they make.
This show isn't just about Fillion though. Much of the rest of the cast shines too, including tough as nails vet Tim Bradford (Eric Winter). Winter shone when he showed Bradford's softer, more vulnerable side after encountering his estranged wife. His "You damn right you won't" response to Lopez' comment that she won't tell anyone shows a man who is just barely keeping that tough guy image with his personal life in shambles.
Richard T. Jones as Sgt. Wade Grey is excellent casting. As much of an asshole he immediately comes across as there is reason for Grey's skepticism of Nolan. As he states, rookie cops are best trained young because they don't know anything, as opposed to an older cop who think they know everything. As someone who trains rookies, it's his job to take the cautionary view to ensure that lives aren't harmed in public and within the force, so we understand where he comes from.
The talk the Sgt. has with Nolan at the end of the episode was so profound. Though he speaks with the utmost of harshest words, we feel a certain tough love beneath the surface, especially when he responds that nothing I do to humiliate you will matter when Nolan asks if he indeed finds out that this is truly his calling.
However, Wade would not have faith in Nolan if it wasn't for Captain Zoe Anderson (Mercedes Mason) who orders him to bring Nolan back into the force after letting him go.
Mason does bring a certain gravitas to the role, despite feeling a tad young at 35 to be captain. We feel that gravitas when she counters what Grey said earlier in the episode in that yes, an older rookie may know too much for their own good, but the knowledge and expertise someone like Nolan has can actually save lives too, and we saw that in this episode.
The premiere did a great job at exploring the negatives and positives of an older rookie, and the conflict Nolan feels being in his position.
It is also great to see Melissa O'Neil as fellow rookie and love interest, Lucy Chen, as well as, Alyssa Diaz as training officer Angela Lopez who had recent runs in
Dark Matter
and
Zoo
respectively. We didn't get to spend too much time with them, though they've shown in other roles that they are more than capable handling their own.
Overall, the pilot was full of a lot of charm, but also a lot of heart. Though Fillion is the lead, it is the combined strength of the rest of the cast that really make it work. The strength of the cast in fact made some of the more schmalzy, cliche dialogue feel profound and that's promising to see.
A very solid start to the new ABC series.
8.5/10