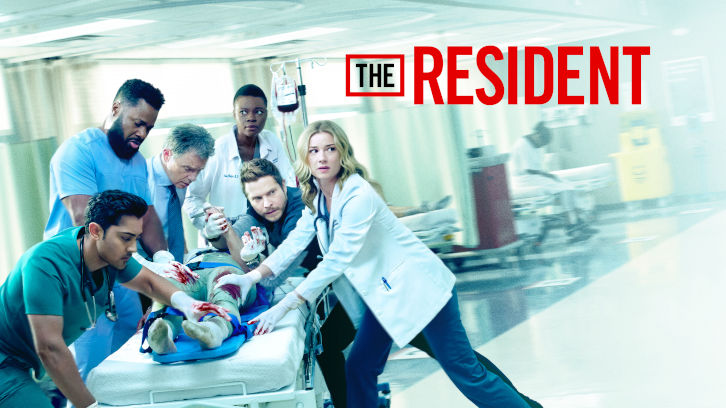 I thought this week's episode was a lot better than last week's. I'm not sure I can adequately explain exactly why, but I thought that this episode was less obvious, and the flow was a lot better. There was nothing extraordinary, but I could better relate to the characters, thus, the story lines.

The episode started out with the three couples of the show, in different stages of their relationships. While they had touched base on it in the season's premier, this episode continued to showcase Mina and Micah's budding romance, as he slowly recovers from his heart transplant. I do love seeing Mina smile. Since he's only 10 days out of major surgery, that means my assumptions that a couple of months had passed were dead wrong. Then, we saw Devon and Priya, who are getting married. Gosh, I had absolutely no recollection of that detail. Please someone refresh my memory, did we witness a proposal last season? Also, I feel like they showed us this tidbit only to be able to put more drama around the new female character that is being added to the show, which I do not like. There definitely was some flirting going on there. Then, there was Nic, who can't seem get off her phone long enough to enjoy the evening with her boyfriend. Still, they're absolutely adorable together, don't get me wrong, I love them.

Lastly, we got to witness what Bell is up to while the others are out there enjoying life. He is alone at the bar, depressed as hell. Bell calling Lane the love of his life caught me off guard, they were close, but I thought he went in a little hard there. Still, I felt for him at that moment. He's hurting, and it showed beautifully. "The Prince and the Pauper," once more, kept me going back and forth on the character, feeling for him, then hating him; I love the turmoil.


"The love of my life, turned out to be a psychotic doctor who poisoned her own patients. She's in jail for murder." – Bell
Bell gets arrested for solicitation and since the cop who busted him was wired he is not going to get a non-guilty verdict. He can't weasel out of this one. Or can he? While this transgression does go on his record, there are no immediate consequences for him in regards to his medical license, but for sure further down the line, this is going to come and bite him in the ass, right?
I really appreciated Devon's storyline in this one, who got stuck babysitting the first year med students. While he was definitely not Conrad 2.0., he did a pretty decent job. It was a nice reminder that Devon was also not a hot shot when he first started. I had completely forgotten about how his first patient ended up braindead. I loved the callback, thanks Irving.
"We all make mistakes. I made plenty. What matters is that you learn from them." -Devon
The medical portion of the episode showed us two very different situations, with a lot of similarities. The two young patients were around the same age, Abby being 13 and Jack 14, both with issues with their pancreas. Jack gets hurt at a skate park and after different hospitals tried to respond to the 911 call, sending three different helicopters to retrieve the boy, Chastain's transporters bring the boy to the ER. The forty thousand helicopter ride will not be a problem for Jack's wealthy dad and Conrad diagnoses his young patient with pancreatic cancer. Bell, on the other hand, finds a thick walleted father to pay for this all.
After discovering a bleed in the tumor, an operation needs to happen on Jack. The surgery soon becomes complicated when Nolan can't dissect enough of the pancreas to get clear margins. It's Bell's turn to save the day, and we were reminded he was great, once upon a time. I would absolutely adore a flashback episode with Bell's glory days. His character really does fascinate me; I don't know what it is. I want to understand what makes him tick so badly. I can't be the only one.
While this is happening, the 13 year old diabetic whose mother could not afford the 2,000$ per month her insulin costs sneaks into the hospital and grabs what she needs. Nic catches her as she tries gets some syringes, and the girl manages to inject herself, but it's almost too late. When they find her moments later she's hardly alive, but barely. Devon, Nic and Mina must react quickly to save the girl's life, and the tension could very well be felt in the scene.
The episode showcased the two kids with extremely different situations when it comes to healthcare means. Both had issues with their pancreas. One girl's mother could not afford insulin injections and almost dies while the other gets a 10,000$ insulin pump within the first minutes of becoming diabetic. He will never have to worry about the cost of his insulin. The comparison was subtle, yet jumped out. I found the episode to be very well constructed that way.



"Maybe it's a good thing that he's here. Maybe things will be different." –Nic


Conrad's father was back in the picture in this episode, wanting his son's input. More than anything, I felt like he wanted his son's approval. With their dynamic in this episode, it's still hard for me to really comprehend why Conrad hates his dad so much. They have differences of opinions, and Conrad resents him for his childhood, but really, Marshall doesn't seem like such a bad guy. Conrad and his father have different agendas, Marshall wants to save money down the line, while Conrad is thinking of patient care, but they might be able to find a solution that benefits them both. They need to find a way where situations like Abby's would be prevented. She will end up costing thousands of dollars to the hospital. Technically, the hospital is a non-profit, which is news to me, but that means that it should have programs that better the community, ones that make a difference. While it was not a win for Conrad, Mina and Nic, but it's not a no either. They're going to try to better the system.

While this wasn't my favorite episode, I bump up this episode to a 7.5/10. I really enjoyed it.