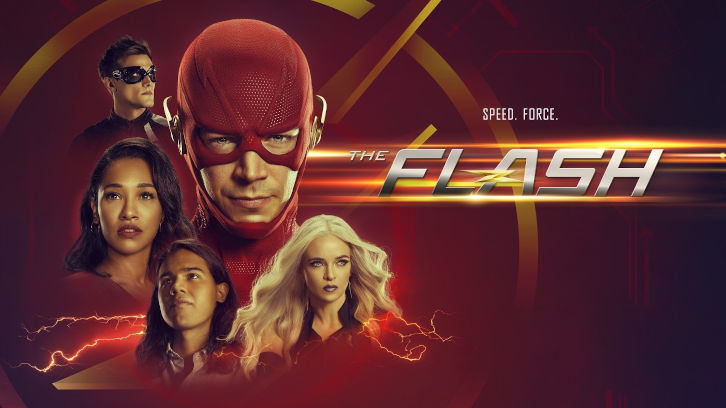 I was pretty sure when I read the title of the episode that Carlos Valdes wasn't quite done with The Flash yet. He was either going to lose his powers by force or he would decide he wanted to become Cisco Ramon billionaire tech giant. There was no way they were killing off Valdes' character with no fanfare or at least I'd hoped they wouldn't go there. Then again, as a measly old fan, you never know what t.v. folks will do nowadays.

"The Death of Vibe" wasn't the worst episode in the world. It had some good moments, but it wasn't anything to write to home about either. Here we go.

Cisco "Vibe" Ramon
For the episode to be titled with Cisco's superhero name, it wasn't very Vibecentric. He was sprinkled here and there as he usually is, with his comedic chops and his Cisco hair on full display. (And may I say that when the flashes zoom past, his hair flying around has had me pretty mesmerized lately- more than usual.) Other than that, there wasn't much Vibe story there. I'm guessing this season's second tier family story will belong to Caitlin, and I'm not mad at that. Cisco did have the story arc with his brother in season three so there's that. It just feels like Cisco needs a little more to do with his brilliance. He's a tech genius. As he so wonderfully said years back, "I make the toys man." We need more of that Cisco.
Perhaps with the addition of his forever sidekick Wells, he'll snap out of his break-up, drunk funk and find his purpose again. Start building things again. Start vibing once those hands fully heal. Even working closely with the C.C.P.D. again would be great for Cisco and awesome crime scene collaboration between him and Singh would be hilarious. Here's hoping.
Nora and Her Parents
For the third episode in a row, Nora has proven to be a hot head. The good thing is that by the end, she learned a valuable lesson and saved Cisco because of it. If it sticks will be the question. As fans of the show, we all know how long it has taken some of our favorites to stop doing detrimental things, so I'm not all that certain her lesson will last.
It was so nice to see Barry put his foot down with Nora. The parallel of the argument about putting that guy in the pipeline was the same one he had with Joe about putting metas down there in season one. Iris hanging back to let him deal with Nora was also interesting. She is usually one to put out fires and stand up for Barry. Realizing that she doesn't hold much weight with Nora right now, she sits this one out and let's him handle it.
Iris often gets picked apart as a character for a myriad of reasons. But here, even when she is treated with indifference for some possible future action, she comes to her daughter's defense. She tries to get Barry to see just how alike he and Nora really are so that he can get past his frustration and comfort her;Iris makes Barry realize that he's the only one who can truly understand how Nora feels.
Nora's feelings towards Iris will be revealed very soon, but it is so hard to watch someone be left out. CW angst is a must so it has to be endured, but can't it at least be tempered with "I know you don't know what you did mom, but it's pretty bad and that's why we aren't close." I mean, Nora could say something. Anything would be better than side eye and down right ignoring Iris. When Iris invites Nora to live with them and Nora just straight out hugs Barry and walks off to get her purse, that was too much. Iris and Barry should have stopped her right there. They need to have the story out before they live together or it's gonna come out in a fit of emotion, and it probably won't be pretty.
Caitlin
Caitlin's team- up with Ralph wasn't bad. I was wondering when the trio would splinter off into a duo and it just so happens that it was this week. With the pop up of the new Wells, it looks like it's gonna be Caitlin and Ralph for the most part.
Caitlin's mother is a real piece of work, and I'm not sure why she even bothered to go to her. She never cared that her husband died and barely flinched when she told her that she was a metahuman.
I have to say I am somewhat interested in what the story is with her father. Her story lines usually don't peak my interest so they have managed to do something right so far.
Cicada
Hate to say it, but if the show runners were going for menacing or scary, Chris Klein isn't either of those things. Now, if they weren't going for that then they are in okay territory. He's nothing like the voice of Tony Todd's Zoom or the presence of Matt Letscher's Reverse Flash. But again, if they are not trying to scare us then it's cool.
He's doing things that should be scary. Taking powers, stalking people, killing people, making creepy noises, wearing a mask but I'm just not into it. Maybe it's the dad thing? Family connections are the things that can bring anyone out of darkness so to speak. Maybe it's just the whole Chris Klein, All-American, wholesome, non-scary voice, American Pie thing he has going on? Just sayin. I'm open to giving him more time to scare me though, and not being scary doesn't mean that I'm not fully intrigued by what he's attempting to accomplish by destroying metas. I will also say that the flying thing caught me all the way off guard!
Other Things I was Thinking:
Cisco is an engineer and they know Supergirl. So I am gonna take a wild guess that he can rebuild the STAR labs satellite and she can somehow get it back up in sky for them. Am I way off here? Just let me know.
Sherloque Wells' nicknames- Flash, Kinder Flash, Iris Flash- Too cute!
Joe is ALWAYS getting kidnapped!
Hartley= the sensitive man or frightened baby giraffe. LOL
Arrowverse has a problem with mothers!- Thank goodness for Lynn Pierce and Nora Allen. Someone needs to write about this. Truly! Oliver's mother, Iris/Wally's mother, Caitlin's mother, Felicity's mother, the list is long people!
Nora was in Flashtime.
Iris was still collecting notes on Cicada. The arc is moving people!
Cicada was once a defender of metas?? HMMMM
Barry using forensic science to disprove Sherloque's and Nora's theory! You go boy! #TheScientist
The Barry and Cisco hug in the forest! BFFs!
What does Wells know about Nora's time travel?
What did you think about "The Death of Vibe"? Let us know.
The Flash
airs on Tuesday nights on the CW.