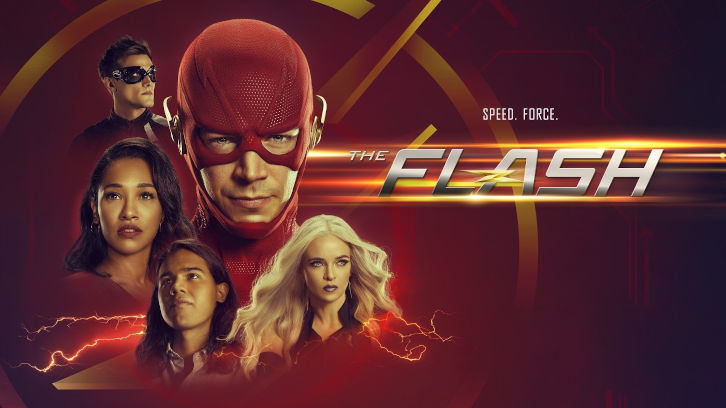 So sorry for the late posting of this review Flash fans, but you know how life can get sometimes. This review of "Blocked" will be a twofer, with the review of "The Death of Vibe" posting right afterwards. Check this one out and comment if you feel like rehashing the past for a minute then jump into the present week with me!

"Blocked" was a great episode for a few reasons. The most important was Iris diving deeply into investigating and being central in the uncovering of the season's big bad, Cicada. Second, which I am reluctant to say for fear of jinxing was Ralph. I found him to be endearing and actually wanted to see a bit more of him and Cisco together. Here's more of what I was thinking.

Iris-West Allen
As someone who writes, I am fully aware that the stories we tell belong to us, and once we share them through books, movies, and television they become part of the lives of our audience. I say that because the character of Iris West-Allen (particularly portrayed by Candice Patton) has become something of a juggernaut, and her character's treatment profoundly affects her fan base.
This episode gave her fans a lot to be happy about. The Iris West-Allen of the comic books is a dogged investigative reporter, and people want nothing more than to see that played out on the small screen. "Blocked" had Iris getting Captain Singh off the record, interviewing eyewitnesses, and using her smarts to piece together that the villain who killed Gridlock is the same one who attacked Team Flash. This is the sort of story that Iris' champions have wanted for her, and one that Patton herself has echoed much more loudly as of late.
In the world of story telling, there is always the talk of pacing and character growth and that is understandable. As fans, we have to take a step back sometimes because we don't have the liberty of knowing where a story is going. We often think we do, but the truth is we don't. But if past is any indicator of where
The Flash
is going with Iris the reporter, fans have to be cautious. Don't get me wrong-I love Iris the wife, Iris the friend, Iris the daughter, Iris the sister, pretty much any other Iris, but this episode showed us that there is massive potential for investigator Iris' integration with Team Flash more so than when she was leading the team. Let's just hope it continues.
Nora and Barry
So, I'm not not Nora's biggest fan right now. Not because she's cool to Iris. I don't like it, but I love a good mystery; I'm willing to stick it out to see what the issue really is. I believe there's a good story there. What bothers me about Nora is that she doesn't do a good job of listening to someone she says she looks up to. When Barry first became the Flash, he looked to Harrison Wells for guidance. I know I'm a bit far removed from the first season, but Barry's moments of hotheadedness came when he felt true conviction about something. Not about showing off. Hurling a lighting bolt at Barry of course wasn't purposeful, but it was reckless. For the second time, Barry has gotten hurt or somewhat stunned because Nora believes she has something to prove. I get that she grew up without him, but that's just it, she still is a grown up. She isn't a child and yet she seems to behave as one. I'm not a psychologist, but maybe Nora reverts to childhood being around Barry? I don't know!
What I do know, is that for me, Nora wanting to impress Barry doesn't hold up as a good enough reason for not listening to him, especially if he is her hero. If you hold someone in high esteem, wouldn't you do what they ask of you? I think it's time for Joe to hit Nora with a Joeism. Well, maybe not. Barry and Iris need a shot at getting their parenting on first.
As for Barry... I guess having an adult child appear out of nowhere would freak anybody out right? He doesn't know how to talk to her. He can't seem to decide whether to be stern or let her walk all over him. Knowing he won't be around later may have him feeling enormous guilt, but she's going to be the one to kill him or be the reason he disappears if he doesn't put his foot down. Parenting out of guilt has never helped anyone; I'm sure Joe can attest to that. It was nice to see him reach out to Joe. (Sidebar: Joe and Barry scenes from earlier seasons are what attracted me to this show so more of these please!) I would love for Barry to get Nora to tell him why she is so distant from Iris aside from the fact that she wants to spend time with him. That would be some serious dad moves from Barry.
Caitlin, Cisco, and Ralph (1.0)
This trio is surprisingly not annoying me- yet. I could honestly deal with just Cisco and Ralph or just Cisco and Caitlin, but I'll take the three amigos deal we have on the table. Though it was silly, the three of them trying to help Cisco get over Gypsy was kind of funny. Cisco proclaiming, "Please stop caring about me" had me cracking up. And I am truly digging the dialed down Ralph. Going from Ralph on ten to Ralph at one fits in pretty well with the team. His humor isn't grotesque or misplaced anymore and his friendship seems to be genuine. I'm also glad we have been spared his "I don't know if I want to be a hero" swan song so far. If he does that again, I'll puke.
Caitlin's relationship with Cisco has always been an important part of the show. Her not opening up to him sooner about her fear of rejection by her dad didn't seem to fit along the trajectory drawn for their relationship long ago. But, in light of the fact that Ralph had been with them, it makes sense that she would not be as open with him around. Waiting until it was just the two of them talking made a lot of sense and went back to the roots of their long friendship.
Other Things I was Thinking:
"If you cut my hair, I'll cut you"- LOL!
Barry and Iris better have a talk soon. Even though Iris is acting tough, Barry has to know she is dying inside. She thought she was getting her happy ending and now she knows she isn't.
Where the hell is Joanie? Her mom just had a baby!
Cicada looked pained when Nora screamed "Dad". If she had yelled "Flash", it would have gone much differently.
Gypsy needs to come back to Cisco or he needs to meet someone else by mid-season.
Block making the gun runner into a meat block was pretty nasty.
What did you think of "Blocked"? Sound off in the comments.
The Flash
airs on Tuesday nights on the CW.