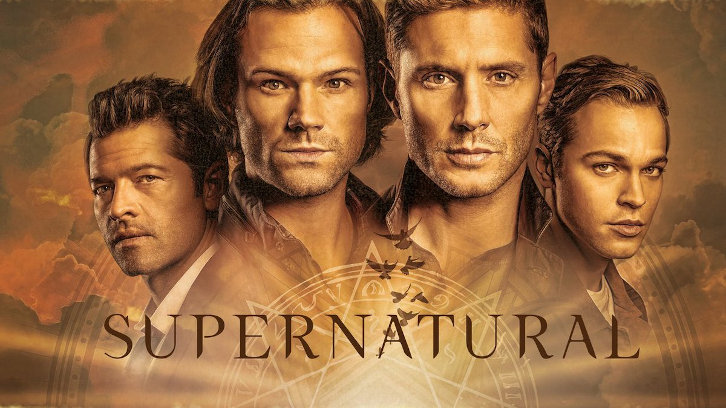 Supernatural
returns for a remarkable 14th season with "Stranger in a Strange Land" written by co-showrunner Andrew Dabb and directed by Thomas J Wright. Jensen Ackles creates another new character with Michael. He's distinctly not Dean in this episode, but I'm not sure that I'm sold on his performance as an arch angel just yet.
Look for a great musical choice for the season opener re-cap. The new title card has hints of a couple of old ones. The bunker is a hive of activity. There's a new – very surprising – resident of the bunker.
It's been three weeks. Mary (Samantha Smith) tries to reassure Sam (Jared Padalecki) and look after him. Bobby (Jim Beaver) looks out for Jack (Alexander Calvert) and takes him under his wing. Sam plays big brother too. Cas (Misha Collins) has a meeting in Detroit with someone surprising who has interesting tastes.
Sister Jo (Daneel Ackles) is back to her old tricks. Michael makes a surprising discovery about her. Michael makes a new friend.
Bobby and Sam disagree. Look for a great Impala scene between Mary and Sam. Sam is offered a deal. Look for an awesome royal rumble. The episode also features a terrific scene between Sam and Cas and one between Cas and Jack.
What are you hoping to see in the new season? What are you most excited for?
Don't forget to tune in for the season premiere on Thursday at 8/9c on the CW!
And of course, here are a few dialogue teases… I'm betting there's at least one that you can guess the speaker!
You asked. I answered.
The shoulders! The hair!
It was a bust.
Balls!
You are my Beyonce!
It's like saltwater taffy or infants. I just like the taste.
Very Hallmark channel.
Whatever happens, we got your back.
I'm really glad it's you.
Whatever we're walking into… it's gonna suck.
If you want to see him again, alive, we should probably chat.
What I've always wanted. A better world.
They're faster than they look. Meaner too.
Not to be crass but what's in it for
moi
?
It's not how hard you hit, but how hard you can get hit.