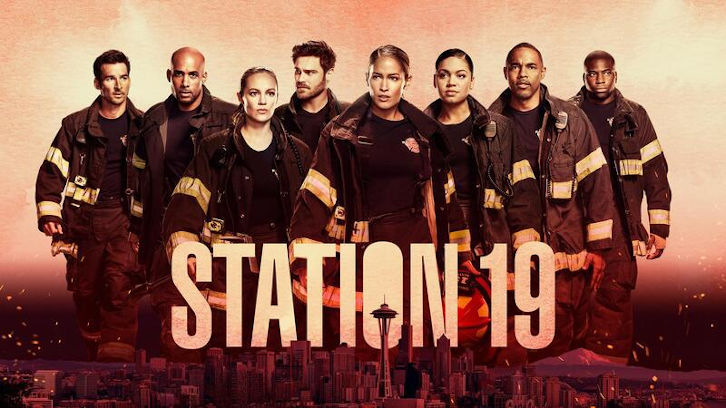 Station 19 left us last May in the midst of several dire situations. Most of our heroes were somewhere inside a serious high-rise building fire. Andy Herrera watched her former lover and co-Captain Jack Gibson sacrifice himself to stop the fire on the 26th floor. Ben Warren was facing his version of Sophie's choice, save an innocent victim (guest star Vanessa Marano) or his search partner and fellow firefighter Travis Montgomery. Andy's father, Captain Pruitt Herrera had collapsed in the fire house with Officer Ryan and Bailey rushing him to the hospital.

We open with an ominous view of Andy on sunny day in Seattle, she's pensive and alone, but her voiceover sets the stage for our premiere: you never know what could happen.

In an interesting choice, this premiere took us viewers not only to the future (which is now the present), but also to the past. The episode fairly successfully weaves several flashbacks to our partner pairs – Andy and Maya/Travis and Vic/Jack and Dean. While I'm not always a fan of this storytelling device, the splicing actually added much more context to the relationships we currently know 13 episodes in.

We have several storylines going, plot A follows Andy and Maya going after Jack, directly against the Fire Chief's orders. Plot B follows Ben deal with his decision to save the innocent of the week and not his partner. (Vic is less than pleased, to say the least.) The C plot follows Captain Herrera at Grey Sloan and the developments that come out of his hospitalization. The episode ends with Fire Chief Ripley's decision to put Captain Robert Sullivan (who we glimpsed in a flashback to Dean and Jack's academy days) in charge of Station 19.

Overall Rating: 8/10
It was a solid episode, but not the greatest opener I've ever seen. The episode closed a couple storylines and opened a few new cans that will likely carry through many episodes to come. Honestly though, I think that I was more wowed by the finale. There were some great moments, particularly knockout performances by actors Jason George and Barrett Doss, and it's gearing up to be an interesting season with a new captain in charge. Captain Sullivan definitely doesn't have the same family attitude Station 19 has known and his rigidity is certain to rattle the house moving forward. Who do you think has what it takes to get him onboard?

Favorite Quotes:
Andy to Maya: Just because you and I both have vaginas, doesn't mean we have to be friends.

Jack: Thanks for not punching me-
Dean: YET.

Molly's Mom (to Ben): Did you always know you wanted to be a firefighter?
Ben: Uh, no...