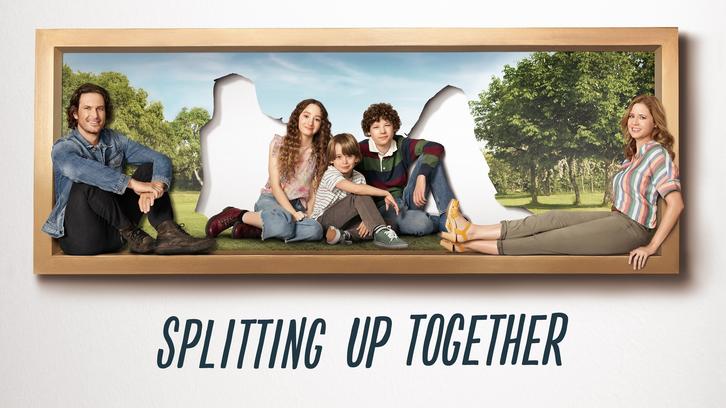 Last week, am emblem of Lena's self-discovery literally hit her in the head, where her mind is, to quote Lena herself. Martin gushed about how she was no longer "Old Lena" and was ready to get back together. Lena, though, kept seeing signs that shouldn't happen. In "Asking For a Friend", Lena realized she was seeing signs for a reason.

It's been shown repeatedly that Martin and Lena aren't a good fit, that they haven't developed enough as individuals to be in a healthy relationship. It still came as an ice water shock when Martin lost his temper with Lena. Her words were blunt but honest.
"I think I lost sight of whether or not I still wanted you." She asks him to be patient while she figures herself out and determines if he is the choice that is right for her. Martin verbally attacks her, scoffing at her needing more time to decide what she think. He calls her a "nutbag" and says he wants to sell the house. Yes, these two should not live together any longer. And it's going to be an uphill battle for the show to recuperate Martin's image after an outburst like that. "Don't skip ahead to us ending." There's no reason why they or we shouldn't.
The good news is that Lena makes this decision to not push forward with Martin. It comes after a drawn out subplot focusing on Mason trying to change himself for his girlfriend, who ditches him anyway. But pottery pal Toby is the one to provide the sharpest insight:
"That's what love is. Ignoring your own instincts and putting someone else's needs first."
"That's what love is???"
Thank goodness for some wisdom. Lena doesn't get much help from her sister Maya or Arthur and Camille. Maya, however, is caught up in her own tangled web. She likes Frank, but he doesn't want more children. And he doesn't know she was already pregnant when they met. Frank keeps talking about how honesty is so important to him. A waiter named Gene (great guest star turn by Marc Evan Jackson) offers Maya some advice. Do the old "asking for a friend" routine and find out what Frank would really think of the scenario. Maya at fist protests that anyone from kindergarten up would see through that. But she concocts a best friend Karen from the Air Force and presents the story to Frank. He says the guy in that situation will totally dump "Karen", especially since the kid isn't his. Frank is no pearl of manhood, but at least he's been honest from day one with Maya.The bad news is that Maya neither ditches him or tells him the truth.
Arthur and Camille don't have a strong opinion on Martin/Lena's reunion, because they're too busy stalking Lisa Apple. They eventually confide in Maya, who straight out confronts Lisa. To her credit, Lisa has no time for these people's nonsense. Martin does come around later to ask the same question, and Lisa is thoroughly disgusted with him. (I would have rooted for a Lisa/Martin reunion, but right now I don't want anyone with Martin). She says she's not pregnant, which is probably a lie. There is no chance that any potential source of drama is going away so soon.
What a rather bleak episode! While the messiness is certainly true to life, there was scarcely a light moment in this depressing ode to self-deception. Solid performances from Fischer and Hudson to be sure, but it was surprising to not get even a glimmer of hope. However, as any child or party of divorce can relate, there usually isn't anything but hurt in the moment.