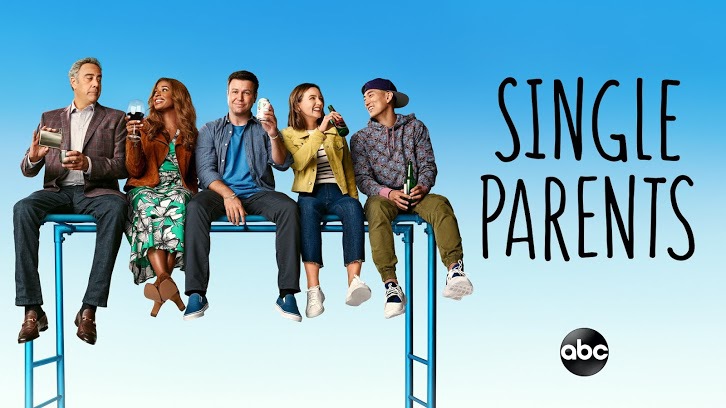 So excited for a new episode of Single Parents! Tonight's episode was written by Sarah Tapscott and directed by Jason Winer. It's time for a sleepover. I don't know about you guys but sleepovers used to be the highlight of my week when I was a kid - and all through high school for that matter.


RECAP
We start off by getting a peek at how the parents arrange their schedules. It's really cute actually, to see how bonded these guys are. They have a color-coded calendar with set pick-up and drop-off dates, all of the parents rotate duties to ensure their kids are always accounted for. It can be hard to juggle it all as a single parent after all. This week, it'll be Douglas' turn to host a sleepover for all of the kids.
Needless to say, Douglas isn't all that thrilled at the prospect of having his planned evening alone in his sauna ruined by having to take care of a bunch of children hopped up on sugar. He won't be alone though. Will thinks this is a great opportunity to get some one-on-one time with Douglas, the only one in the group he hasn't had the chance to get to know yet.
While the kids are off doing their own thing, Will tries to get Douglas to open up to him by crashing his time in the sauna. Douglas claims to only own
one
robe so Will is forced to sweat to death in his clothes while asking a slew of personal questions. Douglas tries to, quite literally,
steam
Will out and the two wind up in a
heated
argument (okay done with the puns, promise).
Their argument results in a mild car accident when both men realize they've left the kids home alone - Douglas had been trying to get a drink, Will trying to leave Douglas alone. Somehow, they all wound up on a golf course.
How did the kids wind up on a golf course? Well, Graham is convinced by Sophie to try and spend the night instead of calling Angie to come pick him up, but when Amy and Emma destroy his star-projecting turtle, he gets upset and wants to call his mom. The twins promise to make it up to him, "we can get you stars." Thus, they sneak outside to the putting green to make camp and stargaze. Aw.
Back with the other adults, Poppy is trying to convince Miggy to get a real job so he can start paying her rent. (I guess the two of them live together, or Poppy is his landlord? I was a little unclear on that or I may have missed something.)
By the end of the episode, after a few hilarious suggestions from Miggy including "Patty Jenkins"(because who doesn't love
Wonder Woman
?), and a celebrity chef, Miggy settles on working for Poppy at the wine bar.
Meanwhile, Angie is hoping to spend a full night with a new guy she's been dating named, Owen (Andy Favreau), or so she thinks. When Graham lets her know that he'll be gone for real this time, and she's finally faced with the prospect of a no-interruptions adult sleepover with her new beau - she tucks tail and runs straight back to Poppy for gas station zinfandel.
Apparently, she's not as ready as she wants to be, Poppy points out. By the time she gets her pep talk and realizes she needs to start putting herself out there, Douglas has sent a frantic text about the kids on the golf course and Angie has to run out of bed after finally getting into it with Owen.
Eventually the group all come together on the golf course to find their kids and in a sweet scene, they're prepared to sleep out there together. Cue the sprinklers.
Douglas and Will get their chance to bond while searching the golf course for their kids. Douglas points out how nice it is to talk to another male who understands what it's like to raise a daughter. Looks like they've finally found some common ground.
MY THOUGHTS
We need more Rory and Miggy! Otherwise, a great follow-up episode to the pilot. This is the perfect feel-good show for sure and pairing it with
Modern Family
was a solid move. I didn't love the Owen/Angie pairing. The storyline was fine but just didn't feel much chemistry between the two of them. I am curious to know what the story is with Graham's dad though.
The
Shawshank
joke was my favorite. I love the fact Douglas said he lets the twins try to dig their way to their neighbors and then re-plasters the wall once a month to "keep them busy".
I wonder if we'll see more individuality from Amy and Emma as they grow up and the show progresses or if they're going to kind of stay a unit for now. It looks like next week's episode is going to feature them in a more prominent storyline so I look forward to seeing where that goes!
FAVORITE LINES
Angie
: Relax it's a babysitting grid, not
Band of Brothers
.
Amy
: Emma and I are
Shawshanking
our way to the neighbors.
Angie
: Let's just all be grateful that Douglas lives on a golf course like a cartoon millionaire.
A NEW EPISODE OF SINGLE PARENTS AIRS WEDNESDAY, OCT. 10TH @ 9:30 PM ET/PT ON ABC.