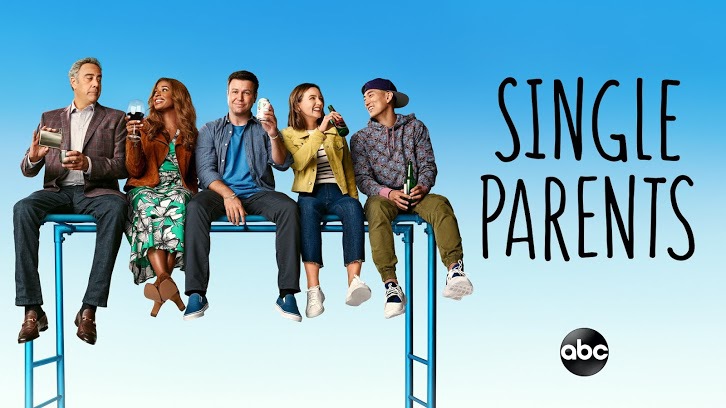 WARNING: THE FOLLOWING REVIEW CONTAINS SPOILERS.

Time to rage out on the court with Will and Poppy as they try and cope with dormant anger issues both having to do with their exes. I think the show is doing well at organically introducing us to each character's missing partner. They're all single parents, which means each one, at one point, had another party involved. (Though I do think the show missed an opportunity to include a gay or bisexual character with a ex-same-sex partner, but I digress, we're still early in the run so who knows what could happen!) As every episode rolls along, we learn more about the missing father or mother of each parent/child duo.


Will's ex, Mia, is a high-profile lawyer who can't seem to make time for Sophie. Up until now, Will has been mostly passive in dealing with her impromptu visits or last-minute cancellations, but Poppy sees a version of her past self, who repressed so much of her pent-up anger about her ex-husband, Ron, it became unhealthy. She offers to help him cope the same way she did: through volleyball.
Angie and Douglas also find themselves in a competition, with each other. When Miggy shows up to school sleep-deprived, the parents realize he hasn't properly sleep trained his son yet.
Within just a few hours, Angie loses. She can't resist picking up Jake! Douglas catches her in the act and then proves his supposed superiority by putting Jake to sleep in the time it takes Angie to ransack the neighbor's garbage in order to toughen up, I guess.
Except, did he really? I suspected something was up but I can't be the only one who was assuming Douglas "sleep tactics" actually involved a little bit of whiskey or something similar. Actually, turns out, Douglas is a big old softie and sings a German lullaby to Jake. Angie discovers this through the baby monitor and we can assume it's a song he's been singing to his twins their whole life too, which he confirms in a sweet heart-to-heart between he and Angie later on.
Douglas can be rude and brash but he's actually a teddy bear on the inside. Even though I thought his comments about Graham being raised by a woman hit below the belt, I appreciated that he was deflecting and his kind words towards Angie at the end about how great a kid she raised in Graham. Especially the fact he likes to send Douglas cards every time he gets a kidney stone. How sweet though I have to wonder now how often Douglas talks about his kidney stones to the kids.
And speaking of Graham, he and Miggy get a bonding opportunity this week. After Graham is discovered quietly crying over the beauty of a butterfly, he gets mocked by his classmates and girlfriend - Bunny Ears, if you remember from the pilot - and called "butterfly baby". While Miggy is babysitting all of the kids for a pizza and movie night, which he believes is the key to good parenting and I can't disagree with him there because I'm an adult and that sounds amazing to me, the twins invited over Bunny Ears and some friends for a rager - or as much as a rager between a bunch of seven-year-olds can get.
Turns out, she's not exactly the best girlfriend and wants Graham to be someone he's not. He even gets Miggy to teach him to get "all the swag" but Graham is still figuring out who he is and who he wants to be, and
swagalicious
is not it. He dumps her! And I know they're kids but I still cheered a little bit about that, as did Angie when she gets in her snuggle time with her son and he lets her know he laid down the law.
STRAY OBSERVATIONS
I loved the Beyoncé Richter scale of emotions Poppy and Will discussed.
"What's the juice box sitch?" was a great moment.
Miggy picking Child's Play as the movie to watch because it's about a boy and his doll! No Miggy no!
Also the moment when Bunny Ears and her posse leave and Miggy says, "wait they can't leave on their own, they're 7!"
Angie commenting to the baby that being sad at night is part of human existence gave me a good chuckle.
A NEW EPISODE OF SINGLE PARENTS AIRS WEDNESDAY, OCT. 24 @ 9:30 PM ET/PT ON ABC.